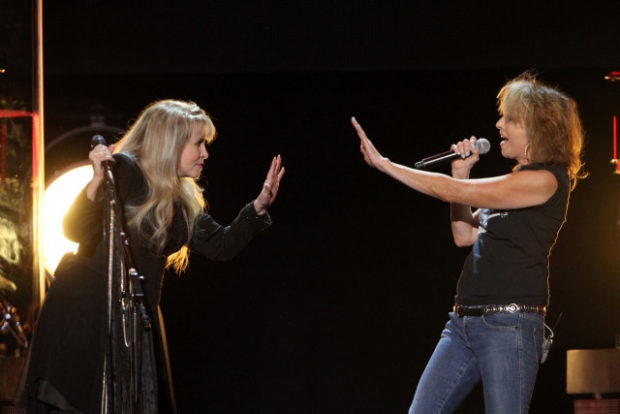 Stevie Nicks is touring with The Pretenders this year, and you might think Stevie Nicks would be the hot item on this ticket. But after watching Crissie Hynde and the Pretenders rock out for about an hour, I have to say they are as fun and exciting as any throwback rock group I've seen.
The Pretenders played like they were still in their 20's, playing such hits as Talk of the Town, Middle of the Road, and Brass In Pocket. They really rocked the house, and the audience, which was about 65% female, responded with huge cheers.
The audience was an interesting group. You had everything from 70's Rockers, to 80's Madonna Wannabes, to Wicca Princesses. The audience was fun and full of energy, especially after The Pretenders got them so pumped.
At the break everyone was buzzing. It was a delicious feast for people watchers. After what seemed to be a long break, the lights went out and Stevie's band took the stage one by one. Once the band was in position, Stevie strolled out from the back center of the stage, and the crowd jump to their feet with a gracious applause.
She was wearing her traditional black scarf that her mother gave her years ago. She later told a fun story about how her mom gave her the scarf years ago, and how it has stood the test of time.
She opened the show with two of her solo songs before she invited Crissie Hynde on the stage with her to sing the duet Stop Dragging My Heart Around.
I wasn't sure if she do many Fleetwood Mac songs, but about five songs in she sang Gypsy, and I knew she was going to sing all her hits.
Stevie has a lot of ballads, so this was not the regular "stand and dance" type of concert. A lot of people were sitting through out, listening to the beautiful ballads Stevie is so well known for.
She drew her show to a close with her Fleetwood Mac hit Golddust Woman and her solo hit Edge of Seventeen, And then, after a bit of a wait, she returned for an encore to close out the show with her Fleetwood Mac hits Rhiannon and Landslide.
Stevie Nicks enjoys performing by adding narratives between her songs. Because she has so many rich stories to tell, this really gives the show a unique feel. It's kind of like taking a joy ride through time in the life of a rockstar in the 60s 70s and 80s.
In the back of my mind I remember the stories a friend of mine used to tell me about seeing Stevie Nicks at parties in the 70s with other celebrities. He said "I never seen anyone do so much cocaine in my life." LOL. As you can guess, she didn't talk about that. But she is a rockstar and lived a rockstar lifestyle. So what would you expect?
It's always fun seeing the legend perform, and Stevie Nicks is truly a rock legend. I feel blessed to be able to still see people like Stevie Nicks and Crissie Hynde perform. I have to say they both have still got it!
By Bob Dietrich