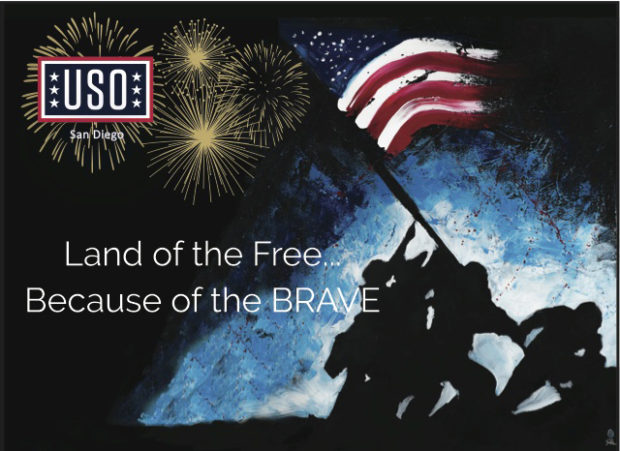 Event Honors San Diego Philanthropist Malin Burham

USO San Diego's 76th Annual Stars and Stripes Gala: Land of the Free… Because of the Brave, will take place on Saturday, May 20, 2017 at the San Diego Marriott Marquis and Marina.
The event will honor Malin Burnham, a cherished philanthropist and author of the book, "Community Before Self." Premier Title Sponsors are Papa Doug and Geniya Manchester and Hélène and George Gould. Co-Chairs include Arlene and Richard and Esgate, Reena and Sam Horowitz, Jeanne Jones and Don Breitenberg, and Stephanie Brown. Mark Larson of the Mark Larson Show on AM 1170 and analyst on KUSI, will serve as emcee.
The Gala celebrates the strong, enduring relationship between San Diego and our Armed Forces, and will feature the stories of San Diego service members as they share their experiences and inspire us with their bravery.
"Geniya and I are honored to stand with Hélène and George Gould as Premier Title Sponsors for this wonderful and important event, "said Papa Doug Manchester. "We are dedicated to doing our part as members of community of patriots working together to make a difference for those who represent the best and bravest amongst us around the world."
Hélène Gould added, "George and I have a deep commitment to support our U.S. military. These are the most amazing people, so devoted to this country."
Gala entertainment for the evening includes renowned mentalist Eran Raven with his spellbinding interactive performance, whose past appearances include opening for Barbara Streisand and his death-defying mentalism performances on NBC's Phenomenon. Artist/vocalist Joe Everson will create original artwork while singing the National Anthem, with the opportunity to bid on his final masterpiece during the live auction.
"We're deeply honored that Papa Doug and Geniya Manchester and Hélène and George Gould have stepped forward again as Premiere Sponsors for our 76th Anniversary Gala," said Jon Berg-Johnsen, USO San Diego Board Chair. "USO San Diego and the military and their families are truly fortunate to have their support as continue our mission."
Founded in 1941, the USO strengthens America's military service members by keeping them connected to family, home, and country throughout their service to the nation. The organization operates USO centers on military installations across the United States and throughout the world, including in combat zones, and even unstaffed USO service sites in places too dangerous for anyone but combat troops to occupy. In San Diego, USO San Diego offers wide range of services for traveling members and their families. The organization's many specialized programs provide a continuum of support to men and women throughout their journey, from the first time they put on their uniform, until they leave military service.
"USO San Diego uplifts active-duty, reserve, guard and military families; from transitioning, to deployed troops, to the wounded, injured and fallen," said Bobby Woods, acting CEO of USO San Diego. "As one of the leading military cities in the world, San Diego and our USO San Diego team served more than 260,000 military members and their families last year alone at our award-winning Neil Ash USO Airport Center and our downtown San Diego facility. We can only accomplish this with a dedicated and compassionate community of staff, volunteers and magnanimous supporters who work together to honor, respect and elevate the spirit of all military and their families."
For ticket information, visit www.usosandiego.org/2017gala. For sponsorship and underwriting opportunities, please contact Sharon Smith at 619-987-8020 or email Sharon_smith@cox.net.