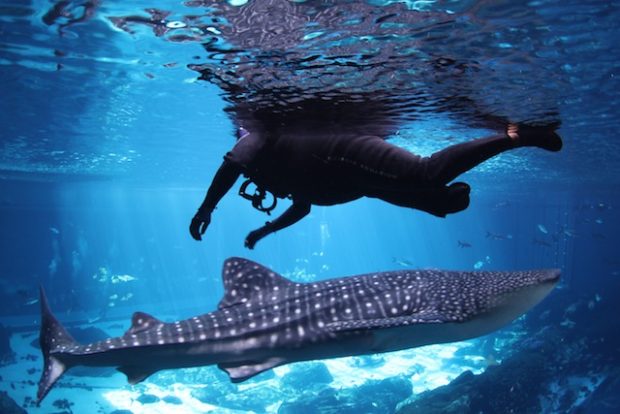 The Journey with the Gentle Giants is a program that allows participants of all abilities to scuba or snorkel in 6.3 million gallons of water with whale sharks, manta rays and over 5,000 other amazing animals. This program was created with universal design in mind, and the very first guests were Warriors in Transition with Champions Made from Adversity (CMFA). With a staff of Handicapped Scuba Association Certified Dive Masters and Instructors on staff, people of all abilities are welcome 365 days a year during our regularly scheduled events. Standard training for the Georgia Aquarium Dive Immersion program includes full certification as Handicapped Scuba Association, International Instructors or Dive Masters. Georgia Aquarium boasts the largest grouping of HSA Instructors and Dive Masters in the world!
Because of the inherent healing properties of water, and the sheer magnificence of the experience of swimming or diving with these incredible animals, the Veterans Immersion Program has the ability to bring military personnel in on a regular basis as part of the rehabilitation process. The swim program gives them the chance to experience something simply extraordinary…stressors are forgotten and they are free to move through the water much less inhibited than on land. This experience is once in a lifetime for these patients and gives them a renewed spirit to return to therapy the next day and work even harder.
Georgia Aquarium joined the R4 Alliance in early 2014. We knew to better serve our nations hero's, we needed the expertise of an organization that eats, sleeps, and dreams about our warriors well-being. The R4 gave us the tools to build a strong platform to create a deeper connection with the warriors while they reintegrated and rehabilitated in their respective programs.
Following my early retirement from military service, I joined the Georgia Aquarium team as a Dive Master. I was thinking that this career would just involve me diving with whale sharks, and giving a great guest experience to those who would like to do the same. Little did I know, it would be a life changing experience.
In 2006, while on a mission, I was shot in the left side of the head. Luckily, my helmet took most of the impact, but it still produced enough force to give me a traumatic brain injury. I was flown to Baghdad ER, and eventually ended up at Walter Reed Army Medical Hospital. I underwent rehabilitation in hopes of rejoining my unit on the deployment. While I was back in the United States, I received word that one of my friends was killed in action. I remember feeling like I let the team down. I was not able to rejoin the unit on the that deployment, but was able to re-enlist to join them on the next one.
In 2008, we deployed to Afghanistan in support of "Operation Enduring Freedom." We had a somewhat easy deployment, other than the 107 mm rockets making us stay on our toes. On February 16, 2009, one of those rockets found its way and landed next to a man that was our mentor, a father, and a husband. I will never forget that day. We were two weeks from re-deploying back to the States, and he was set to go to West Point, finish his last two years, and retire.
Now being back in the States, I did not really know how to handle being away from the guys. I was having some trouble finding purpose. I had already accepted my death, but I did not think about how I would accept living after. My wife convinced me to take a trip to the Dominican, and this is where I discovered diving. As soon has my head was underwater it was if all the weight I had been caring was lifted. I knew then that I had found something special.
Once I retired, I knew I would make a career of diving I just didn't know where. I was about to take a job in Florida when I found Georgia Aquarium was hiring a dive master. I put everything on hold and applied, hoping for the best. I was shortly contacted and scheduled for an interview. That is when I met Susan. She saw something in me that I didn't know was there, and she slowly introduced me to the Veteran's Program. This is where I was able to share my story with other veterans that may have been experiencing the same issues as me. I watch them come in with anxiety overwhelming them at every corner. They listen to the briefing with no emotion. It is as if they are in another place. They walk out of the locker rooms, nervous and unsure. The panic begins to set in as their feet dangle off the dock wondering if they can commit to pushing off into an exhibit with sharks.
After the program, and as they exit the water, the change in their face and body is remarkable. I always see them twice in our program. Once downstairs when I pick them up, and again when they exit the water. We are able to give an experience to these veterans they would have never tried, and by doing so we open the door for adventure. It provides adrenaline with fellow veterans and the commitment to the unknown. They walk out of here with a whole new perspective on life and new possibilities. I am truly honored to be able to be part of this experience and the Georgia Aquariums drive to honor our Veterans.
In 2017, the program was able to expand to reach even more military thanks to a substantial grant from The Home Depot and many other donors. Since the program started, we have been able to serve over 2,902 veterans. Georgia Aquarium also takes pride in the Gold Star initiative that began in 2015. This program allows Gold Star families to not only experience the Ocean Voyager Built by The Home Depot exhibit, but to experience all the programs Georgia Aquarium has to offer. It is an honor for Georgia Aquarium to be able to serve as an adjunctive therapy during the healing process.
For more information on Georgia Aquarium, please visit us at www.georgiaaquarium.org. To learn more about our Veterans Immersion Program, please visit www.georgiaaquarium.org/experience/support/how-to-donate/annual-fund/veterans-immersion-program.
By: Mike Hilliard, Dive Coordinator at Georgia Aquarium