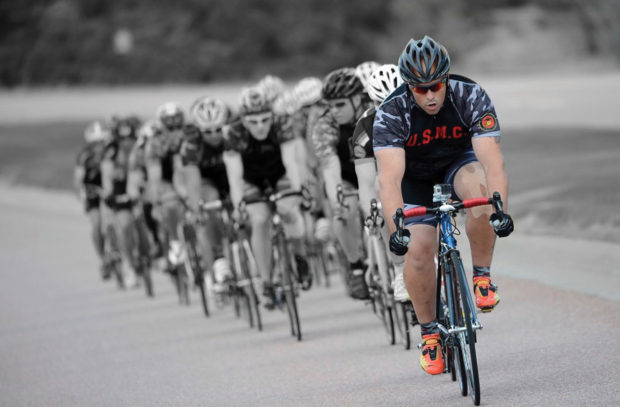 If you ask Cpl. Michael Politowicz, he'll tell you he was born to be a United States Marine. His path to achieving that goal was anything but smooth and staying on track hasn't exactly been a cake walk, either. A Detroit native, Politowicz is the grandson of the late Edward Politowicz Sr., a World War II USMC veteran and survivor of four amphibious assaults, including two on Iwo Jima.
With his grandfather as his role model, Michael Politowicz enlisted in the Marine Corps at age 18, but he didn't make it very far. "Halfway through boot camp, I was attacked by fire ants and went into anaphylactic shock," he said. "The Navy medical board deemed me unfit to continue with training."
Politowicz returned to Detroit and worked on auto assembly lines and other factories for ten years. His goal was to de-sensitize his allergic reaction to fire ants and then re-enlist. But the Marine Corps told the six-foot-three-inch-tall Politowicz he was 50 pounds overweight. Two months later, he came in 20 pounds overweight. The third time he tried, they told him he still had 8 pounds to lose, so he left the recruiter's office, put on a wet suit and garbage bags, worked out and lost the weight in two hours.
Finally, Politowicz was a Marine again. He was older than his drill sergeant, but he successfully completed boot camp and became a combat engineer.
Two years later, he was on foot patrol in Afghanistan when he stepped on a trip wire and an improvised explosive device (IED) detonated only three feet from him. Politowicz was blown up and landed with a forearm shattered by shrapnel and a traumatic brain injury.
That's how he wound up in the USMC Wounded Warrior Battalion East at Camp Lejeune, N.C., a Purple Heart recipient suffering PTSD and nightmares, back up to 50 pounds overweight and taking 15 prescription medications.
"I was a shut-in. I couldn't deal with large crowds and had a hard time socially with new people," he said. "I couldn't walk my dog or even walk from my house to my car."
The average person might have given up right there. Then again, the average person facing all the adversity he'd faced probably would have given up on the Marine Corps years before that. But not Politowicz. He was determined to return to active duty.
Politowicz's wife Suzi reached out to Warrior Wellness Solutions' founder Elijah Sacra, a USMC veteran and Exercise Physiologist and co-founder Clarissa Kussin, a professional chef and Integrative Nutrition Health Coach. Together, Sacra and Kussin taught Politowicz and his wife the foundations of the Warrior Wellness Solutions Program. The Warrior Wellness program encompasses Functional Medicine Health Coaching, Integrative Nutrition, Rehabilitative and Adaptive Exercise, Mindfulness, and Post Traumatic Growth Training.
Within three months of working with Warrior Wellness Solutions, Politowicz had reduced his prescription medications from 15 to one. In addition, he had lost so much weight that his company commander at Wounded Warrior Battalion East demanded to know what he'd been doing.
Politowicz told his commanding officer, Antony Andrious, about Warrior Wellness Solutions and said, "You should bring them here." His improvement continued by leaps and bounds until finally Andrious called Sacra and invited them to present a workshop to Wounded Warrior Battalion-East at Camp Lejeune.
Politowicz continued to enhance his performance and became a rugby player, competitive cyclist, and powerlifter. He ran the Marine Corps Marathon, a half Ironman Triathlon and won bronze medals in shot put, discus, and cycling while competing in Warrior Games. Additionally, he rode with President George W. Bush on a 100K Bike Ride.
Politowicz is part of the 1 percent of Marines who has left the Wounded Warrior Battalion and returned to active duty, just as he set out to do years before. He now works at Marine Corps Special Operations Command (MARSOC) as a Sergeant, supporting Marines who are in special operations training.
The Marine Corps awarded Politowicz with a personal award for Outstanding Volunteer Service for his continued service with Warrior Wellness Solutions. He is currently attending the Institute for Integrative Nutrition on scholarship where he is training to become a health coach. His story and painting is featured in President George W. Bush's book Portraits of Courage. He plans to be a High School Principle when he retires from the Marine Corps. He currently lives in Jacksonville, NC with his wife Suzi, his two children, and two American Bulldogs.
For a smaller relatively unfunded organization like Warrior Wellness Solutions, R4 Alliance has played an essential role in establishing a framework for support, referrals, and peer to peer education. The R4 Alliance membership has been essential in providing Warrior Wellness Solutions the opportunity for partnerships between other Programs of Excellence and Support services. With their support, Warrior Wellness Solutions continues to transform the lives of Wounded, Ill, and Injured Warriors and their Families.
www.warriorwellnesssolutions.org
Empowering the Mental, Physical, and Spiritual Health of Our Nation's Warriors and their Families