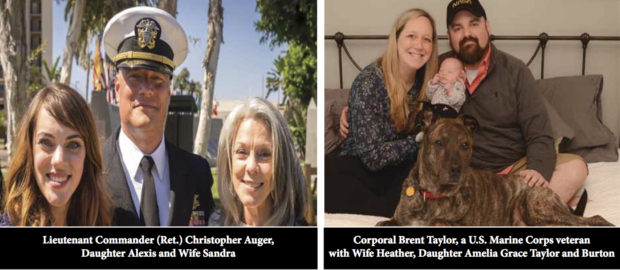 Father's Day Salute: Two Military Fathers Credit Their Family Tree For The Inspiration And Drive To Serve
Father's Day means many different things to many different people, especially when sons become fathers themselves. American military men share a special yet similar understanding of the holiday because they have sacrificed time away from their families to put their lives at great risk in defense of our freedom. Many also have experienced their own family members enduring the same sacrifice and risks.
Two Boot Campaign Veteran Ambassadors, who entered military service as sons and grandsons of military men, are now fathers themselves and look at Father's Day much differently than when they were growing up.
Lieutenant Commander (Ret.) Christopher Auger, a U.S. Navy SEAL with nearly 28 years of service and leadership to his credit, and Corporal Brent Taylor, a U.S. Marine Corp veteran who has worked in firearms industry since leaving active duty in 2009, were both inspired to serve their country by strong military men from their respective family trees.
Auger is a legacy Navy SEAL, following in the footsteps of his father, EMCM (Ret.) Robert Auger, along with his younger brother, Lieutenant (Ret.) Aaron Auger, also a career Navy SEAL. Chris enlisted in the Navy in 1987 and graduated Basic Underwater Demolition/SEAL (BUD/S) training class 155 in 1988, at which point he says he finally realized how much his father being a SEAL impacted his life.
"I didn't particularly like the military while growing up as it took my father away for long periods of time," remembers Auger, a native of Virginia Beach, Va., and current resident of Cumming, Ga. "I thought him being a Frogman was pretty awesome and would go to work with him on weekends when he was in town to crawl around the equipment. It was the only life I ever knew so I didn't know anything different. I respected it but hated the time he was gone.
"When I joined the Navy, it was a shocker to everyone, especially for my mother because she wanted me to finish college," he adds. "I actually joined the Navy for the Sea College program. It was after a series of events in boot camp that I took and passed the SEAL entry test. After graduating Basic Underwater Demolition/SEAL training I realized how much my father sacrificed for his family. He and I have had several heart-to-hearts on this subject."
Auger was initially stationed at SEAL Delivery Vehicle Team TWO, Naval Amphibious Base Little Creek (Norfolk, Va.), from April 1989 to Jan. 1995, and then was assigned a tour with the Office of Navy Intelligence in Washington D.C. until Feb. 1998, a time when he also earned his bachelor's degree in information systems from the University of Maryland.
He chose re-assignment to the Navy Reserve Unit SEAL Team Four in Dec. 1998 for his family, where he was commissioned as a Naval Officer and worked his way up the ranks to lieutenant in Sept. 2003. In 2005 he was mobilized to active duty which turned into a permanent appointment. After several short trips to Iraq in 2005 and 2007 in support of Operation Enduring Freedom, and a 2008 deployment to the Philippines, he was promoted to lieutenant commander. In addition to his military duties Auger graduated summa cum laude in 2010 with a Master of Science degree in global leadership from the University of San Diego.
His time in Naval Special Warfare took its toll on his neck and back, which prompted his retirement in March of 2015 after several major neck and back surgeries. His personal decorations include a Joint Commendation Medal, seven Navy Commendation Medals, Joint Service Achievement Medal, three Navy Achievement Medals and various unit and service awards, none of which may have been achieved had it not been for the mentorship and inspiration of his father.
"I was frustrated with my father once prior to going through BUD/S training because I thought he was holding back sage wisdom," reflects Auger, "but he sat me down and said, 'Chris, I can only hope and pray that how I raised you and the principles I tried to instill in you get you through it. You have the physical ability and are nuts enough to make it through. If I told you to jump in a mud puddle and do push-ups, you wouldn't blink an eye but would do it. If I told you to eat something most people would squirm at, you would chow it down. It is what's in you and your heart that is going to get you through.' Best conversation my father and I had ever had!"
His brother Aaron's path to the military was much different than Chris, as Aaron always wanted to be a Navy SEAL. Nevertheless, the bond that all three Augers share is without a doubt an exceptional one.
"Our relationships were uniquely different as we had a bond that very few fathers and brothers share," he adds. "Aaron and I were in the same platoon and were able to do some very unique things together. We share a Team guy bond but it is one upped by the bond of blood. The Teams cultivate a deep desire to serve. Very special indeed!"
For Taylor, who grew up in the small town of Clayton in the mountains of Northeast Georgia, it was the example of his grandfather who served in World War II that inspired him to enter the Marine Corps in 2004.
"Raymond Kinney, my grandfather on my mother's side, was the toughest man I've ever known," admits Taylor. "Everything about him was tough, stoic, and quiet. He was like a Kodiak grizzly. He was also a devout Christian and was very active in men's ministry. I think that's what inspired me most about my grandfather. He was this tough as nails leathery Marine but his heart was bigger than a mountain. He is the kind of man that you grow up wanting to be like."
To be like grandfather, Taylor enlisted in the Marines at age 19. "The Battle of Fallujah was all over the news during my first semester of college and that's when I really felt that call to serve," Taylor remembers. "I had always known that if I decided to serve that it would be the Marine Corps because of my grandfather."
Taylor's "Pawpaw" is what he calls an Iwo Jima Marine. Raymond M. Kinney's service in the U.S. Marine Corps included deployment with the first wave into Iwo Jima.
"If you are a Marine or you know Marine Corps history you will know just how significant that place is in our history, and even though he didn't talk much about 'the war' you knew it was always there," explains Taylor. "Growing up I remember that sometimes my grandmother 'Nanny' would sleep in another room because at night Pawpaw would march in his sleep. I honestly think as a kid it scared me to know he went through so much. I never learned any details about what that actually meant until much later but I knew he was different than other Pawpaws."
As a youngster, Taylor learned one important lesson from his grandfather the hard way while watching a Western on television."He had a chair we would sit in together and watch TV that was right by the door that led into the kitchen," Taylor remembers, "and I was probably getting some sort of candy or sweets from Nanny in the kitchen at the time when I decided to go see Pawpaw. I ran into the den from behind him and I must have startled him because he slugged me right in the chest. He was of course devastated by what he didn't mean to do, but he just held me and didn't say more than a couple words. I didn't run into the den while he was watching Westerns anymore."
While Taylor shared many fond memories together with his Marine Pawpaw, they never had the opportunity to discuss his interest in joining the military before his grandfather passed away in 2001.
"We never got to have a talk about me joining the Marine Corps," says Taylor. "It was something I decided on my own later. My father passed away the year after Pawpaw, and I think the Marine Corps helped me develop on a foundation my father and grandfather made during those years when I needed positive male leadership in my life. I just wanted to be like the great men I knew growing up. I wanted to be tough and strong. I want my family to know how much I love them. I want the people in my life to know that things are better because I exist and I want to serve them."
Taylor served for just under five years on active duty where he was stationed in Okinawa, Japan and later in Las Pulgas in the center of Camp Pendleton, Calif. He also was deployed to Al Asad Airbase in western Iraq, the second largest U.S. military airbase in Iraq, as part of Operation Iraqi Freedom, where he recalls "we were scared at times, bored most of the time, cold, hot, and almost always dirty."
During his military career, he says he was lucky enough to be a part of many temporary assignments including working at a Marksmanship Training Unit, where his passion for firearms began. Since leaving active duty, he has worked in the firearms industry for the past eight years and counting. "Being a part of the gun industry is great and I can't say there's just one thing that drives my passion to be a part of the gun world," says Taylor. "I carry daily and do my best to stay proficient and train at least once a month. Training and shooting are a lot of fun for me, but there is also the element of personal responsibility and that goes with the technical knowledge.
"There's something very satisfying about being able to accurately hit a target the size of a small trash can 1000 yards away on the first shot," he adds, "but you have to understand how to control your excitement and be diligent about staying on top of things. Shooting proficiently is a perishable skill." While both Taylor and Auger have no sons, they are both fathers to daughters and say they would be proud to inspire their children and future grandchildren if they were ever to become interested in a future of service to their country.
"I'm new to this fatherhood thing, and 2017 is my first Father's Day as a father," confides Taylor, who now resides in Barrow County, Ga., with my wife and new daughter Amelia Grace, where he volunteers with his youth church group to help with student ministry and also serves as a Veteran Ambassador with Boot Campaign. "I know that I see the world differently now that I have a kid. I would tell my daughter that no matter what path she chooses in life that if she chooses to put others before herself she will always find happiness. The Marine Corps opened a whole world of opportunity for me and I am extremely grateful for my time in service."
Although he is retired from the military, Auger continues to serve as a Boot Campaign Veteran Ambassador and is completing his doctorate in Regent University's School of Business Leadership, in order to continue his passion to coach and developing leaders in the private sector through the use of emotional intelligence and servant leadership. While he also is expected to walk his adult daughter Alexis down the aisle this September, Auger says he would be happy to recommend a career of service to his daughter or grandkids should the subject ever come up.
"I would absolutely encourage them to pursue the military," says Auger. "I would dig a little deeper and ask them why and encourage them to go to college first. Having that degree presents many more options down the road, and is much easier than later when you have a full-time job, family and must do it at night when you would rather be with your family.
Father's Day to me, when I was growing up, was not very significant because Dad was usually gone," he concludes. "Today my Christian faith, having a family of my own, the relationship my father and I enjoy today and having served with other fathers in the Teams has created a much greater and significant understanding of Father's Day. The importance for fathers to be present and active in their kids' lives with the time that life affords them is critical and even more so priceless."
Thanks to their selfless sacrifices to protect our country's freedom, sometimes fathers return home needing help to be that father that their family wants and needs, and that's where Boot Campaign comes in. The military non-profit is revolutionizing how veterans receive recovery assistance through its ReBOOT treatment program, medically based and 100-percent customized to specifically fit each veteran's exact needs. ReBOOT treats vets from the inside out, top to bottom, restoring them to who they were meant to be, giving back the quality of life they deserve. To find out more, visit www.bootcampaign.org/reboot.
By Barry Smith
Boot Campaign