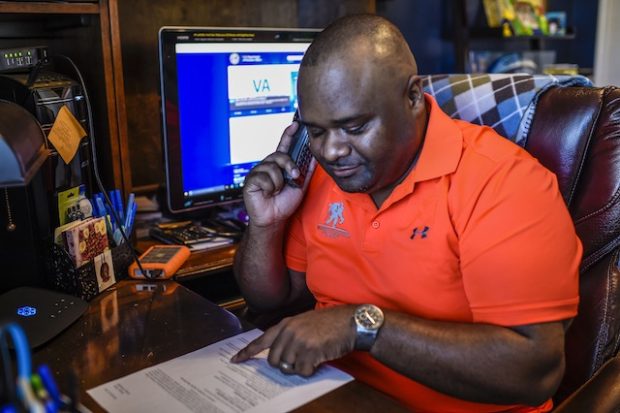 Veterans with service-connected disabilities are eligible for veterans' disability benefits, which include health care and compensation through the U.S. Department of Veterans Affairs (VA). The application process for eligibility can be daunting. For those coping with visible and invisible injuries, the juggling act can become overwhelming. Balls get dropped, and in this story, the balls are unfortunately the veteran's physical, mental, and economic wellness.
Upon filing her initial claim, Cecilia Burgos, a U.S. Navy wounded warrior from Medford New York, was denied disability benefits by the VA. She immediately filed an appeal in 2014. Fast forward to October 2016: Cecilia was still awaiting a final decision on her appeal, but now she was also facing imminent foreclosure because her medical conditions were affecting her ability to find suitable employment, leaving her without any means to afford her mortgage payment.
Cecilia is one of many veterans who struggle with the transition to civilian life.
Since 9/11, 2.4 million brave women and men have deployed around the world in support of the Global War on Terrorism. With improvements in medicine and technology, the percentage of those surviving their injuries and returning with service-connected disabilities is staggering. These veterans struggle daily with the aftermath of their physical sacrifices made on the battlefield.
According to the Department of Housing and Urban Development, 123,000 veterans and their family members have been prevented from becoming homeless. Still, an annual count conducted in January 2016 revealed approximately 40,000 veterans across the country remain homeless.
As these nationally reported numbers continue to affect the veteran community, the need becomes evident to help injured veterans make the most of their benefits. Wounded Warrior Project® (WWP) believes long-term financial and medical support play a critical empowerment role in the recovery process, which is why it created the Benefits Service program.
To help injured veterans, their family members, and their caregivers successfully transition to life after injury, the WWP Benefits Service program provides the tools needed to navigate the complexities of the Department of Defense (DoD) and Department of Veterans Affairs (VA). Working closely with each agency, the Benefits Service team walks injured veterans, family members, and caregivers through every step of the transition process, ensuring claims are filed and processed correctly – the first time.
Unlike traditional models of veterans' services, the WWP Benefits Service program takes a comprehensive approach to the claims process. WWP staff works individually with injured veterans to understand their unique needs, provide information and education on the claims process, advise them of benefits options, file benefits claims, help to obtain necessary evidence, and stay connected with them through the life cycle of the claim.
After two years of living in limbo with an undecided disability benefits claim, Cecilia turned her case management over to the WWP Benefits Service team. In October of 2016, WWP invited Cecilia to attend a WWP Benefits Claims Day at the regional VA office in New York City.
"Three weeks from me working my claim with Wounded Warrior Project, I was sitting in front of the VA representative who would be deciding my case," Cecilia said. "Four hours later, I had their decision."
Cecilia's approval came with more than $42,000 in retroactive benefits service pay the following day. She used the money to catch up on her mortgage loan and bills.
"It feels good to know someone was looking at my claim, and that I wasn't just a number," Cecilia said. "I was finally able to pay off my bills – like my student loans – and put some away in investments. But I also took my kids to Disney®."
Cecilia is among more than 90 percent of warriors who have had successful VA claims processed with the help of WWP. In the first quarter of fiscal year 2017, WWP secured $4 million more in monetary benefits than in the first quarter of fiscal year 2016. Since its inception, more than $200 million in total veterans' benefits has been secured through the WWP Benefits Service program.
But what can warriors do to help their VA benefits claims? The WWP Benefits Service team ranked its top five tips for warriors filing VA benefits:
1.Know your advocates. National veterans service organizations (VSOs) have skilled advocates who specialize in filing claims to the VA. This information is available during transition assistance programs when exiting active duty as well as any local VA facility.
2. Know which disabilities you can claim. Medical symptoms do not justify a claim. You must have a chronic diagnosed disability to file benefits claims. VSO advocates can help identify what qualifies.
3. Obtain evidence such as service treatment records. Whether you are filing for the first time or for a worsening condition, get the necessary evidence or diagnosis from a VA physician or private provider before submitting a claim. Submitting completed VA Disability Benefits Questionnaires is highly recommended.
4. Attend all VA examinations in a timely manner, and obtain information the VA asks you to submit. Work with your advocate to ensure these items are secured and submitted. Compensation and pension examinations may not always be convenient, but these appointments are vital to substantiating benefits claims.
5. Be vested in your claim. Positive outcomes are directly equivalent to the 50-50 investment between you and your advocate.
About Wounded Warrior Project
We Connect, Serve, and Empower
The mission of Wounded Warrior Project® (WWP) is to honor and empower Wounded Warriors. WWP connects wounded warriors and their families to valuable resources and one another, serves them through a variety of free programs and services, and empowers them to live life on their own terms. WWP is a national, nonpartisan organization headquartered in Jacksonville, Florida. WWP is an accredited charity with the Better Business Bureau (BBB), is top rated by Charity Navigator, and holds a GuideStar Platinum rating. To get involved and learn more, visit woundedwarriorproject.org. (Photos courtesy WWP)
By John Roberts