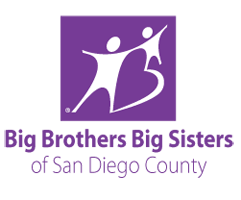 Changing perspectives. Changing lives.
www.sdbigs.org
For more than 100 years nationally and 55 locally, Big Brothers Big Sisters has operated under the belief that inherent in every child is the ability to succeed and thrive in life. As the nation's largest donor and volunteer supported mentoring network, Big Brothers Big Sisters makes meaningful, monitored matches between adult volunteers ("Bigs") and children ("Littles"), ages 7 through 18, in communities across the country. We develop positive relationships that have a direct and lasting effect on the lives of young people.
The Big Brothers Big Sisters Mission is to provide children facing adversity with strong and enduring, professionally supported one-to-one relationships that change their lives for the better.
The Big Brothers Big Sisters Vision is for all children to achieve success in life.
Big Brothers Big Sisters Accountability
By partnering with parents/guardians, volunteers and others in the community we are accountable for each child in our program achieving:
• Higher aspirations, greater confidence, and better relationships
• Avoidance of risky behaviors
• Educational success
Our Programs Start Something
Here's the proof. National research has shown that positive relationships between Littles and their Bigs have a direct and measurable impact on children's lives.
By participating in our programs, Little Brothers and Sisters are:
• more confident in their schoolwork performance
• able to get along better with their families.
• 46% less likely to begin using illegal drugs
• 27% less likely to begin using alcohol
• 52% less likely to skip school
Donate
It's not just a donation. It's an investment in a child's future.
Donating pays dividends.
Research shows that our mentoring works. Children with a Big Brother or Big Sister show real differences in their personal and academic lives. They are more confident in their schoolwork performance, they get along better with their families and they're 52% less likely to skip school.1
Your support goes far.
Your financial support helps us provide our programs and services in San Diego County—so we can develop more college grads, community leaders and entrepreneurs. Every local Big Brothers Big Sisters agency is an independent 501(c)3 nonprofit organization with its own audited financial statement. Your financial support starts lots of things, like:
• recruiting new Big Brother and Big Sister volunteers
• covering the costs of background checks, while ensuring trained professionals match Littles to responsible Bigs
• enabling ongoing supervision and relationship support for every Big, Little and Little's family
• providing cultural and social activities to enrich the opportunities for children
Become a part of the Big Brothers Big Sisters family today. Donate now> For more information about donating, please contact Jayne Brennan, Development Coordinator, at JayneB@SDBigs.org or (858) 536-4900 x224.