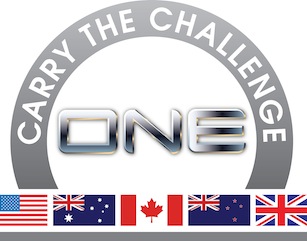 ABOUT CARRY THE CHALLENGE
Carry the Challenge is a nationwide initiative from Veterans 360 to deliver on our commitment to today's young veterans. They have earned the right to receive the support they need to succeed in civilian life and we have fallen short in delivering it.
Now it is our time to honor our commitment to these brave men and women who volunteered to serve this great nation.
Veterans 360 ® and Carry the Challenge ® is a national non-profit 501(c)(3) #45-3713823, Guidestar Gold Partner, non-partisan charity, dedicated to helping today's young veterans cope with post separation transition and PTS/TBI challenges.
Programs Include:
Veterans 360 – "Are you struggling with your transition" is the only question we need to ask today's young veterans to begin a hands on process that will enable them to finally say "no". If you are a Post-9/11 veteran who is struggling with your transition please give us a shout – let us go to work for you like you went to work for us.
ONE – a campaign to get society back to level of patriotic support that we had when two wars were in full swing. The wars were not their fault and we have a responsibility to not let them keep fighting them when they come home. Using the ONE challenge coin we are asking you to do ONE positive thing for a young veteran. An individual who buys ONE cup of coffee, a church who gets ONE veteran off the streets, a company who hires just ONE veteran that ONE thing could make all the difference.
Carry the Challenge – First Responder (CTC-FR) program is a program to move us away from support by web site and crisis line, to one of handshake, live calls and personal connections. Who better to helps today's young veterans than today's veterans? You overcame transition and maybe PTS challenges so why not put those skills to good use and help today's veterans do the same.
In the past five and a half years we have helped hundreds of veterans who are struggling with both transition and PTS challenges. We now need society to deliver on our promise to them that we would be there for them. Tomorrow a young veteran will take their own life, enter a treatment program or move onto the street because we have not prepared them to succeed in civilian life. Together we can change this fact.
Learn more at http://carrythechallenge.org and join the Veterans360 on Facebook and #Vets360 on Twitter.
While we always need financial support sponsors and volunteers are just as important. If you want to make a donation please visit: www.CarrytheChallenge.org/Support, if you wish to sponsor a set of CTC-ONE challenge coins please send an e-Mail to Info@CarrytheChallenge.org.