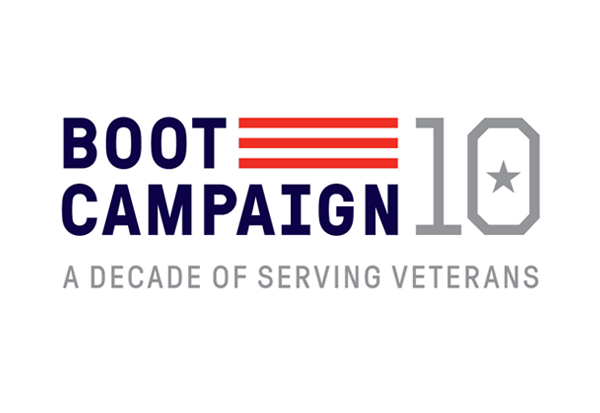 BOOT CAMPAIGN
WHY
Today, less than half of 1% of the U.S. population is on active duty as a military member, and there are approximately 20 million veterans. That means that 99% of Americans have not laced up their boots, bid their families and friends farewell and raised their right hand in defense of freedom and all those who call the United States home. What's more, 71% of respondents in a recent survey said that they knew little or nothing about the problems faced by military personnel, both active duty and veteran.
Established in 2009, Boot Campaign is a national nonprofit organization dedicated to igniting the inner patriot in all Americans and providing life-improving programs to veterans and military families. Retail sales of our combat boots, apparel, donations and corporate sponsorships fund our efforts to support military personnel who have endured significant physical, emotional and circumstantial hardships resulting from their service and sacrifice.
WHO
Boot Campaign began when five Texas women were compelled to act and give back after reading Lone Survivor, the national bestseller by Veteran Navy SEAL and fellow Texan Marcus Luttrell. Luttrell's harrowing, in the field and traumatic postservice story revealed an unmet need to support and give back to those who risk their lives to provide Americans with the freedoms we enjoy every day. Thus, the Boot Campaign was born.
Accredited by the Better Business Bureau and a GoldStar rated nonprofit by GuideStar, 88% of Boot Campaign expenditures go directly to programmatic offerings to meet the mission. Since its inception in 2009, the Boot Campaign has blazed a trail in the nonprofit world, raising more than $22 million and giving more than $2 million annually to help service members, veterans and their families from every generation.
HOW
Boot Campaign has three vital programs to improve outcomes for our nation's military, veterans, and their families.
● There are 46,000 nonprofits that serve the military community.
● 65% of those 46,000 organizations do not give out money.
● Less than 4% of those 46,000 work in the health and wellness category
● AND less than 1% of those 46,000 give $1 million or more.
Boot Campaign works in the health and wellness category AND gives more than $1 million annually to the military community.
HEALTH & WELLNESS
Of the 2.6 million post 9/11 veterans, 43% have said their physical health is worse than before they deployed and one third said their mental or emotional health is worse. Less than 50% of military personnel and veterans who experience invisible wounds receive care.
Our life improving programs include our comprehensive Health and Wellness Program which
provides access to innovative and holistic care for traumatic brain injury (TBI), posttraumatic stress disorder (PTSD), chronic pain, self-medication and insomnia. We partner with evidence-based treatment and training providers across the country to further scientific research and kickstarts a veteran's journey to take back control of his or her path to wellness. Our partners allow us to tailor, scale and expand services using an array of innovative approaches for treatment.
SANTA BOOTS
Boot Campaign's annual holiday campaign, Santa Boots, strives to facilitate an extra moment of joy, delivering specially curated gifts to veteran and active duty military families who are experiencing a particularly challenging time. Money can be tight after deployments because families many times are facing a cross country move or service-related injuries. Since 2015, we have served more than 260 military families with another 75+ to be served during this year's program. Through partnerships with national nonprofits – Armed Services YMCA and Operation Homefront we are able to make spirits bright of military families nationwide. Even
#SantaLacesUp!
AWARENESS ENDEAVORS
The combat boot is standard in the armed forces and a recognized marker of service. Boot Campaign asks civilians to #LaceUpAmerica to start a conversation and as a demonstration of gratitude for the veteran and military community to connect those who haven't served with those who have. Boot Campaign's "Boot Shoots" public service project has laced more than 500 celebrities and influencers in military boots and spread those images via social media channels in support of our nation's military community. To join Boot Campaign's #LaceUpAmerica movement and purchase combat boots and other apparel that provides life-improving programs for our military community, please visit Shop.BootCampaign.org.
Learn more at BootCampaign.org and join the #LaceUpAmerica movement on Facebook, Twitter, and Instagram@Bootcampaign.