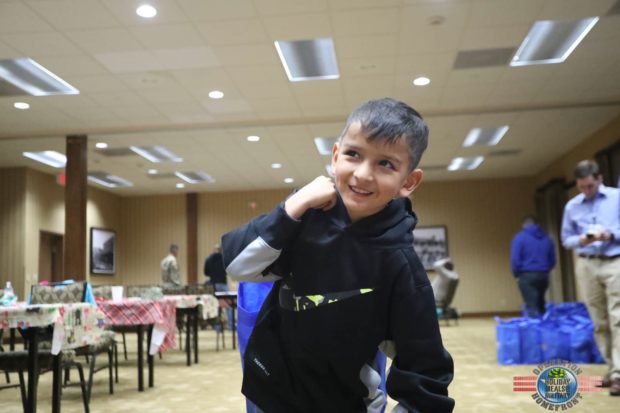 Operation Homefront Distributes Nearly 13,000 Holiday Meals to Military Families
Operation Homefront, Walmart and other generous partners worked together to distribute holiday meals to military families in 2016 through the national nonprofit's annual Holiday Meals for Military program. This year, 12,850 holiday meals were distributed at more than 40 events from Nov. 22 through Dec. 22.
The Holiday Meals for Military program began Thanksgiving 2009 as the result of a chance encounter in a supermarket in Utica, N.Y., near Fort Drum. A soldier, his wife, and infant had a handful of grocery items they could not afford, so a Beam Suntory executive picked up the $12 cost for the groceries. Since that time, the program has grown from initially providing 500 meal kits to military families in 2009 to providing more than 12,000 this holiday season. Beam Suntory continues to be a major supporter of the program.
The meal kits, which are designed to include all the grocery items necessary for a full holiday meal, were distributed to lower- and mid-grade ranking military families, E-1 thru E-6, at locations nationwide during the holiday season, including Little Rock, Ark.; Oceanside, Calif.; Fort Campbell, Ky.; Fort Carson, Colo.; Fort Bliss, Texas; Fort Knox, Ky.; Great Lakes, Ill.; Camp Lejeune, N.C.; Joint Base Lewis-McChord, Wash.; and Norfolk, Va.
"Many of our military families at the holiday time of year are dealing with challenges that strain even the most frugal household budget," retired Brig. Gen. John I. Pray, Jr., president & CEO of Operation Homefront. "Helping this amazing group of our fellow Americans overcome these financial challenges is at the core of our mission to build strong, stable, and secure military families. Providing them a holiday meal is just one of the many ways in which Operation Homefront and our incredible partners show our collective gratitude for their service and help them thrive in the communities they have worked so hard to protect."
"The families of our military members serve alongside them not only while they are deployed, but also when they return home. Our support of Operation Homefront's Holiday Meal program is one way Walmart thanks military families who help strengthen our local communities and sacrifice so much for our nation," said Julie Gehrki, Vice President of Giving Programs for Walmart.
Distributing these meals is an important undertaking that was carried out in military communities and at local Operation Homefront field offices across the nation. For more information on how to donate to the cause, please log on to http://www.OperationHomefront.net/holidaymeals.
In addition to Walmart and Beam Suntory, major national sponsors for the program include Thirty-One Gifts, The Procter & Gamble Company, Navy Federal Credit Union, Cracker Barrel Old Country Store, San Antonio Shoemakers, Ocean Spray, and Boston Beer Company.
The Holiday Meals for Military program took place as a part of Operation Homefront's "Giving Strength" campaign, which runs through the rest of 2016. Operation Homefront knows our military and veterans have served around the world to protect us. Along with their families, our service members continually Give Strength to us by serving in our nation's time of need. That's why Operation Homefront provides a variety of programs and services that show these families that their nation is grateful for their service and that we are there to help them. Learn more at OperationHomefront.org/GivingStrength, and join in online with the hashtag #GivingStrength.
A national nonprofit, Operation Homefront builds strong, stable, and secure military families so that they can thrive in the communities they have worked so hard to protect. With more than 3,200 volunteers nationwide, Operation Homefront has provided assistance to tens of thousands of military families since its inception shortly after 9/11. Recognized for superior performance by leading independent charity oversight groups, 92 percent of Operation Homefront's expenditures go directly to programs that provide support to our military families. For more information, go to www.OperationHomefront.net.