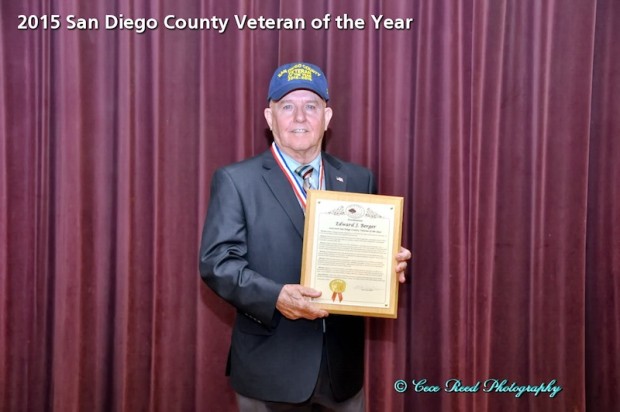 2015-2016 San Diego County Veteran of the Year: Edward Berger
By Sarah Luken
The room erupted with cheers and not single person stayed seated when Edward J. Berger was announced as the 2015-2016 San Diego County Veteran of the Year.
In a room of over 300 people Berger was chosen to be the Veteran of the Year (VOY) on Friday, Nov. 6.
When Berger heard his named called as the VOY, "I was floored. I couldn't believe it," said Berger. "These (VOY) are folks who have done tremendous things for veterans and I couldn't believe I won." Berger joins 16 other San Diego County Veterans of the Year with this honor.
Berger keeps himself busy through a multitude of volunteering– from serving as president and singing in the Rancho Bernardo Chorale to driving and scheduling medical visits for Disabled American Veterans to helping people prepare their income tax returns with the Volunteer Income Tax Assistance program to being a founding member of the Poway Veterans Organization (PVO). For all his volunteer work, the PVO nominated him for the noteworthy recognition.
Of his vast volunteer experience, Berger is most proud of his time with the PVO.
Smiling ear to ear, Berger explained, as veterans get older there aren't as many community organizations that help older veterans with day-to-day struggles, like plumbing or car repairs. He wanted to fill that void and was vital in the PVO's creation.
"We can't let them down. We do whatever we can to help," said Berger.
The PVO's mission is to help veterans and their families in the Poway, Ramona and surrounding areas. The organization has no paid staff and any money raised goes straight to helping veterans. As a founding member of the PVO, Berger stepped up and filled many roles, including attaining the 501(c)3 certification, creating and updating the website. Additionally, he is also the treasurer and in charge of managing fiscal compliance of the organization and much more.
"It is often said that when an organization needs something done, give the task to the busiest team member," said Nicholas J. Yorio PVO Board of Directors member. "In the case of the PVO, this is not necessary as our busiest member, [Ed Berger], always steps forward to get the job done." Recently the PVO helped a 97-year-old WWII veteran who had flooding damage and it also helped a Korean War veteran with new carpet, plumping and maintenance of the house.
"There are lots of vets who need things and we try to do what we can," said Berger.
Berger chucked and said the biggest challenge of the PVO and all his volunteer experience is finding time. Recently remarried and with two grown children of his own, Berger is a busy man.
Berger's volunteering that earned him the VOY award stems from his desire to be an example for others. "When I get to that age I hope there will be people who will help me like I am helping people now. I'm lucky to be in good health and am able to do things that some veterans can't," said Berger. "I want to help those who can't do what I can so when I can't do things, there will be people to help me." It's no surprise Berger wants to continue improving and expanding the PVO and its mission.
"I want the PVO to take off and be a model for other communities to help their veterans," said Berger.
With his VOY win Berger has the opportunity to encourage veterans to volunteer and to create more programs like the PVO.
Berger believes veterans have needs beyond their own capabilities and wants to encourage veterans to volunteer and help others who have more needs than we do.
"I'm most excited to do as much as possible to represent veterans," Berger said.
Berger was born in Philadelphia and grew with up three sisters. After high school he joined the Navy and served from 1960 to 1981. He was inspired to join the Navy because of his uncle's service as a Merchant Marine Officer in World War II.
While specializing in Navy warfare, Berger traveled across the globe, including Northern Europe, the Strait of Magellan, the Pacific Ocean and more.
As for his service, Berger said, "I never regretted it. I would do it again in a heartbeat."
After finishing his time in the Navy, Berger focused on his education and earned an A.S. in accounting and a B.S. and M.S. in Information Systems Management.
The Veteran of the Year program was established in 1989 to celebrate and recognize the contributions veterans make in the San Diego community. The program also includes the Will Hays Lifetime Support of Veterans, with Jon Nachison, PhD as this year's winner; the Allegiance Award for nonprofits, with The San Diego American Legion District 22 as this year's winner; and the Meritorious Support of Veterans Award, with Waxie Industries as this year's winner.
The VOY will be recognized at several events, including the Veteran's Day Parade, Charger and Padre games and other special events.
To be nominated as a Veteran of the Year, a nominee must be honorably discharged from the United States military and a resident or employed in San Diego County.
"The Veteran of the Year program recognizes the many contributions veterans make to our community," said Will Hays, retired naval officer and chairman of the board of directors for the Veterans Museum. "It is our job to recognize and honor them for all they do after they leave the military."
To find out more information about the Veteran of the Year program please contact the Veterans Museum at 619-239-2300 or visit us online http://www.veteranmuseum.org You can find pictures of this year's VOY event on the Veterans Museum at Balboa Park's Facebook page.