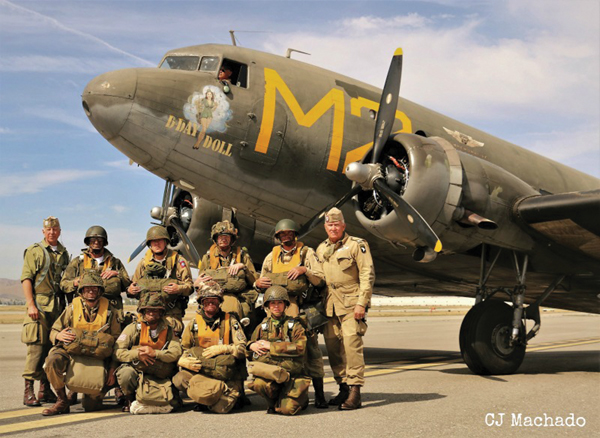 D-Day Doll and the WWII Airborne Demonstration Team thrill the crowd at the Planes Of Fame Air Show in Chino, California.
Written by photojournalist & veteran advocate, CJ Machado
What a sight to see!
Tina Hargett sings the National Anthem as the C-53, "D-Day Doll" drops the WWII Airborne Demo Team. Massive green parachutes and paratroopers dressed in WWII gear, fill the skies in remembrance of those who served to preserve America's freedom, re-enacting the invasion of Normandy, June 6, 1944.
" Perfectly executed… As the Star-Spangled Banner was sung, the paratroopers exited the aircraft. Simultaneously, only slightly above the jumpers, the U.S. Army Air Force fighters flew the missing man formation. This was truly a spectacular, inspirational and patriotic event to witness. "
– Kevin Thompson Planes Of Fame Air Museum airshow announcer and historian.
D-Day Doll, a Douglas C-53D, flew three missions on D-Day and the next day.
D-Day Doll's mission was to tow gliders carrying reinforcements to the 101st Division Airborne Troops, who had been dropped earlier in the night, near Utah Beach.
Today, D-Day Doll resides at the Inland Empire Wing, Commemorative Air Force hangar at the Riverside Airport in California. When D-Day Doll is not involved in public demonstrations, she enjoys basking on the flight line, entertaining visitors.
The WWII Airborne Demonstration Team, based out of Frederick, Oklahoma inspire the masses at air shows across the country. Their mission is to re-create memories of service, making certain the "Greatest Generation" is never forgotten.
WWII U.S. Army veteran, Edwin "Ed" Pepping's first priority was to stop by the WWII Airborne Demo Team tent before taking his seat as an honored guest with the "Veteran's Project" at the Planes Of Fame 2018 airshow. He wanted to thank his younger comrades for honoring his service and those that fought and died beside him during WWII.
Ed's first combat jump was with the 101st Airborne Division into Normandy on D-Day. He was in the Medical Attachment assigned to Company E, 506th Parachute Infantry Regiment, where he helped the wounded at various aid stations. He teared up as Marine paratrooper, Armando Zepeda shook his hand in gratitude. At 95 years of age, he is not forgotten. He is remembered by the dedication and gratitude shown by the CAF and the WWII Airborne Demonstration Team. Amazing.
The WWII Airborne Demo Team takes great pride in actively engaging the crowd. For young aviation enthusiast Noah Comstock, meeting the WWII Demo Team was a "once in a lifetime" opportunity. Noah just turned seven. He and his family traveled from Sahaurita, Arizona to visit the world renowned Planes Of Fame Air Show in Chino, California.
Noah, dressed in full WWII paratrooper gear, watched in awe as these men and a woman, Kathleen "Kat" Healey, disguised as an Office of Strategic Services (OSS agent, prior to CIA), prepared for their next jump.
Commanding Officer Colonel Raymond Steeley, U.S. Army Special Forces, Retired, couldn't help but notice Noah and his older sister Maddie, who just turned Eight. Colonel Steeley immediately included the impressionable youth in their Team's jump preparation. One of the Team members challenged Maddie to pick up the heavy gear. She was all smiles struggling to pick up the over 30-lb main gear pack. Noah participated in the line-up with the rest of the troops as Major Rodney Roycroft indulged Noah by handing him a rifle (a non-functional M1 Carbine) to absorb the full experience. The other Team Members gave the Comstock family a tour inside the C-53, which is a "paratrooper specific" version of the C-47.
Noah, in full gear, seemed oblivious to the high temperatures of over 90 degrees in the aircraft's cabin. He was very content in his surroundings and kept asking one of the Team Members, "When can I jump? When can I jump?" His enthusiasm filled the cabin with laughter. Although Maddie was not in full paratrooper gear, Colonel Steeley made certain she wasn't left out. He gave her a memorable gift, a piece of his parachute, fondly recognized as a parachute scarf with his name written on it. It made such an impression on her that she has worn it ever since, accessorizing each of her outfits with it, including wearing it to church.
Noah and Maddie's experience is an affirmation of the WWII Airborne Demonstration Team's mission; to "Remember, Honor, Serve", by inspiring our children to continue the legacy, to preserve and honor our history.
An exclusive interview with our future Airborne Paratrooper, seven year-old, Noah Comstock:
Noah, what was your favorite part of seeing the paratroopers at the air show?
"Watching them jump. I never saw World War II paratroopers jump out of an airplane before. I liked sitting in the C-53 too. I got to put on a parachute and sit with real paratroopers. I felt like I was getting ready to jump out of a C-53."
What was your favorite airplane at the air show?
"The C-47. (C-53) I like it because it carries paratroopers." And because it was in D-Day."
Why do you find World War II so interesting?
"D-Day. And my dad said his grandpa was in World War II."
Do you want to be a paratrooper some day?
"If my sister lets me."
What was the most interesting thing the paratroopers talked to you about?
"The parachutes and that they have a school and airplanes that fly in Oklahoma. I don't know where that is, but I want to go there. And there was a paratrooper with a Hawkins mine."
When did you become interested in paratroopers?
"I think when I was 5."
Why are you interested in paratroopers?
"My family has paratroopers in it. And because paratroopers jump out of airplanes and fight Germans."
Noah and Maddie's parents explained, "We try to take the kids to as many museums, air shows, and living history events as we can. They have learned so much talking with re-enactors and veterans and listening to their stories." They also mentioned "Noah has always shown an interest in history.His favorite topics are the Titanic, the Hindenburg airship, and D-Day. He loves machines and airplanes, especially WWII airplanes. He loves the old World War II movies like "A Bridge Too Far" and "The Longest Day." He has never been interested in super heroes, or Pokémon, or really even Star Wars. World War II is his main interest."
To celebrate the 75th anniversary of D-Day, the Commemorative Air Force and the WWII Airborne Demo Team are coordinating the largest jump since Normandy next year on June 6, 2019.
If you would like to participate in the jump, please visit:
https://wwiiadt.org/the-parachute-school
If you would like to support the "Doll to Normandy 2019" project, please contact:
https://www.inlandempirecaf.com/ddaydoll
If we as people value our freedom, than we as Americans must actively support those who've risked their lives to preserve our freedoms, and to Honor, Remember and Serve. Please support the Normandy 2019 Re-enactment Jump, if not by monetary means, than by public awareness. I encourage everyone to forward the links above or this article to every museum, every military base, every veteran organization, churches, family members, every media outlet possible; Facebook, Twitter, radio, news, etc.
WE CAN DO IT! • WHATEVER IT TAKES! • AIRBORNE ALL THE WAY!!!
May God Bless the Commemorative Air Force, the WWII Airborne Demonstration Team, the Planes Of Fame Air Museum, and may God Bless America.