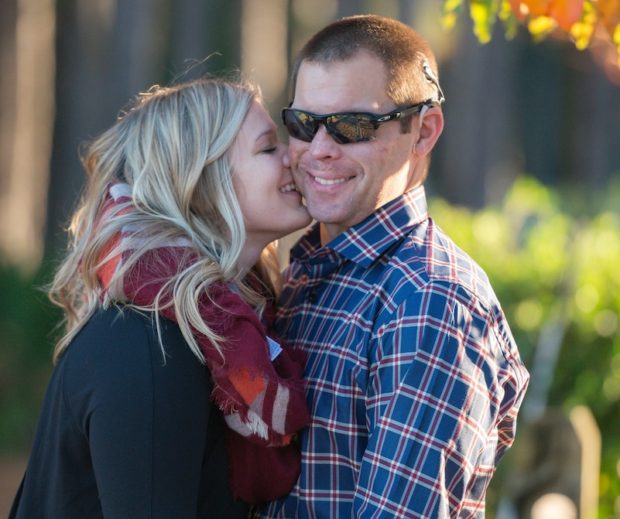 A Sugar-Sweet February Love Story
Courage, Compassion & Creativity
By Barry Smith
Boot Campaign
For centuries, February has long been celebrated as a month romance. Nowadays, in a typical year in America, History.com says one billion Valentine's Day greeting cards are sent, 220 million roses are produced, and 35 million heart-shaped boxes of chocolates are sold. Altogether, Americans spend almost 20 billion dollars on the holiday, and an estimated six million couples become engaged.
Chocolate candy ranks as the No. 1 Valentine's Day gift, followed by flowers and jewelry, and that is thrilling news to one U.S. Army veteran and Boot Campaign Hero Ambassador, whose own love story and culinary talents recently got him engaged and into the candy-making business full-time, not just in February.
Staff Sergeant Aaron Hale is a highly decorated and retired 14-year veteran of both the U.S. Navy and U.S. Army. At 21 years of age, he enlisted in the Navy as a mess management specialist seaman recruit. Achieving the rank Culinary Specialist Petty Officer 2nd Class, he enjoyed his career as a chef, which included preparing meals for U.S. and foreign dignitaries aboard a three-star Navy admiral's flagship as it cruised the Baltic and Mediterranean seas.
He also was deployed to Afghanistan as part of Operation Enduring Freedom, where he says he became responsible for feeding 500 to 600 ISAF soldiers in the desert.
"When I was running that Army chow hall in Afghanistan I had a staff that did most the cooking, but I would come in at least once a day and make one thing myself for the troops," remembers Hale. "Every Sunday there would be a line out the door for my Stuffed French Toast.
"For the most part, in Afghanistan and the Army food comes pre-cooked and frozen," he explains. "I would take the frozen, thick-style French toast, re-dip the slices in egg, put them on the griddle, and add a sweetened cream cheese filling mixture in the middle of two big pieces of toast. I would top it off with strawberry sauce and whipped cream. It was a crowd favorite!"
All modesty aside, it was during that first deployment to Afghanistan that he also was introduced to the Explosive Ordnance Disposal (EOD) field. Impressed by the technology used and life-saving abilities of the brave EOD technicians, Hale decided in September 2007 to switch branches of the military and begin training in the Army's EOD school. Following graduation, he deployed to Iraq for one year with the 725th EOD Company, and again to Afghanistan in 2011 with the 760th EOD Company.
Despite disabling as many as 50 explosive devises on his second mission to Afghanistan, it was Dec. 8, 2011 that his career as an EOD Team Leader ended in an instant. After disarming an Improvised Explosive Device (IED) with his robot, Hale approached the IED to collect evidence. On his approach, however, an undetected IED 30 feet from the original device exploded under him, fracturing his skull, breaking every bone in his face, and taking his eyesight.
Hale never accepted defeat, and while awaiting military retirement, he began teaching at the EOD school at Eglin Air Force Base in Florida, continuing his education in finance, running marathons, paddling solo whitewater kayaks and even hiking to the occasional mountain top.
Two years after retiring and just one week from attempting to conquer Tanzania's Mount Kilimanjaro, Hale's plans dramatically changed once again when he was forced to climb an even bigger mountain than losing his sight.
In July 2015, Hale had just finished a speaking engagement for friend Tom McCann's Holidays for Heroes veteran's charity on the tiny island of Nantucket off Cape Cod, Mass. The Akron, Ohio native remembers returning to his current Santa Rosa Beach, Fla., residence and feeling ill, weak and dizzy while talking on the phone to his long-distance California girlfriend McKayla Tracy.
"This was unusual, so I said to McKayla I'm going to have to lay down for a nap," recalls Hale. "Maybe five to 10 minutes later, I woke up to the most awful, awful headache. The pain was indescribable."
After calling 911 and explaining to the operator "I have literally been blown up before and have never felt pain like this," an ambulance was dispatched to his assistance and "the next thing I know it's four days later, McKayla is by my side, along with my mother, father, and sister."
Hale had mysteriously contracted a rare and dangerous strain of bacterial meningitis, resulting in the loss of another of his five senses — his hearing. "I eventually was released from the hospital totally blind, completely deaf, and incapable of walking alone due to the severe vertigo," he confides, "and I was in a very difficult, awful place."
Vital to his emergence from this "awful place" was his family and McKayla, the latter bringing a little California sunshine with her to the Sunshine State and into Hale's life at just the right time.
Even though McKayla was raised in Colorado and Aaron in Ohio, the two had known each other from early childhood as their mothers had grown up together in Glen Burnie, Md. Each summer, McKayla's mother Janet would load up the car with all the kids and drive from Colorado back to Maryland for a visit, but they always made a pit stop in Ohio to see Aaron's mother Carol.
It wasn't until many years later that Aaron and McKayla began a long-distance romance that was kindled thanks to Mark Zuckerberg's Facebook.com. "He is one heck of a matchmaker," laughs Hale about Zuckerberg, who says McKayla's comments to one of his silly Facebook posts led to instant messages, texts, phone calls, and "I eventually convinced her to visit me down in Florida. That's what got the snowball rolling down the mountain."
McKayla visited Aaron in Florida for an enjoyable week, but had to return to the West Coast. "We knew we liked each other, but didn't really know how anything was going to happen in the future because Aaron was committed to Florida and I was committed to my career path in California," explains McKayla. "So I was back to work for four days when he was in Nantucket speaking. We talked that day he returned to Florida and he wasn't feeling right."
"McKayla came back from California to nurse me back to health and moved in," adds Hale. "She hasn't left since, and I won't ever let her go!"
It was McKayla's savvy intuition that helped Hale improve his spirits and get him motivated to get out of his own head and away from the depression and frustrations he was experiencing after returning home from the hospital.
"I was trapped inside my body," he says. "I couldn't use any of the tools or techniques that I'd learned to help me navigate my world. I needed something to do."
With McKayla's help and encouragement, Aaron found a way to cope with his situation. The fast-approaching Thanksgiving holiday, and the need to feed many family and friends, also helped speed up the process.
"I fell back to one of my old loves, which was cooking," says Hale. "I started making fudge weeks in advance and found out, 'Hey, I can still cook!' I can do something that keeps me busy and keeps me from thinking about how terrible I thought my situation is. The funny thing was, the desserts were piling up. There was more fudge in the house than any family of any size could eat in one sitting."
It turns out McKayla started "sneaking" out the front door to give a lot of the extra fudge to friends and neighbors. Eventually, many of the lucky and pleasantly satisfied recipients returned and asked if they could "buy more fudge."
Wa-lah! A new sugar-sweet business was born.
"The business came out of a really dark time for both of us," admits McKayla. "It was originally just something to keep Aaron focused and busy during the Holidays. Once I noticed that it gave him a purpose and a reason to get up in the morning I realized we really needed to latch on to this and make it into something amazing together."
After a surprise marriage proposal was accepted by McKayla this past September in front of family, friends and a video camera crew on Nantucket island, her astute realization is right on schedule. The couple plans to wed this October back on Nantucket thanks to generous donations from the local community who are making it all possible.
"Our friends in Nantucket are donating our wedding to us, from the venue and catering to the lodging," she happily reports. "Their generosity has been so sweet and such a blessing in our lives."
Sweet like fudge. So, what did the smitten couple name their new candy company? How about: Extra Ordinary Delights, or E.O.D. for short.
"E.O.D. is Extra Ordinary Delights," reveals Hale, "in honor of my previous occupation which I loved so much."
Available nationwide at EODfudge.com, Extra Ordinary Delights features 11 flavors of Aaron's handcrafted secret-recipe fudge, including three created for Valentine's Day last year that are now a fixture on E.O.D.'s forever menu. Those three special flavors include "Raspberry Glow" with a Chambord liqueur, "Strawberry White" featuring an enticing combination of strawberry cream liqueur and semisweet chocolate, and "Cherry Cinnamon Spark," a darker mix of chocolates, cinnamon, cherry, a hint of red chili pepper and a splash of cinnamon whiskey and rum to add a little fuel to the fire.
In addition to the new business and making wedding plans, Aaron and McKayla have much more to keep them busy and involved. Giving back to the military community is high on their list of priorities.
"McKayla and I are very, very active in veteran's service organizations like Boot Campaign," concludes Hale. "I actually went through EOD school with (fellow Hero Ambassador) Johnny "Joey" Jones, who introduced me to Boot Campaign (bootcampaign.org). To be one of their Hero Ambassadors is an honor and gift.
"It's a gratifying and fulfilling feeling to help others, whether it's mentally, spiritually or physically. I love being involved in the Boot Campaign missions for all the good it does for everyone else, and the good it does me. I'm always trying to pay it forward and give it back as much as I can, but the more I try to give it away, the more it comes back to me."
Sounds like a perfect message for a Hallmark Valentine this February, and an ideal companion, of course, to a healthy ration of E.O.D. Fudge.