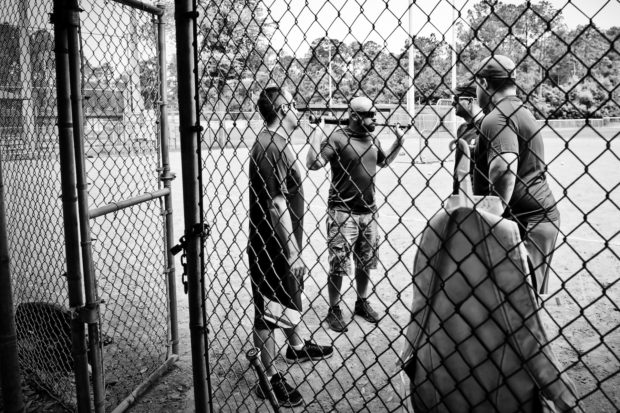 It starts with the unrelenting need to serve a greater cause. The child grows into adulthood and finds their hand dancing across paperwork as they sign their name to a dotted line. The contract claims the next handful of years – often a lifetime – and so their service to country begins. Military members start as scattered, seemingly disparate pieces, but during their time in the ranks, they unite to become something new and formidable: the plates, gears, nuts, and bolts of a sleek, newly constructed machine; each piece reliant on the next – working in unison toward a singular purpose.
Carried off the battlefield with injuries, many warriors' service ends when their minds and bodies are rendered unfit – no longer a dependable asset for other service members who complete the machine. A space is found in the back of their closet to set their boots aside.
And so their service to country ends.
As veterans, they scatter and become desolate pieces again – nuts, bolts, and gears that refuse decommission. Still, they stoke the flame that burns within: service to something higher. The boots continue to collect dust but are never discarded for fear of the emptiness that would remain – a void with a heaviness that can sink a life.
Reconnecting warriors to one another in the civilian world is critical to healing, which is why Wounded Warrior Project® (WWP) serves them through its Peer Support program by fusing supportive rehabilitation with the military adage "Leave No Man Behind." This warrior-to-warrior support is a special type of therapy that reintroduces injured veterans to the unique bonds experienced during military service.
Rarely duplicated in the civilian world, these relationships are a secure bedrock that paves the road to recovery. The warrior support that played a critical role on the battlefield has the same function in recovery at home. In combat, soldiers rely upon one another for survival. It becomes an unyielding trust. When a warrior stumbles, falls, or becomes injured, it's the warrior marching next to them who will pick them up and carry them on their shoulder.
Through peer support, wounded warriors recapture the trust born in trenches and foxholes and together learn to manage day-to-day challenges. The goal of the Peer Support program is for every veteran who needs support to reach a point in their recovery where they can help the next veteran in line. Each warrior connects to another until they are one – a stronger, more resilient machine that cycles toward a deeper purpose: recovery. The journey continues until every injured veteran who was once the warrior being carried off the battlefield is empowered to become the warrior who carries others, thus embodying the WWP logo. At WWP, this is known as "living the logo." For warriors, the logo is an undeniable symbol that reminds them of their resilience – and their passion for continued service.
Peer Support groups are facilitated by warrior leaders who WWP has selected for demonstrating leadership strengths and the ability to help fellow wounded veterans who are in need. They are volunteers who must be willing to commit eight to 10 hours a month to the support group they lead – after attending a mandatory, extensive, multi-day training seminar to help them support their WWP peers on the path to healing.
On any given week, hundreds of wounded warriors from more than 40 Peer Support groups across the country meet and participate in activities ranging from group support meetings to community service projects. Through WWP's warrior-to-warrior support program, wounded service members and caregivers find encouragement and connection through their shared experiences.
It's beyond volunteerism; it becomes service, renewed. And so the boots are dusted off and donned.
In honor of National Volunteer Month, WWP is proud to recognize the selfless service of all volunteers this April. For more information on Peer Support and all of WWP's free programs and services, please contact the WWP Resource Center at 888.WWP.ALUM (997.2586), 904.405.1213, or resourcecenter@woundedwarriorproject.org.
By: John Roberts
About Wounded Warrior Project
We Connect, Serve, and Empower
The mission of Wounded Warrior Project® (WWP) is to honor and empower Wounded Warriors. WWP connects wounded warriors and their families to valuable resources and one another, serves them through a variety of free programs and services, and empowers them to live life on their own terms. WWP is a national, nonpartisan organization headquartered in Jacksonville, Florida. WWP is an accredited charity with the Better Business Bureau (BBB), is top rated by Charity Navigator, and holds a GuideStar Platinum rating. To get involved and learn more, visit woundedwarriorproject.org.