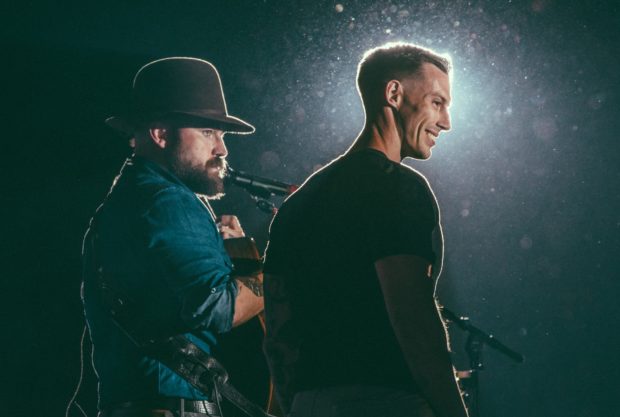 'From Singing Songs To Serving Heroes, A Veterans look at Zac Brown's Southern Ground"
Zac Brown. When that name comes out most people already have a third word rolling off their tongues, Band, as in the three time GRAMMY Award-winning Zac Brown Band. But to me, Zac Brown is the start of something much more, or perhaps different all together. Let me introduce you to a new side of your favorite country music artist — Zac Brown's Southern Ground. Located in the heart of Georgia, our Peachtree City headquartered company serves as the home of all things Zac Brown, including, but as you'll soon learn far from limited to, the Zac Brown Band. Zac, and all of us here at Southern Ground come to work under one very large roof everyday with one thing on our minds, passion.
Southern Ground is a company owned by Zac Brown and operated by one talented team built of artisans, craftsmen, friends and family. Here we design, create and manufacture a collection of products that show off Zac's interests beyond his music. Leather, wood, metal, and paint combine within our walls to fulfill the unique efforts of our incredibly talented namesake and owner. Through the hard work of our artisans and manufacturers we produce quality products available to industry consumers and fans alike. Products like high-end tactical knives, custom jewelry designed by Zac's wife Shelly, and a gambit of custom wood and metal projects come to life every day in our 150,000-square foot facility. We don't just make things here at Southern Ground, we use them to make a difference, and that's where I come in.
Becoming a part of the team at Southern Ground was a truly unique experience for me personally. I met Zac about three years ago while working for a small military nonprofit in Texas. Yes, I'm originally a Georgia boy and proudly so, but after losing my legs in Afghanistan in 2010 working as a Marine Corps Bomb, or EOD Technician I spent a few years in that other Great State. When I met Zac, we weren't discussing music, or even the amazing manufacturing at Southern Ground, we talked about Camp Southern Ground, his true passion. Camp Southern Ground is Zac's non-profit passion project. It's why Southern Ground exist and why we strive every day to be great at what we do.
Inspired by his own experience as a camp counselor, Zac's vision is to create a state-of-the-art facility that is more than the typical camp experience. Camp Southern Ground's mission is to provide extraordinary experiences for children to recognize and magnify the unique gifts within themselves and others to profoundly impact the world. While at camp there will be activities to challenge, educate and inspire campers, with a special emphasis on children with Autism Spectrum Disorder (ASD), learning and attention issues like ADD, ADHD and Dyslexia, social or emotional challenges, and those with family members serving in the military.
Having spent the better part of a decade serving in the Marine Corps, surviving two wars, barely, I had seen how military service affects the strongest of families long before I had been injured myself. Working with Zac to build this camp with a military aspect in both the infrastructure and programming, as well as servicing children who are uniquely affected by military service, became a new and exciting passion in my own life. So the stars in my life aligned, and I packed my family up, moved home to Georgia and came to work at Southern Ground.
My role at Southern Ground is to help tell the story behind Camp Southern Ground. A key part of that story is how we use the hard work we put into our products here at Southern Ground to support the camp. Our camp is designed and built to last 100 years, a full century's worth investment into our children's future. This camp is designed to outlast us all, so our companies were developed to help ensure the camp is financially secure throughout its lifetime. The proceeds we earn at Southern Ground will benefit the camp and aid in sustaining the property.
As I mentioned before, Zac has turned his interests into brands housed under the Southern Ground name. Once of those brands is Southern Grind, a line of American-made, high-end tactical knives.
Under the mentorship of one of his best friend's father and expert knife maker, Rodney "Old Man" Shelton, Zac expounded upon his own passion for knives. Here we've forged an ancient tool into a widely accessible, everyday carry model built to withstand virtually any environment. You can find one of our Bad Monkey's scratching away at the side of Zac's guitars while playing in front of thousands of fans, or on the vest of Navy SEALs serving abroad. Southern Grind General Manager, Jeff Beatty, a former Army Ranger who deployed on September 13th, 2001 ensures all our knives are designed and approved to meet the challenges of a tactical environment. Another example of Zac's commitment to overall quality and authenticity for his brands.
Serving those who have served us through our military is an important part of Southern Ground. Zac and the band honor a hero at almost every performance, and we honor them here by producing products they can use, hiring qualified veterans, and keeping our manufacturing American-sourced and American-made. The proceeds we earn through our hard work and dedication ensure Camp Southern Ground lives on and provides support for military families, and service members still healing. In the Marine Corps I learned to become a part of something bigger than myself, and here at Southern Ground I get to continue that tradition by being a part of a dream we all share in. A dream to make things here, in America, and do so with only the best craftsmanship and for a truly greater purpose. If you want to know who we are, take it straight from the song that started it all, I believe we're simply a company "filled with love, that's grown in Southern Ground."
By Staff Sergeant (Ret.) Johnny 'Joey' Jones, U.S. Marine Corps EOD
Online Johnny 'Joey' Jones can be found at www.johnnyjoeyjones.com and on Instagram and Twitter @Johnny_Joey.
For more information on Zac Brown's Southern Ground please visit http://southernground.com