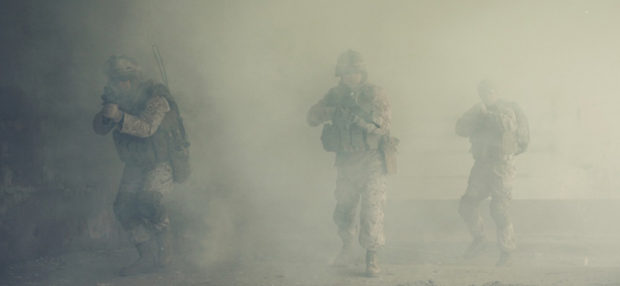 Carl Quaney has never shied away from jobs that require toughness. As a Marine, he patrolled hostile combat zones in Iraq, where his life was compromised daily. When he went back to the civilian world, he dealt with the heightened risk associated with being a police officer. Carl even worked his way up to federal agent status and patrolled the border between Mexico and the United States. While his fortitude was tested time and again, it was not until the invisible wounds of war began to surface that he found himself in the battle of his life – a battle he nearly lost one lonely Christmas Eve.
Realizing he was in need of help, Carl resisted the stigma of tough guys asking for assistance and reached out to Wounded Warrior Project® (WWP). Once he re-established himself as a warrior with a will to live, he discovered he had a lot to offer to fellow service members in need. Today, he provides the assistance he received to others as a WWP staff member.
All-American Boy
"My story starts the same as many teenage boys in America," Carl said. "In high school in El Paso, I played football, ran track, and even ran for homecoming king at some point. My decision to join the military was pretty easy. My dad served in the Army in Vietnam. My brother joined the Army, so it just sort of ran in the family."
He enlisted in the Marine Corps in July of 2000. Carl loved his job, but it was not until 9/11, he said, that he finally realized what it really meant to be a Marine.
"My unit was performing routine maintenance when we received the call from the company first sergeant for all staff to report to the commons area," he said. "It was there we watched the second plane strike the twin towers and their eventual collapse. We were told we were probably going to be mobilized to go to war."
"Clear My Browser History"
Before their C-130 reached its destination from Kuwait to Ramadi, Iraq, Carl and his unit got a taste of what they were in for.
"We had to do an evasive maneuver in the aircraft, and we kept hearing a bunch of pings," he said. "We didn't really understand what was going on, then one of my buddies was like 'Is that people shooting at us?' – that provided us with some nervous humor."
At their forward operating base, the Marines adjusted to accept rocket attacks and mortar fire as a new normal. Danger was at every turn, and unit morale eventually morphed into a grim mass resignation.
"We knew that more than likely we were going to die there," Carl said. "We would talk about it. Not like in the movies where they sit around going 'Take this letter to my wife.' It was more along the lines of 'Make sure they don't find my body in a crazy position. And clear my browser history.' We made jokes about it, but I did accept the fact that I probably wasn't coming back home."
The group's morbid realization became an odd source of courage.
"Once we grasped that concept, I think it made us all a little bit stronger," Carl said. "We were no longer afraid of death. It allowed us to push through and be a little bit braver."
On Sept. 15, 2005, Carl learned acceptance of his own fate did not equip him with the ability to accept that of a brother in arms. It was on that day that Lance Cpl. Shane Swanberg – a Marine he had never met before – fell victim to an enemy mortar attack. Carl found the gravely wounded man, and it was in his arms that Shane took his last breath.
Life Goes On
After he returned to the U.S., Carl remained on active duty for a few months, eventually joining the Marine Reserves. Once again attracted to the lure of family legacy, he soon became a police officer.
Carl suffered regular nightmares about the final moments of the Marine he never knew. His post-traumatic stress disorder (PTSD) heightened when he took on his new role as a federal border patrol agent.
"Some of the drug mules we would apprehend carried AK-47s, and they would fire on us," he said. "It wasn't exactly like being back in the war, but it was a hostile situation."
As the triggers popped up that reminded him of his time overseas, Carl's survivor's guilt became worse. Knowing he could come home when those like Shane could not ate away at an already precarious sense of well-being. He began to self-medicate with alcohol. He likened the situation to a ticking time bomb.
Silent Night
On Christmas Eve of 2009, Carl came home to an empty house after a long shift of law enforcement duty. As an overwhelming sense of loneliness took hold, he began reaching out. Nobody answered the phone.
The grief and guilt became palpable. Maybe people weren't there for him when he needed it most, but whiskey was. Carl drank heavily into the night, and with each sip, the fate of Shane began to seem more and more appealing. By the time his phone rang, he was holding a near-empty bottle in one hand and a loaded handgun in the other.
"My brother called me – probably the only person I didn't try to call that night," Carl said. "When I answered the phone, he told me Merry Christmas, and that he loved and missed me and wished I was there. It hit me like a ton of bricks, and I started crying hysterically. Within an hour and a half, he was on the road coming to pick me up."
Still, Carl's struggles with alcohol and PTSD lingered. Four months after Christmas Eve, a bad car accident ended his border patrol career as he recovered from a broken back. After healing and feeling he had reached a dead end, Carl heeded the advice of his sister and left for a new start in Jacksonville – where his sister worked for WWP.
Finding Friends in the Fight
"I had seen the Wounded Warrior Project logo, but I still didn't know much about it," Carl said. "I thought the organization was just for veterans with severe physical wounds. My sister was the one who opened my eyes about it serving warriors with invisible wounds, too."
He signed up to attend his first WWP event in 2014 – a Jacksonville Jaguars game, which provided a comfortable environment for warriors to connect with one another. Eventually, he was hooked on being part of an organization that united him with veterans who have experienced similar situations and fought the same internal battles.
"I learned how to scuba dive, and I learned how to surf," Carl said. "Through Wounded Warrior Project's career counseling, I got a promising job as a site supervisor with a security company."
Through attending WWP connection events, he realized he was progressing on his journey to recovery, and he was his best self when interacting with and helping his fellow warriors.
Honoring and Empowering
"Finally, I just asked if Wounded Warrior Project was hiring," Carl said. "I knew it would be a very fulfilling career for me."
He started his job with WWP in February of 2016.
Carl loves his job at the Resource Center, helping people calling in who are sometimes at the lowest points of their lives. Borrowing from his own experiences, Carl tells veterans he has been where they are and how WWP's programs and services assisted in his recovery. He is also able to pass on an important lesson he learned.
"They're not alone, and as much as they want to be strong and believe that help is a weakness, it's not," he said. "When you're in a combat zone and you're pinned down, do you call for air support and reinforcements, or do you sit there and say 'I can do this on my own?' Wounded Warrior Project can offer that assistance, and everyone in the organization is willing to go above and beyond for you."
Carl feels like his work is the best way to honor the Marine who died in his arms – and all the others who made the ultimate sacrifice.
"They wouldn't want me to give up," he said. "None of us should be at the point where we feel like we can't go on. Every veteran and civilian needs to live their lives for those who can't. That's what they would want for all of us. That's what they fought for."
As PTSD Awareness Month, June provides the opportunity to bring mental wellness to the forefront of the conversation, calling attention to the telltale signs of warriors suffering in silence – an isolation that all too often leads to a tragic loss of life. The invisible wounds of war do not have to be a lifelong sentence. They can be treated and managed. Life can get better.

Here are 10 tips for helping warriors who are coping with PTSD:
1. Let veterans determine what they are comfortable talking about, and don't push.
2. Bring veterans to a quiet place or suggest some deep breathing exercises when the stress seems overwhelming.
3. Encourage creative outlets like writing to help veterans clarify what is bothering them and help them think of solutions.
4. Avoid unhealthy habits as ways to solve problems. Alcohol and drug use make things worse in the long run.
5. Stay aware of your surroundings. Crowds, trash on the side of the road, fireworks, and certain smells can be difficult for veterans coping with PTSD.
6. Be a good listener and don't say things like "that's just like when I…" or "I know how you felt." Everyone's feelings are unique.
7. Learn about more mental health support resources that ease symptoms of combat stress. www.restorewarriors.org is a website where warriors and their families can find tools on how to work through combat stress and PTSD.
8. Remind warriors they are not alone and many others have personal stories they can share about their readjustment. Talking to other warriors can help them cope.
9. Allow and encourage warriors and their family members to express their feelings and thoughts to those who care about them.
10. Let veterans know that acknowledging they may have PTSD shows they're strong – not weak.
WWP's multi-day mental health workshops provide safe, private environments for warriors to express themselves and share their experiences. These gatherings are offered as all-male, all-female, or all-couples, and are often the first time warriors leave their homes to connect with others in their communities.
Through the generous support of donors, WWP offers veterans specialized mental health programs and services – tailored to each warrior's specific needs and free of charge.
About Wounded Warrior Project
We Connect, Serve, and Empower
The mission of Wounded Warrior Project® (WWP) is to honor and empower Wounded Warriors. WWP connects wounded warriors and their families to valuable resources and one another, serves them through a variety of free programs and services, and empowers them to live life on their own terms. WWP is a national, nonpartisan organization headquartered in Jacksonville, Florida. WWP is an accredited charity with the Better Business Bureau (BBB), is top rated by Charity Navigator, and holds a GuideStar Platinum rating. To get involved and learn more, visit woundedwarriorproject.org.