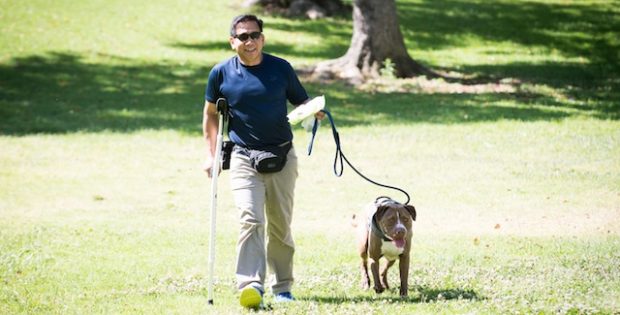 Shelter to Soldier Veteran Recipient Attributes Successful Rehabilitation to Rescue Dog Named "Moose"
Post Traumatic Stress (PTS) is a significant problem for our men and women in uniform, and its effects last far and beyond the battlefield. One in five veterans retuning from combat tours suffer from PTS. Many of these veterans are so debilitated that they are unable to leave their homes or engage in any meaningful way with society. With the combination of therapy, medications and the companionship of a service dog who does not judge them but rather inspires and requires them to get up and out, veterans experience a new lease on life with a boost in their self-confidence, increased productivity and improved relationships through the sense of security and companionship that their service dog provides.
For example, Shelter to Soldier recipient Mr. Leo Casiple (US Army Ret.), who completed 21 years in the United States Army, (more than 13 years of his service as a Green Beret) is a success story born out of the Shelter to Soldier's mission of transforming and "Saving Lives, Two at a Time". Leo began in Special Forces as an Engineer and Demolitions Sergeant and as a Linguist. In 2006, he was advanced to the position of Special Forces Operations Sergeant. Leo was medically retired in September 2011.
After the 9/11 attacks, Leo deployed on overseas assignments as an advisor for allied nations where he helped countries protect their citizens from aggressors—recovered hostages, captured designated enemies of the United States and responded to terrorist activities abroad. The physical toll resulted in a C3-C4 cervical disc replacement, hip resection surgery, three knee surgeries, three heat strokes, and neuropathic nerve pain from multiple bulging spinal discs.
During the medical retirement process, Leo declined a PTS diagnosis from the Army, however, less than two years after medical retirement, he faced multiple costly legal battles and was even hospitalized at an inpatient facility as a direct result of PTS-induced intense rage and impulsiveness. Without an outlet for the mindset that had transgressed into his habitual tendency toward chaos, crises, and adrenaline, Leo became a veteran without a purpose, transforming his energy toward hating himself, and becoming a villain to his family and his community.
Leo considered his options and submitted an application to Shelter to Soldier requesting a psychiatric service dog. After a comprehensive review of his condition, Leo was approved and paired with a Pit Mix named "Moose". According to Leo, "For years, I confused anger as a way to show love, and I had forgotten to give my wife and kids positive reinforcement and a healthy dose of praise. I immediately came home from STS training and apologized to my family and vowed to be forward leaning with love. Training with Moose re-trained me to become more aware of my positivity, to not hold a grudge, and to love—not because I have to— but because love is my true nature."
The circumstances that led Leo to Moose is nothing short of remarkable. In Leo's own words, "In my view, Moose's history and my journey are intertwined. On July 28, 2015, Moose was brought in as a stray (dog) into the Bonita Animal Shelter and was adopted on August 2, 2015. Coincidentally, on July 5, 2015, my family and I arrived in San Diego, California with all of our belongings in a rented Penske truck to distance ourselves from a toxic environment in North Carolina.
Then on June 6, 2016, ten months after Moose was adopted, he was brought back into the same animal shelter for the second time. Moose's number at the shelter was A1667247. By the way, I was assigned to my first-ever Special Forces Detachment with number ODA-166.
In late June 2016 or early July 2016, while awaiting the approval of my Shelter to Soldier application, and without knowledge that Mr. Graham Bloem, Founder of Shelter to Soldier, would later adopt Moose from the same shelter, I visited the Bonita Animal Shelter to sign up as a volunteer. I was told that they had just finished a volunteer orientation class, and was advised to return to the next orientation session. Since I was already at the shelter, I visited all the animals. I vaguely remember seeing a shy, bronze-colored Pit Mix. Fortunately, Graham Bloem adopted Moose on August 10, 2016 and Moose and I were matched shortly thereafter."
During their first meeting, Leo sensed Moose's quiet confidence and was impressed by Moose's intuition to try to heal Leo's injured hip. Leo immediately appreciated Moose's subtle yet solid personality, elements that Leo lost when he became a disabled veteran. During their first casual walk, (Leo hobbled on crutches, Moose walked) Leo was touched when Moose refused to continue walking uphill until after Leo's breathing returned to normal. It felt like a team event to Leo. Leo saw Moose as his fourth son, as his brother on an A-Team, as one of his best friends, and as a daily reminder of the goodness within Leo's heart.
Leo elaborates, "Shelter to Soldier's gradual and comprehensive training approach has re-familiarized me with the innate goodness of my soul. For far too long, I had become focused on my pain, anxiety and anger—I no longer knew how to get out of the PTS cyclone and it was taking my family on a downward spiral. I will be forever grateful to Shelter to Soldier for pairing me with Moose and training us to be life-long companions."
Kyrie' Bloem, Co-Founder and Director of Operations for Shelter to Soldier comments, "We were fortunate to be the recipient of a very generous grant from the Petco Foundation in partnership with Natural Balance last year, which enabled us to adopt Moose, a one-year-old Pit Mix with a spunky but sweet personality, and a very keen desire to help his handler. We first met Moose at the San Diego Department of Animal Services Bonita Shelter and found the perfect fit for him with veteran Leo Casiple. The two have bonded during their handler training experience and their graduation is scheduled for this summer, pairing them for life."
Shelter to Soldier is hosting their 5th annual fundraising gala scheduled for September 16, 2017 in La Jolla, CA, sponsored by Griffin Funding and in partnership with Ranch & Coast Magazine and Redfearn & Associates. Exciting plans are in the works for this festive celebration and for those who are interested in supporting or attending the fundraising effort, the organization is now accepting silent and live auction items as well as event sponsorships, as well as offering tables of ten and individual ticket sales.
The event includes entertainment by contemporary singer songwriter Kinnie Dye and noteworthy auctioneer Clint Bell. A significant addition to the live auction lineup is a guitar autographed by the legendary musician Jimmy Buffet. To participate, contact Kyrie' Bloem at Kyrie@sheltertosoldier.org.
by Eva M. Stimson and Leo Casiple (US Army Ret.)