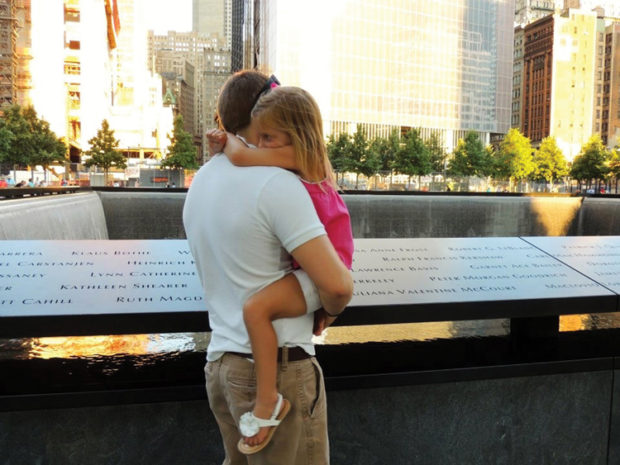 Marine Veteran of Operation Enduring Freedom Believes 9/11 Is Catalyst for America's Next 'Greatest Generation'
"The only thing necessary for the triumph of evil is for good men to do nothing."
This famous quotation is often attributed to Irish statesman Edmund Burke from back in the 1700s. Although the true attribution has never been 100 percent verified, the words themselves continue to resonate, especially with U.S. Marine Corps veteran Zachary Bell.
"There are few very universal truths in this world, but that [quotation] is one of them," proclaims Bell, a Nashville, Tenn., resident and Boot Campaign Veteran Ambassador. "It is just a fact.
"I think if you look back at World War II with Pearl Harbor," he explains, "we were so full of our own bravado that we put 90-plus percent of our entire Naval fleet in one location because we were so sure that no one would ever reach it. And then the attack on Pearl Harbor happened, and it brought us into World War II, because until that moment we really weren't invested in it.
"The same thing happened on September 11," reminds Bell. "There was this war going on overseas and there was conflict level stuff that was happening, but pretty much until that moment we were like, 'whatever.' Then 9/11 happened and we had to face the hard reality of life that there is evil that exists in this world and something has to be done about it."
A native of Memphis, Tenn., Bell was only an eighth grader on Sept. 11, 2001 when terrorists hijacked commercial airliners to attack New York's World Trade Center and the Pentagon in Washington D.C., but that American tragedy remains forever etched in his memory.
"I remember being at home getting ready to go to school, and I got a call from my mother and grandmother," he explains. "I was told to stay home and turn on the TV because there was something that happened in New York and nobody really knew what it was.
"I turned on the TV and a few moments later I saw the second plane go into the second tower," he continues. "I just remember seeing it and, for some reason, I instantly knew that it wasn't an accident, that it was on purpose, and that my fear was replaced with anger. There was one tower that was just smoldering, and you see the second tower hit and it just looked too intentional. That was like the moment my entire world changed."
It took all of high school and a disappointing first semester at the University of Memphis for a direction-less Bell to act on those changes to his world and make a firm commitment towards his future and a life of service. In 2007 at 19 years of age, he followed in the footsteps of his cousin, Mitch Cannon, and enlisted in the Marines Corps as an infantry rifleman with First Battalion, Sixth Marine Regiment.
"There was this overwhelming sense of unity that swept over the country for some time, and I remember I just wanted to be a part of that," recalls Bell. "Like that saying goes, I didn't want to 'do nothing.'
"I knew there was this thing I wanted to do, which was to serve my country," he adds, "and I knew it could help me mature and grow in a lot of ways that would help to shape the person I would become. I just felt this pull towards the military."
During his four-year tenure as a Marine, Bell deployed as part of Operation Enduring Freedom to Garmsir, Afghanistan from March to July 2008, and followed with another deployment to Marjah, Afghanistan from December 2009 to July 2010. He was combat-meritoriously promoted to corporal and held the billet of infantry squad leader, before ultimately departing the military at the rank of sergeant in February 2011.
The opportunity to serve his country was not his only motivation for joining the Marines at age 19. Becoming the Rudy Ruettiger of sorts for his family was another huge motivation. Although he never dreamed of playing football for Notre Dame, he did desire to be the first in his family to graduate from college, and the Marine Corps offered him a full scholarship as a bonus for enlisting.
In the midst of his military service, not only did he quickly develop into a respected and battle-tested Marine sergeant, he also became a husband to wife Christy and father of two daughters, Alyssa and Audrey. His deployments away from his family took their toll, and certainly give him a lot to think about in terms of perspectives and priorities.
When his military contract was about to expire, Bell found himself at another of life's crossroads and was forced to make a major decision that would affect his future, as well as the possible destiny of his young family.
"At the end of it I had a lot of different options," explains Bell. "I was looking at being an officer, staying in the infantry, all sorts of different stuff. It was weird, because I had always treated the military like a job but I actually became really good at it. I didn't realize I was of value until a recruiter came to me and asked, 'what will it take to make you reenlist because we want you.'
He said he talked to his wife about his different options and the offer to reenlist, but realized in his heart that he had already made up his mind many months before. He can basically recall the exact instant he realized what path he should take.
"I can remember the moment I knew what I should do, because it was right before I left for my second deployment, to Marjah, Afghanistan," he recalls. "We had done an early Christmas with my oldest daughter, and my wife was pregnant, and we only had two weeks to do everything because they made a last-minute decision for us to deploy.
"I bought holiday cards for everything I would miss with my wife, my first-born child and my unborn child. I sat down at a table and went through it all chronologically, everything I wouldn't be there for over the next seven months. I was kind of overtaken by the fact that this might be one of the only things any of them would ever have to remember me by, and that was kind of jarring.
"I didn't realize until I was halfway through it, but I just thought to myself I didn't want to do this the rest of my life," he says. "Even if I was lucky enough to make it through it, I would have to do this again, and again, and again, and I had already missed so much. My hat's off to anyone who's able to do that, but it wasn't the life for me. Military service comes at a huge sacrifice, especially on a family, and I just didn't want to do that anymore."
With the weight of his huge decision lifted from his shoulders, Bell left the military and returned to his family and civilian life where he immediately began pursuit of a lifelong goal, a college diploma. He earned his bachelor's degree in psychology from Nashville's Lipscomb University in the fall of 2014, and quickly followed that fete with his MBA from Lipscomb in May 2016.
Bell presently works as an account executive with a Nashville health care organization. To feed his creative juices and desire to share his military experiences, he has written articles for both The New York Times: At War Blog and the Huffington Post. He also engages the local community to foster awareness about military issues and the services offered by Texas-based nonprofit Boot Campaign.
"I had the opportunity to meet several of the Boot Campaign staff, and after meeting Marine veteran Marcus Burleson, I decided I really wanted to be a part of their organization somehow," reflects Bell.
"When he asked me to be a Veteran Ambassador I was elated and still can't believe I was invited to do so. I truly consider it an honor and privilege to be a part of an organization that is changing and saving lives."
With Bell's military experience behind him, he realizes his perspective has slightly changed on the events of September 11, 2001, even though his memories from watching the horror live on his television screen have been cemented forever.
"Now that I am a parent, I understand it's my job to hold back the harsh realities of the world so my children are able to understand them and conceptualize what's going on," Bell explains. "But at that moment on 9/11, it was all gone for me. There was no more illusion or magic or anything. I was shown what real evil was and how it exists in the world, and it left an indelible mark on me, as it did for many people."
To help shape his new perspective, Bell took his family to New York to visit the National September 11 Memorial and honor the nearly 3,000 people who perished in the terror attacks. While he learned the Big Apple is not the quietest city in these United States, he found the Memorial site to be a welcome contrast to the hustle and bustle of the surrounding metropolis.
"I remember we were walking on Wall Street or something and it was so loud, but then we finally got to the 9/11 Memorial and it was very quiet and peaceful, just beautiful," he reports. "I still remember touching the names that are engraved, and seeing the water flowing. It was just unlike anything I'd ever seen. To see the place and this event that had changed the direction of an entire nation and generations to come was something I will never forget."
With the unfortunate events of September 11 as a catalyst, Bell now has a strong belief that America will come out even stronger as a nation, much like it did many decades ago under similar shocking circumstances.
"Nine/11 was something that brought America together in the modern era, the entire population to the forefront of the realities in the world," says Bell. "The only other time that happened was with Pearl Harbor and, through that horrible event, America went to war and was able to stop the Axis Powers from taking over the world. We went on to build a nation that was unlike any other, so much so that its generation is called the 'Greatest Generation.'
"Through the tragedy of 9/11," he concludes, "I really do believe there is the foundation for the next 'Greatest Generation' to come forward."
By Barry Smith
Boot Campaign
Learn more about Boot Campaign at www.BootCampaign.org.