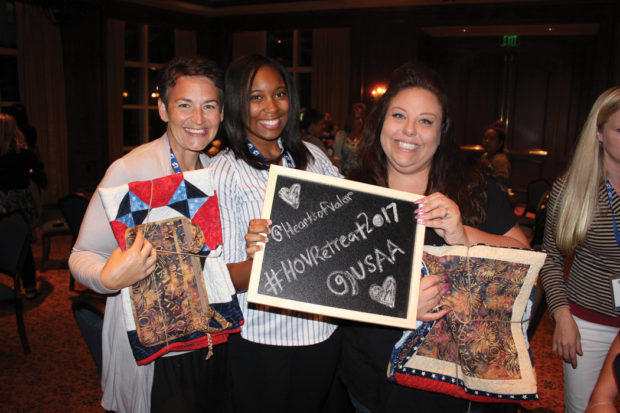 Operation Homefront on Aug. 25-27 held the first of two Hearts of Valor military caregiver retreats scheduled for this summer. This is the seventh year that the annual retreats have been held. Thanks to a generous donation from USAA, 70 caregivers of wounded warriors from across the United States gathered to further their knowledge on caregiving.
Operation Homefront is committed to strengthening military families, and the retreats provide a safe and welcoming environment where military caregivers can feel comfortable expressing their thoughts and feelings with staff and with each other.
Thirteen subject matter experts delivered 12 hours of education during the August retreat that was relevant to military caregiving and was centered on support systems, self-care, stress, coping skills, veteran care, and fostering healthy habits. At the retreat, each military caregiver experienced a variety of wellness opportunities, including individual spa time and an introduction to yoga and meditation.
This year's program included presentations from prominent and distinguished experts in the field of caregiving. The content was designed to have a lifelong impact on the caregivers.
Renowned clinician, Associate Vice President and the inaugural Director of the Military Health Institute at the University of Texas Health Science Center at San Antonio, retired Air Force Maj. Gen. Dr. Byron C. Hepburn, discussed ways in which the body responds to stressful situations, underlining the importance of wellness.
Clinical health psychologist and Assistant Professor of Psychiatry in the School of Medicine at UT Health San Antonio Dr. Lindsay Bira, a TEDx speaker, gave an educational presentation on mindfulness, including hands-on exercises.
Boots and Aprons, a San Antonio-based company, presented "Slow Cooker Secrets," a program influenced by the Eat Healthy, Be Active Community Workshops. The military caregivers worked with Dr. Roxana Delgado and Dr. Kimberly Peacock of the Department of Epidemiology and Biostatistics at UT Health San Antonio to develop healthy eating habits, including cooking demos with crockpots and sampling the food.
Adjunct Clinical Faculty at the University of Maryland School of Social Work William Reidy, LCSW-C, presented practical ways to evaluate stress.
The speakers were asked to consider the challenges of caregiving and, through their professional expertise, they offered the caregivers practical and useful tools in reducing stress.
Another retreat was held Labor Day weekend in San Antonio.
Founded in 2002, Operation Homefront's mission is to build strong, stable, and secure military families so they can thrive, not simply struggle to get by, in the communities they have worked so hard to protect.