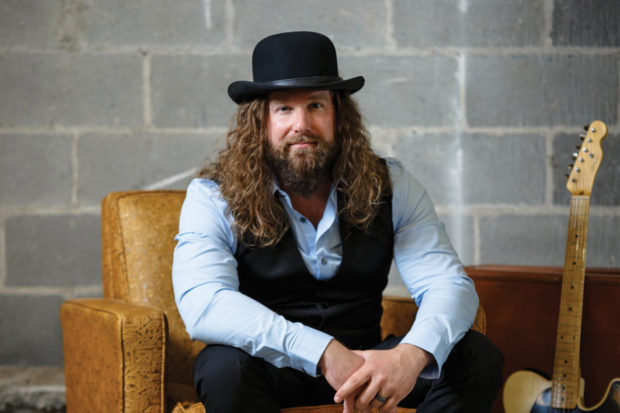 It's a "Damn Good Day" for 16-Year U.S. Navy Vet and Former EOD Technician Who's Now Rocking Civilian Life
When you are an Explosive Ordnance Disposal (EOD) technician with the U.S. Navy you are trained to perform some of the most dangerous work on the planet, in any environment, to keep your comrades and civilians out of harm's way.
The website Navy.com says EOD techs are "much more than the world's ultimate bomb squad." They are a group of brave warriors trained to investigate and neutralize improvised explosive devices or any type of ordnance, including chemical, biological and even nuclear weapons.
So, when disarming explosives is your everyday job, it helps to have a good, healthy distraction you can turn to in your down time that will help you kick back and relax.
For U.S. Navy Petty Officer First Class (Ret.) Brian Grilli of Lansing, Ill., who served multiple Iraq and Afghanistan deployments as part of Operation Iraqi Freedom and Operation Enduring Freedom, that distraction he turned to was the guitar.
"I took my guitar with me on deployments and played every now and then," recalls Grilli, who spent 16 and a half years in the Navy, including four years before Sept. 11, 2001, and 12-plus years after. "Music's always been an outlet for me for everything. Music in general, for a lot of people, can be an escape. Even listening to music is therapeutic.
"I have always had the music bug because it was a big part of our family," he reflects. "My dad was a classically trained piano player and opera singer, my mother was a singer, and two of my brothers play musical instruments. I've played the guitar since I was 8 years old, and seriously since I was 12, but I'm more or less self-taught."
Grilli spent his entire military career stationed at the Joint Expeditionary Base–Little Creek in Norfolk, Va., where he began his service at 19 years of age as a deep-sea diver and one of 100 sailors attached to the salvage ship USS Grasp. He completed his four-year contract and left the military to start a career in music. "When I got out of the Navy the first time, I formed a band and we did pretty well," he says. "But things didn't pan out and then 9/11 happened."
Like many Americans, Grilli distinctly remembers what he was doing when he first learned about the terrorist attacks on the World Trade Center's landmark twin towers. "I was changing my son," he recalls, "and I came down stairs because my mom, who was staying with us at the time, told me to watch the television. I started watching, and about a year later went back into the Navy."
After rejoining his fellow sailors for a short while, he felt he was ready for new challenges and ways to serve, so he decided to change his career path and went into EOD training.
"I think what attracted me to it was to try and make a difference, to keep our guys safe, and try to thwart any of our adversary's plans," he confides. "I guess I had a sense of duty, to our fellow boots on the ground, keeping them out of harm's way, and making sure the other people we were embedded with were also trained, so they could be safe."
Grilli went on to serve eight years as an EOD, before suffering multiple injuries on his last deployment overseas. At that point, he knew his military career was at an end and it was time to put his weapons down and pick up the guitar for good, exchanging combat trips to the Middle East for trips around the music world.
"After I got hurt and I was not healing up, I was basically to the point where I couldn't do my job anymore," says Grilli, who medically retired in 2014. "At that time, I decided I was going to go back to music, and started writing my first album. I was actually recording it while I was waiting to retire."
In 2013 Grilli released his first album, "Damn Good Day," which made the independent music world and national music scene take notice. The title track was his first single, and it rose up the charts fast to the No. 1 spot on Indieworld, helping him gain the notoriety that led to an appearance in the September 2014 issue of Guitar Player magazine. Now an accomplished musician and songwriter, the Chesapeake, Va., resident, husband and father of four has captured the attention of many prominent musicians. He has written songs for Sons of Anarchy and the award-winning independent documentary "Until It Hurts." He also has shared the stage with the likes of country music stars Blackberry Smoke, Brantley Gilbert, Florida Georgia Line, Eli Young Band, Thomas Rhett, Fyler Farr and Stoney LaRue, as well as rockers Cheap Trick, Styx, .38 Special and Lucero.
His efforts have enabled him to become a proud voting member of the Country Music Association and Americana Music Association, and earned him a music contract with Spectra Records. His first album with the South Carolina-based company – "Introducing… Brian Grilli" – is scheduled to debut in 2018 featuring what Grilli describes as his "most mature and personal songs to date."
Grilli further explains that the recording will not include any songs about his experiences in the Navy.. "It's completely away from the military," he discloses. "The first album I didn't have a voice, I was kind of just looking for a sound. This new album is more me, and more the direction that I'm going for and comfortable with, a little more southern rock and country."
Even though his music career is taking off, Grilli has found time to finish his bachelor's degree in criminology from St. Leo University, and is working on another degree in exercise science from Old Dominion University.
In addition, Brian gives back to the military community as a Veteran Ambassador for Boot Campaign, and is an avid supporter of Combat Wounded Coalition, Wounded EOD Warrior and Navy SEAL Foundation.
He also has made time to undergo important rehabilitation by participating in Boot Campaign's ground-breaking veteran assistance program, ReBOOT, getting his body and mind back in shape with the help of program partners Virginia High Performance of Virginia Beach, Va.
"ReBOOT is probably one of the most comprehensive and beneficial programs I have ever witnessed or been a part of," Grilli assesses.
"It really tries to take into consideration many facets of wellness, and getting someone who has a TBI or PTSD or limiting injuries and making that person way better than when they came in.
I have seen some amazing results, not just from myself, but other people in the program I was working with side by side."
While he says ReBOOT has been a tremendous help and confidence booster, Grilli acknowledges his transition from military to civilian life has been an extremely tough challenge, even though his music career has taken a steep climb.
"I was one of those alpha-male types, and once you get out and are slowed down it can be a blow to your ego," Grilli admits. "You question if you're the man you used to be.
A lot of times you have a hard time with it and you just have to take life as it comes.
"At this point though, life is good," he continues. "I'm really happy. Seriously, it's great. I'm enjoying life.
It took me a while to appreciate exactly what I have, and dealing with that adjustment and settling down and being comfortable with my new role in life.
"I attribute that to my wife, Kristen, for her keeping me real," he concludes. "She's made me see things differently, in a good way, and helped me get stuff on track.
And that's what I think veterans need is that support system, from family, friends and organizations like Boot Campaign."
Learn more about Boot Campaign and its ReBOOT program at www.BootCampaign.org
By Barry Smith
Boot Campaign