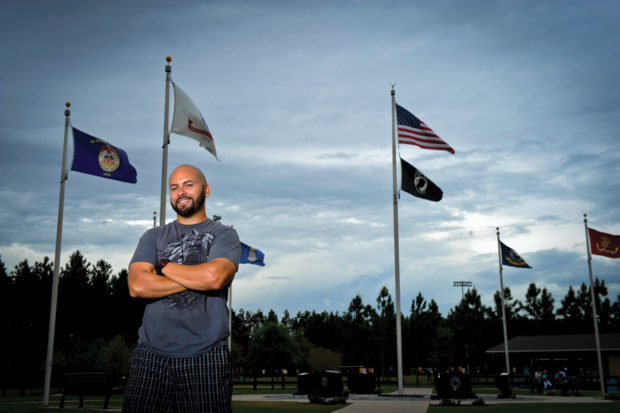 Claude shattered and compressed his vertebrae and compromised 80 percent of his spinal canal after a sudden helicopter crash in Iraq. After enduring four surgeries and eight months of grueling rehab, Claude proved doctors wrong by walking again. He even received approval to fly again, deploying to Iraq for the second time. And although Claude's 25-year service to country eventually concluded, Claude continues his service by supporting fellow injured veterans as a warrior mentor with WWP.
Veterans often feel alone until they realize others have similar thoughts, feelings, problems, and experiences. The Peer Support program provides a first step in helping these warriors connect with one another as it fuses supportive rehabilitation with the military adage "Leave No Man Behind." This warrior-to-warrior support is a special type of therapy that reintroduces injured veterans to the unique bonds experienced during military service.
The goal of peer support is to improve warriors' resiliency and psychological well-being. As they progress in their recovery, many become mentors to other warriors who are at the beginning stages of transition and recovery.
The journey continues until every injured veteran who was once the warrior being carried off the battlefield is empowered to become the warrior who carries others, thus embodying the WWP logo. At WWP, this is known as "living the logo." For warriors, the logo is an undeniable symbol that reminds them of their resilience – and their passion for continued service. Warrior mentors know what it is to endure the road to recovery. This unique equality in their relationships with other warriors allows them to serve as a role model, motivator, supporter, and friend, while also maintaining close vigilance of each warrior's needs and potential triggers.
The result? Warriors saving other warriors' lives.
WWP doubled down on the Peer Support program's success by increasing its focus on group support to better connect and serve wounded veterans and service members. These groups are then facilitated by warrior leaders who WWP selected for demonstrating leadership strengths and their abilities as a peer mentor. Peer Support Group leaders are volunteers who must be willing to commit eight to 10 hours a month to the support group they lead – after attending a mandatory, extensive, multi-day training seminar to help them support their WWP peers on the path to healing.
While deployed to Iraq, Carlos sustained both a traumatic brain injury and physical injuries from a mortar blast. One of the hardest parts of his recovery was finding a new purpose. When Carlos' Army career ended, he became one of the first WWP warrior mentors.
"We all share a common ground, and we can use it as a starting point to better our lives," Carlos said.
Hearing stories of resilience from warriors like Claude and Carlos and having an environment for warriors to feel safe in sharing their own stories are the cornerstones of peer support.
"In order to tell your story, you need to hear other stories," Claude said. "You have to be a good listener before you can tell your journey. But the more you can tell about your journey, the better you're going to feel, because you're getting it out."
As warriors absorb the lessons learned through conversations and activities, Peer Support Groups are indispensable to warriors who are actively repositioning their thought processes while they make connections and develop the confidence to find the healing power of sharing their own stories.
"We're always looking at ways to improve how we serve our warriors," said John Roberts, WWP national service director. "We are confident that this group support model will ultimately strengthen our veteran communities, aid more people, and have a deeper impact in their recoveries."
On any given week, hundreds of wounded warriors from more than 40 Peer Support groups across the country meet and participate in activities ranging from group support meetings to community service projects.
"A complete recovery looks different for everyone, and finding an approach that works specifically for each warrior is crucial," John said. "In a group setting, injured veterans can hear many unique stories of resilience, making it more likely each warrior will connect with at least one other person in the room."
Each warrior collective gives something when they share their journeys to recovery, and everyone gets a little something back, too – including the leaders.
"I facilitate these groups, and I get just as much out of it as the participants do," said Daniel Dumas. "The face-to-face interaction can really pick you up. The familiarity is there.
Whether you are comfortable or not, you know you are safe in that environment with the warriors, because everyone in the group has a little bit of what you've got.

About Wounded Warrior Project
We Connect, Serve, and Empower
The mission of Wounded Warrior Project® (WWP) is to honor and empower Wounded Warriors. WWP connects wounded warriors and their families to valuable resources and one another, serves them through a variety of free programs and services, and empowers them to live life on their own terms.
WWP is a national, nonpartisan organization headquartered in Jacksonville, Florida. WWP is an accredited charity with the Better Business Bureau (BBB), is top rated by Charity Navigator, and holds a GuideStar Platinum rating. To get involved and learn more, visit woundedwarriorproject.org