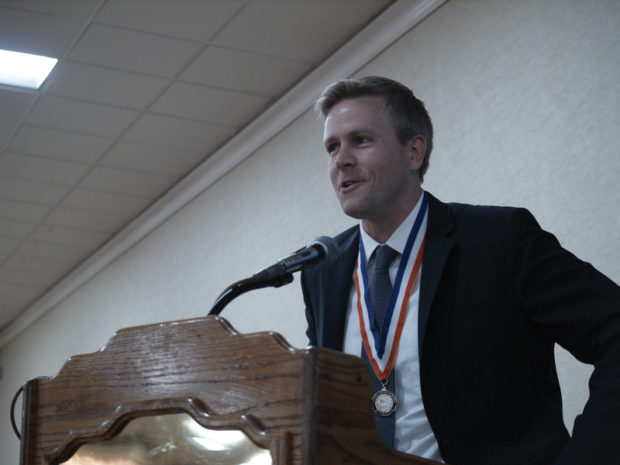 Congratulations to 2017's San Diego County Veteran of the Year, Robert Muth. Each year, the Veterans Museum at Balboa Park selects one veteran who goes above and beyond in their "service after service" within their communities. Their continued selfless servitude to their community and fellow veterans is something that VMBP believes is important. Veterans are a great asset to any organization or business. Their work ethic, standards and attitude are always to be admired. In all, the museum received 27 nominations for 2017 Veteran of the Year, 5 for Lifetime Achievement, 9 non-profit nominations and 3 for-profit
Each year the VMBP offers four categories which individuals and businesses can be nominated in. The most exclusive is the VOY, followed by the Will Hays Lifetime Achievement Award, the San Diego Meritorious Support of Veterans Award (recognizing a non-profit) and the San Diego Veterans Allegiance Award (recognizing a for-profit).
This year's big winner is Robert Muth, currently an Adjunct Professor of Law at the University of San Diego (USD) and he teaches in the areas of veterans law and legal ethics. He is also the Supervising Attorney for the University's Veterans Legal Clinic and oversees hundreds of veteran legal cases each year. During his military service, Muth served as a Captain and Judge Advocate in the U.S. Marine Corps, serving at Camp Pendleton in San Diego and deployed for 13 months to Fallujah, Iraq in support of Operation Iraqi Freedom. This year's Will Hays Lifetime Achievement Award went to Gary Rossi, The Veterans Allegiance Award went to Honor Flight San Diego, and the Meritorious Support of Veterans Award went to Motivated Military Movers.
For the next year, Muth will represent the veteran community. Last year's VOY, Nadirah Sahar, recalls her experiences.
"As Veteran of the Year I have gotten to know exceptional people who inspire me," said Sahar. "It is an honor to have met the Peraltas and other Gold Star families at the Mt Soledad Memorial Day ceremony, where we were reminded by Gold Star mothers to pay homage to those who are no longer with us."
This year, Holly Shaffner ran The Veteran of the Year Program planning committee. Shaffner is a long-time VMBP supporter and veterans advocate. This is the first year the committee has been headed by anyone other than program creator, Will Hayes. Hayes, a Korean War Veteran, created the San Diego Veteran of the Year in 1989, shortly after the museum was opened.
"It was such an honor to be the Chairman of the San Diego County Veteran of the Year program and to be handed the reins from a local military giant, retired Navy Captain Will Hays," said Shaffner. "He ran the program for 27 years and I had some pretty big shoes to fill. It was my goal to continue with his vision about honoring veterans for their service after service and continue to grow this remarkable program."
Shaffner has done just that. 2017 was the first year the entire nomination process could be completed online. With an easier, streamlined process, the museum experienced a record number of nominations.
"For the first time ever, we designed a website totally dedicated to the VOY program and this year was the first in which nominations were done strictly online," said Shaffner. "I was proud that we had a record number of nominations and I look forward to growing this program in future years and honoring more veterans."
Honoring veterans is the main reason the VOY Program was started so long ago. As Vietnam Veteran and VMBP Executive Director, Sheldon Margolis, says, "many years ago, a group of veterans thought it was important to show how their fellow vets continue to serve each other and the communities they live in. Often unsung, these early veterans' community leaders sought to let people know just how much veterans were contributing."
The Veterans Museum at Balboa Park is dedicated to bolstering the legacy of our community's veterans through great programs like Veteran of the Year and many others. To learn more about what the VMBP has to offer, see their website at www.veteranmuseum.org.