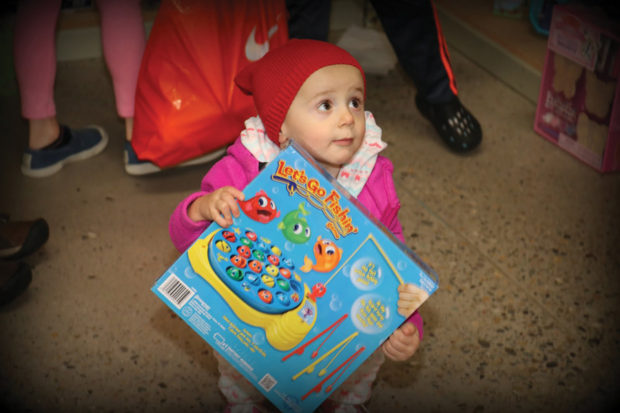 Operation Homefront Distributes Holiday Meals and Holiday Toys to Military Families
SAN ANTONIO — Many military families, particularly junior and midgrade enlisted families, deal with tight family budgets that are stretched even further during the holiday season. Operation Homefront, which has been Serving America's Military Families® since 2002, thank these military families for their service by easing their holiday financial burden through its Holiday Toy Drive® and Holiday Meals for Military® programs.
Operation Homefront distributed more than 8,000 holiday meals to military families at more than 40 local events in November and December through its 2017 Holiday Meals for Military® program. The program began Thanksgiving 2009 as the result of a chance encounter in a supermarket in Utica, N.Y., near Fort Drum. A soldier, his wife, and infant had a handful of grocery items they could not afford, so a Beam Inc. employee picked up the $12 cost for the groceries. Since that time, the program has grown from initially providing 500 meal kits to military families in 2009.
In addition to Beam Suntory, major sponsors for the Holiday Meals for Military® program include the Bob & Dolores Hope Foundation, Cracker Barrel Old Country Store, Procter & Gamble Company, Safeway, SAIC, and San Antonio Shoemakers.
The national nonprofit also collected millions of toys that Dollar Tree customers purchased through the Operation Homefront Holiday Toy Drive®.
Dollar Tree stores had collection boxes available in which shoppers placed their purchased toys, knowing they will be delivered to the children of our men and women in uniform. Operation Homefront volunteers collected these toys to be distributed at the nonprofit's holiday events across the country and through on-base Family Readiness Groups. Making the season bright for military families is what this partnership is all about, and Dollar Tree and its generous customers have made that joy possible since 2006.
Holiday Meals for Military® and Holiday Toy Drive® took place as part of Operation Homefront's "Giving Strength" campaign from November 23 through December 31. Operation Homefront knows our military and veterans have served around the world to protect us. Along with their families, service members continually Give Strength by serving in our nation's time of need. That's why Operation Homefront provides a variety of programs and services that show these families that their nation is grateful for their service and that we are there to help them. Learn more at OperationHomefront.org/GivingStrength, and join in online with the hashtag #GivingStrength and tag @OperationHomefront.
About Operation Homefront: Founded in 2002, Operation Homefront is a national nonprofit organization whose mission is to build strong, stable, and secure military families so that they can thrive – not simply struggle to get by – in the communities they have worked so hard to protect. Recognized for superior performance by leading independent charity oversight groups, 92 percent of Operation Homefront expenditures go directly to programs that support tens of thousands of military families each year. Operation Homefront provides critical financial assistance, transitional and permanent housing and family support services to prevent short-term needs from turning into chronic, long-term struggles. Thanks to the generosity of our donors and the support from thousands of volunteers, Operation Homefront proudly serves America's military families. For more information, visit OperationHomefront.org.