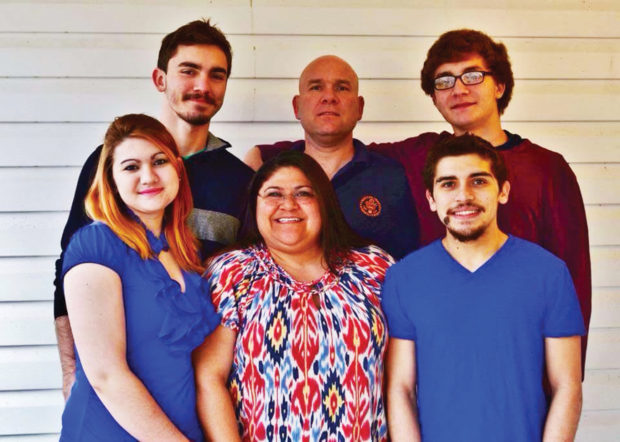 2018 Marks New Chapter For Army Vet, Military Spouse and Military Mother Who Continues To Give Back
U.S. Army Staff Sergeant (Ret.) Sarah Lucas is used to wearing many hats in a life of service to her country and family. But the year 2018 is expected to mark a new and welcomed chapter in the life of this veteran who continues to aid her military brethren as the spouse of an active duty U.S. Marine, mother of a U.S. Coast Guardsman, a case liaison supporting hundreds of military families and a Veteran Ambassador for Boot Campaign. That new chapter could be described with just two letters – R and V.
"The Lucas family will undergo many changes this year and we are mostly looking forward to the new adventures we, as retirees, will get to have as full-time 'RVers,'" explains Lucas, whose retirement and volunteer plans will no doubt involve greater use of recreational vehicles. "The biggest milestone for (husband) Steve and I will be his retirement from the Marine Corps after 30 years as an EOD Tech. We will travel this wonderful country of ours, and we also look forward to seeing our children's adventures as they begin to forge their way in the world and leave our side."
A native of Tucson, Ariz., Lucas is greatly anticipating more R&R after serving 18 months in the Army Reserves and 16 years of active duty as a combat medic, hospital medic, instructor and flight medic on a UH-60A Blackhawk helicopter before medically retiring in 2009. She currently resides in Chesapeake, Va., with her husband, Steve, a Lieutenant Colonel and EOD officer in the U.S. Marines, who has been active for 29-plus years and is stationed at Naval Support Activity-Norfolk as part of the Marine Forces Command (MARFORCOM) until his official retirement in 2018.
"I believe being a military spouse is just as difficult as being a service member," surmises Lucas. "As a service member, you know what you signed up for, what you volunteered for and what is needed to get the job done or accomplishing the mission. The service member knows the risks and accepts them. As a military spouse, you do not have the luxury of knowing what is happening. You know the risks but are unable to have any control over the situation.
"All you can do as a spouse is to keep moving forward," adds the mother of three sons and a daughter. "What you do know is that you need to keep taking care of things back at home while the service member is away. A spouse wishes, hopes, prays and tries to stay as positive as possible until the family is back together again."
While her husband's military retirement is coming up shortly, she found her own transition from active military to civilian life in 2009 to be especially challenging. It turned out that going back to school and volunteering with a variety of non-profit organizations helped her to define her new professional goals.
"One of my biggest challenges since leaving the military was trying to keep the connection with the Army," she recalls. "I lost my identity as a service member and didn't know what I would do next. I had sacrificed so much time away from family, and now I felt left out. The hardest of all was trying to figure out what type of job I would like to do moving forward."
To find her civilian niche, Lucas returned to school, earning a bachelor's degree in sociology with a minor in global studies from George Mason University in 2013. During that graduation year, her husband sustained a non-combat related injury while deployed and Lucas spent approximately 27 days by his side during his recovery at Bethesda Naval Hospital in Washington D.C. Her experience of being on both sides of the healthcare system convinced her to dedicate her time and effort in becoming an advocate for veterans and their families.
Lucas now works as an Exceptional Family Member Program (EFMP) case liaison at Joint Expeditionary Base Little Creek–Fort Story in Norfolk, Virginia.
By definition, EFMP is a U.S. Department of Defense enrollment program that works with other military and civilian agencies to provide comprehensive and coordinated community support, housing, educational, medical, and personnel services worldwide to American military families with special needs. Active duty service members enroll in EFMP when they have a family member with a physical, developmental, or emotional or mental disorder requiring specialized services so their needs can be considered in the military personnel assignment process.
"After retiring and volunteering for many months, I decided to apply for one job only, EFMP case liaison, because I wanted to support families," says Lucas. "On a daily basis, I contact families to see what needs or services they have at that time that I may be able to assist with. I currently manage over 500 cases of Navy families who have individuals with special needs. I provide services and resources depending on the diagnosis."
While Lucas is now just as busy as ever, she still finds time to volunteer with Boot Campaign as a Veteran Ambassador. She was introduced to the Texas-based military non-profit by combat-wounded Marine Staff Sergeant (Ret.) Johnny "Joey" Jones, a fellow EOD technician with her husband Steve, who was involved with the EOD Warrior Foundation. Jones and his wife Meg, Boot Campaign's current programs director, invited the Lucas family to volunteer in a fundraiser by participating in the charity's PUSH campaign in Washington D.C.
"Our entire family got involved counting push-ups and even doing push-ups along with my 82-year-old mother," reflects Lucas. "That's where we met other staff members from Boot Campaign and we instantly loved their enthusiasm and the message of helping veterans who are in need of assistance."
She received her own assistance from Boot Campaign by recently going through Boot Campaign's revolutionary ReBOOT treatment program that features a complete diagnostic workup on the vet's body and brain, conducted by some of the world's leading medical experts and institutes. She's now proud to represent Boot Campaign in any capacity she can, especially because of how it was formed and what she believes it stands for.
"Boot Campaign had a very modest beginning," explains Lucas. "It was civilians, with no connection of any kind to the military, who decided to take it upon themselves to support the troops a million miles away. That small token was the foundation of what Boot Campaign has embodied, civilians bringing awareness to veterans issues, promoting patriotism and supporting the veterans through programs.
"I couldn't have asked for a better organization to be a part of as a Veteran Ambassador," she confides, "to be able to continue to bring that message into my community through speaking engagements, supporting events and wearing my Boot Campaign boots any place I go."
Thanks to the military, Lucas has already had plenty of places to go, globetrotting to more destinations around the planet during her 16-year career in the armed forces than many people experience in a lifetime.
After spending one year in her hometown of Tucson as part of a U.S. Army Reserve Center, she moved for six more months to a reserve unit in Milwaukee, Wis., before receiving orders for active duty at the Troop Medical Clinic in Yongsan, Korea. After a year overseas, she was reassigned in 1994 to Defense Medical Readiness Training Institute in Ft. Sam Houston, Texas, where she served three years before being transferred to Landstuhl, Germany, with the 236th Medical Company (Air Ambulance). In 2000, she was transferred back to the U.S. to serve two years at the 64th Forward Support Battalion's Aid Station at Fort Carson, Colo., and then she served three years as a non-commissioned officer of the 23rd Quartermaster Brigade at Fort Lee, Va.
In 2005, Lucas deployed as part of Operation Iragi Freedom to Eskan Village, Riyadh, Saudi Arabia, and later to Camp As Sayliyah in Doha, Qatar for 6 months, where she traveled to Oman, Egypt, Kuwait and Saudi Arabia on assignment. She came back to America in 2006 and was stationed at the 6th Ranger Training Battalion's Troop Medical Clinic on Eglin Air Force Base, Fla., where she finished her active duty.
Now she expects to have much more time to travel to new locations around the U.S., as well as enjoy her other pursuits, such as playing softball, riding motorcycles, woodworking, hunting, fishing and her new guilty pleasure – hunting for and finding a hidden object by means of GPS coordinates posted on a website – known as geoaching.
The year 2018 not only marks the year of her husband's retirement, but also represents a milestone for the couple – Sarah and Steve will officially become empty nesters. Their youngest son Quentin (19) will be attending basic training at Cape May, N.J., hoping to follow in footsteps of his 23-year-old brother, Kyle, by joining the Coast Guard. Micah (22) will be moving out into his own apartment and transfer to Old Dominion University to finish his degree, and daughter Bryanna (20) will make the move to a new job in Pigeon Forge, Tenn. All told, the Lucas family will be quickly spread across the states of Virginia, Tennessee, New Jersey and Alaska in 2018.
"As the kids grow and start moving on with their own lives, the uncertainty is always there of what will happen with them," confides Lucas. "But being able to recall the lessons Steve and I taught them, we know they will have the tools to move forward in life."
For those committed to New Year's Resolutions, endeavoring to assist veterans in need and providing children with the tools essential to moving forward in life are certainly most worthy resolutions indeed.
By Barry Smith
Boot Campaign
Learn more about Boot Campaign at www.BootCampaign.org.