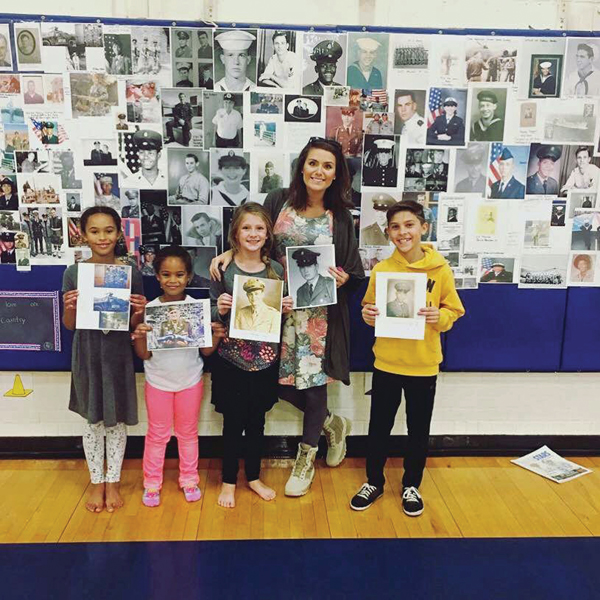 Teaching Patriotism, Safety and Survival Skills Are Key Priorities For Texas Mother Serving In The U.S. Air Force Reserves
By Barry Smith
Boot Campaign
"Freedom is never more than one generation away from extinction. We didn't pass it to our children in the bloodstream. It must be fought for, protected, and handed on for them to do the same."
That famous quote from 40th U.S. President Ronald Reagan is a favorite of Staff Sergeant Danielle Vaughn, an Aircrew and Flight Equipment (AFE) Technician in the U.S. Air Force Reserves, whose career is fundamentally based on education and passing on lessons of patriotism, safety and survival skills so those she comes in contact with can make the most of the freedoms America provides.
A native of Tyler, Texas, Vaughn is in her ninth year in the military and eighth as a reservist. Based out of Barksdale Air Force Base in Louisiana, 113 miles outside of her current home in Chandler, Texas, Vaughn's job the past two years in the Operations Support Squadron is to maintain and train aircrew members on safety and survival equipment and skills. It is a new role she takes great pride in after beginning her career as a medic.
Away from the base, Vaughn keeps her plate full by serving as a mother to nine-year-old daughter Maddison, fourth-grade teacher, student in pursuit of a post-graduate degree, and Veteran Ambassador for the Texas-based military non-profit Boot Campaign. It is her passion for teaching and love of daughter, children and country that keep her motivated to make a difference in the lives she touches.
"I try to remember President Reagan's quote," explains Vaughn, "because, to me, there are few things more important than our future generations understanding the meaning of freedom and how lucky we are to have it."
In 2007 when Vaughn first enlisted in the Air Force, her understanding of patriotism had already been well established, but her selfless attitude towards others had not yet taken shape.
With her father and maternal grandfather veterans of the U.S. Marine Corps, and her uncle, paternal grandfather and two great grandfathers vets of the U.S. Army, Vaughn's family made sure to teach her the principles of service and patriotism. While it was far from her master plan after graduating from Winona High School, she ultimately realized she needed the discipline of the military to get her adult life headed in the right direction.
"I had a lot of growing up to do in 2007," admits Vaughn, who majored in pre-med at Texas A&M for a year before changing course and entering the military. "I wasn't responsible, and I didn't have very much going for me at the time. Coming from a military family, I had always been a very patriotic person, so it just seemed like a great way to get out of the rut I was in, gain some life experience, instill some structure and discipline in my life, find out who I was as a person, and get money for college."
While Vaughn was making her decision to follow in the footsteps of her male relatives and become the first female in the family to sign up for military service, she says the opportunity was never a subject she privately discussed with them.
"They inspired me in that they were all extremely patriotic, and they taught me to love and appreciate my country, however I never really talked to any of them about me potentially serving before I enlisted," she remembers. "They were all very encouraging. They know the military is a male dominated profession, but they also know that I never let anything stop me from achieving my goals. I may have to work twice as hard to prove my worth, but I have always loved a challenge."
While her decision to enlist did not come without its challenges, it nevertheless evolved into a golden move for her future. She began her military career on active duty status and was stationed at Northern California's Travis Air Force Base, before returning home to Texas to raise her daughter and continue in the Reserves. Along the way she earned the John L. Levitow Award, the highest award for enlisted Professional Military Education in the Air Force. It is presented to the student who demonstrates the most outstanding leadership and scholastic achievement throughout Airman Leadership School.
She also went back to college to earn her bachelor's degree in interdisciplinary studies from the University of Texas-Tyler, where she is currently finishing her master's in educational leadership. After obtaining her teaching credential in 2014, she embarked on a career in elementary education teaching writing, social studies, and her most valued subject – reading.
"One day in the airport I picked up a book called Gifted Hands by Dr. Ben Carson, thinking it would be all about medicine," explains Vaughn. "At that time I was a medic in the Air Force, so it seemed like a fitting read. Turns out that book was all about the hurdles Dr. Carson overcame growing up in poverty, struggling in school, etc. I related to him on a deep level.
"One thing that really stuck out is how Dr. Carson's mother always pushed for him to be a successful reader," she continues. "I began to think about all the children in this country in similar situations and I became very motivated to be a part of promoting literacy and education."
While there was no stimulus for Vaughn to become an award-winning brain surgeon after reading the book, she certainly pulled inspiration out of its pages that would motivate her to help others in significant ways.
"This is my fourth year teaching reading, and I feel so blessed to wake up every day and go teach children a skill that is the basis of all other skills," Vaughn confides. "The most hungry, dirty, socioeconomically disadvantaged child can work themselves into a better life, beginning with learning to read."
In addition to reading, students in Vaughn's Tyler classrooms at Caldwell Elementary Arts Academy received a healthy dose of the good ole' red, white and blue.
"I try to promote patriotism in each of my classes," says Vaughn. "I love being able to be a part of shaping and molding the minds of today's youth, giving them hope for a future and also ensuring they know and appreciate these opportunities we have because we live in a free country."
Vaughn was first introduced to Boot Campaign by one of her former students, Mary Hopson, whose her mother Melissa serves as its vice president of finance. She was moved by Boot Campaign's mission of providing life-improving programs for America's veterans and military families. When invited to participate as a Veteran Ambassador, she was thrilled to join her fellow comrades in support of the military community.
"The Boot Campaign mission that I most identify with is igniting the inner patriot in Americans," explains Vaughn. "I truly enjoy spreading my love for this amazing country to my child, my students, and anyone else I meet.
"I tell my daughter and students all the time, the wonderful thing about this country is that it doesn't matter what color you are, which gender you are, or what socioeconomic status you are born into," she adds. "What matters is that you are an American, and in America, if you work hard enough, you can achieve anything. We were all very blessed to be born in this land of endless opportunities, and we should never take that for granted."
According to Vaughn, one of her favorite command chiefs would often repeat the same advice when trying to inspire his troops, and it has stayed with her ever since. "He would always say, 'Hard work pays off and nothing comes easy,'" she reflects. "I pass that advice on to my students. The harder you work, the better that finish line is going to feel. No matter which direction they choose to go, I encourage them to work hard and be the kind of person who takes pride in what they are doing, to set high goals and achieve them, and find a way to help others along the way."
Vaughn has never been afraid of hard work herself, but she acknowledges one of her biggest challenges has always been trying to make sure she balances her time between being an airman, teacher, student and mother. Fortunately, she has one person in her life who makes juggling those challenges all worthwhile.
"My daughter Maddi is my inspiration," beams the proud parent, who loves to read, cook and appease her "gypsy soul" by traveling the world in whatever spare time she has left. "Everything I do, I do for her. When things are tough, and I feel like quitting, she is the person I think about. She has seen me struggle, but she has never, and will never, see me quit anything. She is the reason I keep pushing to be better."
Learn more about Boot Campaign at www.BootCampaign.org.