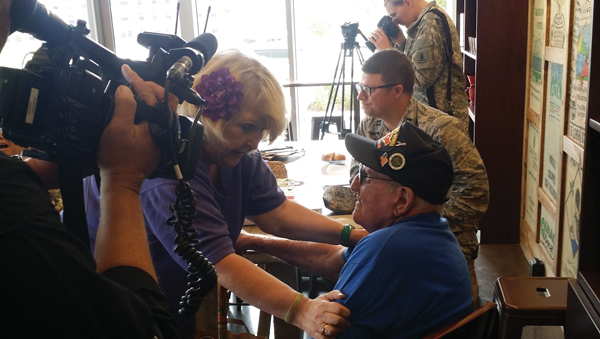 Women's History Month
Brenda Allen
Patriotism and love for her country
By Holly Shaffner
She may not have worn a uniform, but she certainly served her country. Brenda Allen has performed with (or for) some of the biggest musical stars of our time – Johnny Cash, Boxcar Willie, June Carter, Minnie Pearl, Jimmy Wakeley, and the Statler Brothers. She has been entertaining audiences for 62 years and the time she spent in Vietnam still means the most to her.
The year was 1969 and she was one of the four Taylor Sisters performing for the troops during the war. Brenda "Crazy Legs" Allen and her "sisters" were not drafted into going to Vietnam – they volunteered. She had (and still has today) a deep sense of patriotism and love for her country. Early in 1969, the Taylor Sisters crossed paths with Shelby Fredrick "Sheb" Wooley who told them, "they (the troops) really need you over there, please go." She went and it was an experience that she will never forget – the good and the bad.
The all-girl country western band performed three to four shows every day at bases throughout Vietnam for almost four months. They were not part of the heavily guarded and supported USO shows; they were on their own to get military men to transport them in country and to return them to home base before curfew. They traveled by boat, airplane, helicopter, and by trucks. Every show was filled with music, singing, dancing and lots of laughs. As a natural comedian, Brenda wanted the young men to have a break from what was happening outside the gates and sometimes inside the gates.
The date was June 8, 1969 and the Taylor Sisters had been in country for a short time when the 312th Evacuation Hospital in Chu Lai was hit by rockets. Killed in the attack was the first military woman, Army First Lieutenant Sharon Lane. Brenda was just a few hundred yards away and it made the reality of being in country all too real. When she hears people say that women didn't serve on the front lines, she tells her story about how they were in range of enemy fire.
One of the most significant experiences in country was the time she approached after a show to go to a prisoner of war camp. Brenda says that a Green Beret Colonel asked her to come with him into "Charlie Country" to help him to get a Vietnamese prisoner to talk. She told the other sisters what she was doing. They urged her not to go but she told them, "I want to be there for the men."
She does not know where that camp was because she was blindfolded for the ride and the Colonel who took her asked that she trust him. The Vietnamese prisoner wouldn't eat for fear the U.S. was going to poison his food so the Colonel brought Brenda to the camp for her to perform for the prisoner in hopes of gaining his trust. When they arrived, the prisoner was already down for the night and so she performed for the U.S. troops which she learned were U.S. Special Forces. As nightfall was approaching and she knew she had to get back to base before curfew, she performed a few more songs then bid her audience farewell.
She still gets choked up when she talks about what happened next. As she was leaving, the troops helped her off the bar and lined the aisle to the door. The Commanding Officer saluted her, took off his Green Beret cover and placed it on her head. He told her, "I lost this in the swamp; you have no idea where it came from." Today that is one of her most prized possessions. She tried to learn who he was after she got back to the United States and the inquiries always resulted in, "He is fine, he is still an operative and he thanks you for your service."
The Taylor Sisters came home that summer and landed a multi-year gig at the Golden Nugget in Las Vegas. They worked their way up from night shift to day shift to headliners and performed for four years together until their leader, Helen Taylor got sick. At age 41 and just six years after returning from Vietnam, Helen passed away. Many of Helen's friends and family suspected it was due to complications from Agent Orange exposure during an attack while in Vietnam.
After the Taylor Sisters disbanded, Brenda continued to sing, play guitar and entertain. In the 1980s she was asked to sing at a Nebraska Vietnam Veterans Memorial dedication ceremony. During this event, she met a woman named Diane Evans whose passion and determination would spur Brenda into her next adventure – helping to honor the women of the Vietnam War.
Over the course of almost 20 years, more than 265,000 military women served voluntarily in the Vietnam era and of the 11,000 who served in country, 90 percent were nurses. In 1984, Diane (an Army nurse in Vietnam) began her crusade – to build a memorial to honor the women of the Vietnam War.
The project was riddled with controversy from the beginning and obtaining Congressional support and a location to build it was an uphill battle. Diane and her team were tenacious and ten years after inception, the memorial was dedicated in the nation's capital in the same hallowed grounds of their military brothers. On November 11, 1993 the women of the Vietnam War were finally honored for their service and sacrifice and Brenda was there to sing and deliver remarks about the project.
When asked why she got involved in the Vietnam Women's Memorial, she said, "When you see something that isn't right, you have to change it" and she did just that.
At 77 years young, Brenda lives in Nebraska and still enjoys playing the guitar and going to local VFW's and nursing homes. She sings and entertains the men and women who served their country and even though she didn't wear a uniform, she is still serving today.