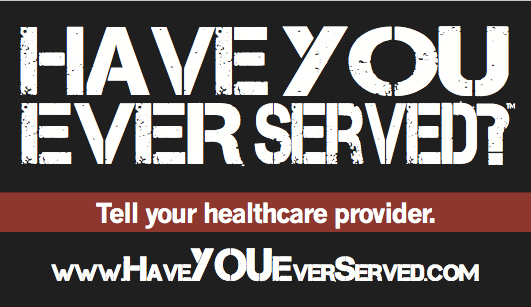 Have You Ever Served? Let Your Healthcare Provider Know
By Linda Schwartz
A man visiting his mother became very ill and had to be transported to a nearby hospital. Eventually admitted to the Intensive Care Unit in Critical Condition, physicians had no leads on a diagnosis. Hours later, a visitor to the unit, learned the patient was veteran who had served in Vietnam. With the help of a Nursing Supervisor, who also served in Vietnam, they quickly ascertained that the Veteran had been in contact with areas sprayed with Agent Orange and identified common diseases associated with these exposures. These factors opened the door for Physicians to confirming a diagnosis of Hodgkin's Lymphoma. The veteran had no idea of the diseases linked to exposure to Agent Orange. He reported he had been sick for years but rarely went to a Doctor because he did not have insurance or money to pay for the care.
While there are over 20 million living Veterans of US Military Service, the US Department of Veteran Affairs (VA) has acknowledged that approximately only 16% of this population uses VA Health Care exclusively. In 2014, Congress authorized the "Choice Act" which authorized health care for Veterans in the Community at VA expense. In 2017 VA paid 19 Million Claims for Veteran care to Community Providers. Thus, the majority of America's Veterans are receiving health care from non-VA Providers. Military Service has many unknown challenges, dangers and exposures to hazardous agents and environments. Often Health Care Providers are unfamiliar with the complexities of the risks encountered by military personnel and the consequences these pose on them and their families for short and long-term health and quality of life. Asking about military service is rarely established or factored into health assessments or care. The effort to increase awareness about the importance of a Military Health History began 15 years ago and was championed by Vietnam Veterans of America to encourage VA Clinicians to ask about the military service of their patients.
Later adopted by the Veterans Health Council and American Academy of Nursing to raise awareness of Health Care Providers and all who care for military, veterans and their families, about the importance of identifying Veterans of military service in their patient populations and increased risk factors that need to be considered when diagnosing and treating these individuals.
For More Information on HAVE YOU EVER SERVED?, check out www.HaveYouServed.com. which is rich with information on exposures, risk factors and diseases you need to be aware of so you can educate your health care providers and encourage them to include this information in their routine health exams. In 2003, as a result of the veteran encounter described above, then Connecticut Commissioner of Veteran Affairs Linda Schwartz began an effort to develop and refine a program of increasing awareness of veterans and care givers about the importance of including questions about military service in all health encounters. Since then, the increased use of non-VA and Non-DOD health care has increased a sense of urgency to get this very powerful question and issue included in all Health Records and Health Assessments.