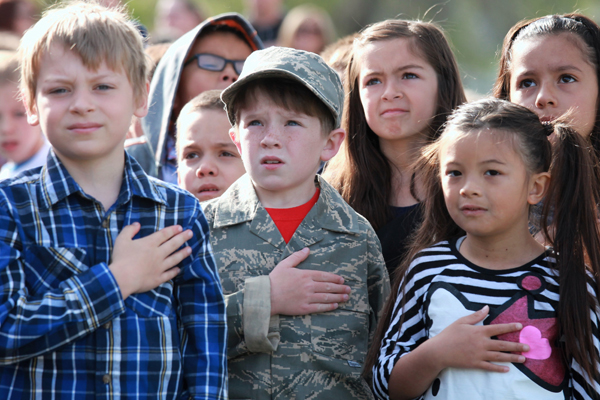 Military Service / Family Service
When a spouse joins the military, the family joins also! In the military it is a 24/7 proposition that affects not just the service member, but the family, the children, as well.
It has been said, and Utah PTA agrees, that the "care of our nation's military children helps sustain our fighting force and helps strengthen the health, security and safety of our nation's families and communities."
In the past 17 years, our American military service members have been asked to shoulder a heavy responsibility in the defense of our national values. This is as hard on the children and family as it is on the service member. The responsibility can entail separations, frequent moves and difficult transitions. All involving the children and family. It has been often said that "the deployed family member isn't the one serving the 'hardship' tour, it is the family at home." That family carries a significant burden when their military member is away from home.
One of the community institutions that can help and support the family when the military spouse is deployed is the local school – principal, staff, teachers and the PTA. The PTA can provide continuity, connectedness, help with transition for the child and the spouse with fortifying friendship through fellowship and volunteer service.
In 2001, Utah PTA established a Military Family position on their State Board. This board member was to reach out to Utah PTA schools and help them better recognize, and understand the issues facing military children and families, so they can act as partners in helping and supporting military children.
Our Utah PTA Military Family Specialist created an assembly and activities for the local PTA's to use during April, "The Month of the Military Child" and November, "The Month of the Military Family." These are a few of the suggested activities and can be used for either month:
1. Wear a camouflage ribbon or article of clothing on Assembly Day, Veteran's Day or any patriotic day
2. Have students create artwork that promotes patriotism and display it in the classroom and/or school.
3. Encourage the reading of the Declaration of Independence and the Constitution of the United States.
4. Present a patriotic play or story in the classroom or in an assembly.
5. Invite a student's military family member to the class to explain what their military service meant/means to them.
6. Recommend Military Family members wear their service uniform to a program, assembly or to the child's classroom. Have the military child introduce them.
Each April, America honors the courage and recognizes the sacrifice of over 1.7 million children in military families nationwide. April is "The Month of the Military Child" and provides a powerful opportunity to raise awareness and build support to help these children meet the unique challenges they face! It is an opportunity to recognize military children and youth for their heroism, character, courage, sacrifices and continued resilience. This year's theme is 'Brave Hearts, Resilient Souls'. Local PTA's are encouraged to conduct Patriotic assemblies and activities during the month. Utah PTA awards a banner to the participating schools to recognize their celebration of the value of military children and families.
In November, "The Month of the Military Family", Utah PTA partners with the Utah National Guard and its family support network. This allows Utah PTA to more accurately identify military family members throughout the state. An annual essay contest was created and co-sponsored by the Utah PTA and Utah National Guard to allow service members' children to create essays on why they were proud of their family's service member. What started as a Utah National Guard initiative quickly evolved into recognition of all military families in Utah to include active and reserve members as well. Active units and Reserve units are also encouraged to promote the essay contest and the winners are recognized and awarded cash prizes, from the Utah National Guard "Honorary Colonels," at the annual Veteran's Day Concert organized by the Utah National Guard.
Involvement in PTA enables military parents to function in a familiar group setting and connect with their new community through their children's educational activities. Military families bring a richness of experience to their schools, their communities, and their PTA units.
Utah PTA is proud to be a partner and sponsor of these programs and activities that recognize, support and celebrate the value of military families and children. We can never forget that even as our military personnel make sacrifices each day for our country, so do their families, their children.
by: Kathleen N. Allred, Utah PTA Military Family
Associate Specialist
Bio Notes: Kathy has been working with PTA organization for the past 40+years. As an active duty military wife and mother of eight children, she has been an advocate for the military family and children throughout her husband,LTC Ret. Joseph L Allred 24 year military career and continues to be involved with PTA on both State and National levels. She can be contacted at kathy@utahpta.org.
Information on the Utah PTA Military Families Program can be found on the
Utah PTA website or contacted through the Utah PTA office