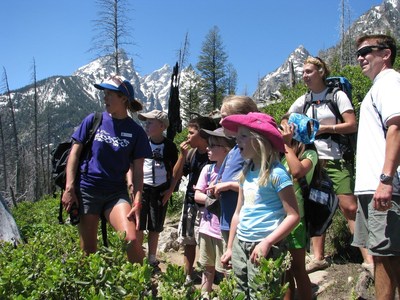 Strengthening Family Support
By John Roberts – National Service Director, Wounded Warrior Project
It can be a difficult chore for any veteran to transition from the battlefront to the home front. When a military service member is injured, it can place stress on their family members, all of whom are integral and loving components of a warrior's successful mental and physical recovery.
Compounding the issue is the significant time many wounded warriors have spent away from their children, which can strain their relationships.
April is the Month of the Military Child. It's a time to recognize the children of our Armed Forces heroes because they too make sacrifices and must overcome many challenges.
Warriors' kids, depending on their ages, may not fully understand the situation, but they can sense there's something very different about their mom or dad. Loved ones, especially children, need to be assured things will get better. Wounded Warrior Project® (WWP) can help with that through family-oriented events.
Reinforcing the Warrior and Child Connection
Marine Corps veteran and wounded warrior Bradley Thomas sustained a traumatic brain injury (TBI) in 2011 and took the struggles of post-traumatic stress disorder (PTSD) into his civilian life.
"In the darkest moments of my life, my children were the only light I had. The only thing I could see in the distance, that one speckle of light, were my children. Each day, I get closer and closer to that light," Bradley said.
Bradley's young children motivated their father to find help for his physical and emotional wounds through WWP. In the process, Brandon's son, Landon, said he got his father back.
"Most of the time it was hard," Landon said. "I liked having him home at first, but he was always in pain and not happy. It made me sad for him. Now he's happy."
WWP family connection events are a chance for kids and parents to get away from everyday life and do things at their own pace while relaxing, reconnecting, and enriching relationships.
While many WWP family events are outdoorsy, it's nice to see a tough veteran sitting in a small chair at a princess party and drinking pretend tea with his or her son or daughter, with pinky finger properly raised. Priceless.
"Our daughter was over the moon about going to a princess party," said Jamie Pryde, whose husband, Forrest, is an Army veteran. "And we were happy to be part of something that lets Wounded Warrior Project families spend time together."
"Forrest wasn't sure about going to the party at first because he didn't think it was something for him, but we are so glad he did," Jamie said. "We've had amazing family experiences with the organization."
Like Forrest, other warrior dads are learning more about themselves and their children.
Army Reserve veteran Steven Olsen and his family attended a WWP connection event that sparked his children's minds at the Science Center of Iowa. "I learned my kids are way smarter than me. I would ask them a question about something I read, and they already knew the answer."
"My kids loved going to the Science Center, and we felt like VIPs," Steven said. "We had a great time hanging out with our kids and other Wounded Warrior Project families."
National Guard veteran Daniel Bittner attended the same event and found its value for his recovery. He realized that not only were his kids and wife entertained – he was with those he loved in a safe environment, and it allowed him to relax, enjoy the moment, and not feel the anxiety that often comes with going out in public.
"Through Wounded Warrior Project events, we have been able to spend quality time together and create life-long memories with the kids, and even meet new friends with similar life experiences," said Daniel's wife, Sonya.
"I never would have thought this hidden gem of a museum would make me and my kids so happy," said Army veteran Joe Lawyer. "There was so much to do, and having the place to ourselves allowed me to feel comfortable. I haven't been this happy in a long time."
Joe's wife, Tiffany, considers Wounded Warrior Project to be a family filled with deserving people who are able to experience events they sometimes wouldn't be able to afford or attend.
Punt, Pass, and Get Down and Give Me 20
Playing football alongside a professional who has an NFL Championship game under his belt is something most kids never have a chance to do, but Army veteran Alvin Rodriguez and his children were able to do just that at a WWP event in Cincinnati.
NFL wide receiver Brandon LaFell wore a Bengals-orange shirt while teaching warriors' kids about technique, pass routes, and hand-eye coordination.
Warriors and their children loved scrimmaging with and catching passes from the famous wide receiver. They all learned a lot that day about football, but most importantly, they learned about the importance of family bonding.
Weekends of Meaningful Time
The importance of parents spending quality time with their kids is very evident – but the amount of meaningful time spent between a warrior and his child helps to curb the loneliness the military child can feel during a parent's service – especially long deployments.
WWP weekend adventures, like a beachside camping trip in North Carolina, provide a special atmosphere to re-establish bonds that time and distance can strain.
"It was a chance to get away – literally – from the commotion of the city and do things at our own pace," said Army veteran Daniel Allums. "It was very therapeutic to rest and relax – to chill out. It was really important for me to reconnect with my daughter."
When veterans and their kids are in a comfortable setting, they are more open to communicating. WWP provides family-friendly settings for warriors and their children to discuss military service – what it means to the parent and the child – and the difficult emotions it often brings. They learn better ways to communicate with each other – and which methods work best during their healing processes.
Before the campout, Daniel usually talked with his daughter through text messages. Amid the rumble of waves and a campfire, they explored how to speak face-to-face, enriching their relationship. They were able to get to know each other again. It had an immediate impact on their relationship.
Military Kids Connect with Each Other
Kids just need to be around other kids, but military children truly need to be around other military children who understand what it's like to miss a parent, relocate on a regular basis, and lose friends as quickly as they make them. Finding common ground and belonging through similar life experiences is crucial for the emotional wellness of children, which is why WWP partners with the National Military Family Association (NMFA), which hosts Operation Purple® Camps (OPC).
These weeklong summer camps are free for children of military service members – wounded, active, or retired. It's a place where military kids can get together and spend time playing and sharing experiences.
Eric Bird, a retired United States Air Force veteran, said his son enjoyed the camp. "He's not the most social kid, but he came out of his shell. He was able to spend time around other kids who have experienced the same things he has – other kids with parents like me."
WWP's family-oriented connection events are relaxing, comfortable ways to reconnect and enrich relationships. By strengthening the family unit, warriors are armed with steadfast support structures that empower them during their recoveries and allow them to live life on their terms.

About Wounded Warrior Project
We Connect, Serve, and Empower
The mission of Wounded Warrior Project® (WWP) is to honor and empower Wounded Warriors. WWP connects wounded warriors and their families to valuable resources and one another, serves them through a variety of free programs and services, and empowers them to live life on their own terms. WWP is a national, nonpartisan organization headquartered in Jacksonville, Florida. WWP is an accredited charity with the Better Business Bureau (BBB), is top rated by Charity Navigator, and holds a GuideStar Platinum rating. To get involved and learn more, visit woundedwarriorproject.org. (Photos courtesy WWP)