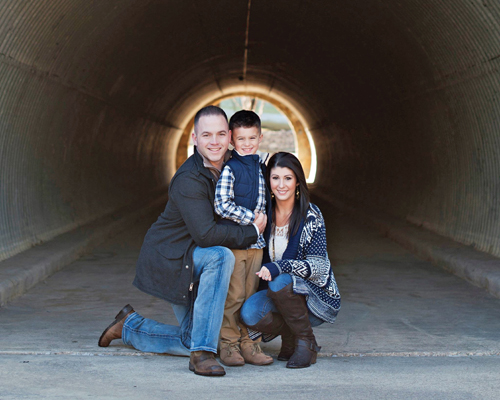 Inspired At 15 To Join Military After 9/11, USMC SSgt Jake McCormack Now Striving To Be Role Model For His 9-Year-Old Son
By Barry Smith
Boot Campaign
As a 15-year-old growing up in Seattle, Wash., Jacob "Jake" McCormack was a sports junkie like many teenage boys, enjoying year-round training and high school competition in his favorite sports of football and baseball while following his hometown Seahawks and Mariners closely.
He says he played football and baseball "pretty much from the time I was six years old," but one month shy of his 16th birthday his focus immediately changed in an instant. McCormack and an entire nation were shocked to the core the morning of September 11, 2001 when the United States was blindsided by a series of four terrorist attacks coordinated by the Islamic terrorist group al-Qaeda.
"After 9/11, high school was pretty much an obstacle in my way of going into the military," remembers McCormack, a staff sergeant in the U.S. Marine Corps and Veteran Ambassador for the military non-profit Boot Campaign. "My focus was pretty singular on the military and I did everything to finish high school and get it all squared away."
The son of U.S. Army Specialist Richard McCormack who served in Vietnam, and the grandson of two Army veterans of the Korean war, it was certainly within the realm of possibility that a career in the armed forces might be in his future. In fact, he says: "I was considering entering the military prior to September 11th, but that day cemented the fact it would be what I was doing immediately after high school."
When he says "immediately," he could not have been more serious, and it was that seriousness of his conviction to join the military that was a complete jolt to his mother Callie Britton.
"My mom asked me before I turned 17 what I wanted for my birthday, and I said I wanted her to sign consent papers so I can go into the Marine Corps," admits McCormack. "Her first response was, 'Over my dead body!' I wore her down over the next couple months. I washed a lot of dishes and did a lot of chores, and a couple weeks before my birthday she asked me if this is what I really want to do? I said – without a shadow of a doubt – this is what I need to do."
So on his 17th birthday, his mother made his birthday dinner and invited a special guest to join them, a Marine recruiter, who brought the paperwork so she could sign her consent for her son to go to the nearest military entrance processing station.
"That night I did my ASVAB (Armed Services Vocational Aptitude Battery test), the following day I took my physical and I got into the delayed entry program," he recalls as if it was yesterday. "I had to finish my senior year of high school and I shipped out in September of 2003 and I had my 18th birthday in boot camp."
With a family tree full of Army veterans, why did he choose to become a Marine?
"I was a catcher in baseball and then played fullback and linebacker in football, and that may have had something to do with me joining the Marine Corps, because I really like hitting people," reflects McCormack. "I figured that translated well into the physicality of the Marine Corps."
McCormack also is not one to back down from a challenge.
"I was very competitive, always have been, and the Marine Corps really drew me in," he explains. "They said, 'we're the toughest, we have the hardest boot camp, we are the most disciplined,' and that kind of top-tier program really attracted me as a teenage guy playing sports.
"I wanted to challenge myself to do something that very few other people could do," he adds. "The Marine Corps wasn't offering me anything. They said you have to prove to us that you are worthy to wear the same uniform we do. I wanted that challenge and I wanted to earn that right to wear that uniform."
McCormack was first stationed at Camp Lejeune, N.C. from 2004-2007, where he met his bride-to-be Kyra and where he was twice deployed to Fallujah, Iraq, as part of Operation Iraqi Freedom. From 2007-2011, he was stationed in Camp Pendleton, Calif., where he became a father to his son Cole. An opportunity to be closer to his sister's family in Texas became available when he volunteered for a recruiter assignment in Dallas, Texas, so he packed up the family and spent the next five years in the Lone Star state. He and his family fell in love with Texas and now hope to call it home after his military service comes to an end.
A recipient of numerous unit awards and four Navy Achievement medals, McCormack is now in his 15th year of military service and is working towards a bachelor's degree in business and a promotion to gunnery sergeant at San Diego's Marine Corps Air Station Miramar.
Off the base and away from the military, McCormack's priorities understandably shift to his son and wife of 11 years. For Kyra, taking care of some big-ticket items on his "honey do" list has provided him with a unique opportunity to be creative and make a little money on the side.
"My wife loves Pottery Barn," acknowledges McCormack, "and we were looking at furniture one day and I opened my big fat mouth and said, 'I can make that kitchen table.' And she said, 'I've never seen you build anything.' So I was at Home Depot the following morning picking up lumber, and that's how I made my first kitchen table for our house. I've mostly just made some furniture for my wife and our house, but I've built a few pieces for other people and made some extra money here and there."
In addition to crafting custom furniture, McCormack enjoys spending his free time fishing or riding and working on his motorcycle, a 2014 Harley-Davidson Street Glide Special, experiences he is thrilled to share with his son.
"Cole is my biggest driving force, period," McCormack confides. "He rides on my motorcycle with me, we go fishing together, play video games, and he helps with projects around the house. He is absolutely the reason I push myself to continue to be successful. I want to be a role model to him and be able to provide all the opportunities he needs to be successful himself.
"I know that being a child in the military has been a challenge for my son," he continues. "Moving to new locations and schools has always been a challenge and has come with its own unique set of problems. But my son has always met those challenges head on and thrived."
Although only nine years old, Jake believes Cole has experienced enough already to have a thorough grasp of the dangers, responsibilities and sacrifices that come with military life and being a part of the military community.
"I have a framed photo in my office of the seven brothers I have lost in the military, and during one especially rough time I was looking at their photo and crying," reveals McCormack. "My son, maybe six at the time, came up and asked me why I was crying. I told him that I missed my brothers very much. He asked where they were, and I told him that they died protecting our country from very bad people. He told me, 'then we will never forget them Daddy, because they are heroes and we never forget who our heroes are.'
"He is an extremely patriotic kid," adds the proud papa. "He knows from my experiences and as a family that a lot of sacrifices have been made on our behalf to enjoy the things we enjoy today."
One family activity they relish comes during the holidays when the McCormacks participate in Boot Campaign's Santa Boots project, an outreach initiative which delivers carefully personalized Christmas gifts to deserving military families thanks to the help of patriotic corporate partners, Boot Elves, and a little magic!
"Santa Boots was an incredible opportunity for my family as we've been able to deliver presents to two families local to the Southern California area," says the Boot Campaign Veteran Ambassador. "As a military family we know first-hand what it's like to struggle while in the military, so being able to be a part of this project and give back to other military families has been incredible.
McCormack actually became involved with the Texas-based Boot Campaign when he was stationed in Dallas as a recruiter back in 2012. He remembers an invitation being sent to the recruiting station that Boot Campaign wanted to get a few active-duty military members out to its Boot'N & Shoot'N event at the Dallas Gun Club in Lewisville, Texas.
"I got an email from someone in my chain of command that said, hey there's this charity event, you're going to be able to shoot shotguns and get free food," laughs McCormack. "So, pretty much all the guys I worked with said, 'yeah, let's do it!'
"I was completely blown away by the people who were at that event," he continues. "It really felt like everyone was cut from the same cloth. The things that they were doing for veterans, the patriotism that was exuded, I knew I had to be involved any way I could. Until that time in my life, I had never experienced that before."
His first introduction to Boot Campaign also came with another huge bonus – the chance to personally meet one-on-one with one of his most revered military heroes.
"A couple of weeks before the event I had just finished reading American Sniper by Chris Kyle, and when I got to the event I found out that Chris was going to be there as one of the speakers," says McCormack. "Even as a grown Marine with combat deployments, I just about freaked out that somebody I looked up to so highly was going to be there.
"I had an opportunity to meet and talk to him," he adds, "and after we'd been talking for a few minutes we figured out we had been in Fallujah at the same time and worked some of the same operations. That was incredibly impactful for me, that I had a chance to meet someone I admired and respected so much, and that event had made it all possible."
Learn more about Boot Campaign at www.BootCampaign.org.