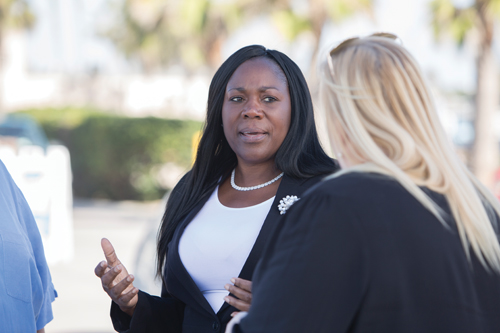 BE THE CHANGE YOU WANT TO SEE
by CJ Machado, Veteran Advocate and Photo Journalist
Darnisha Hunter for City Council, utilizing politics for change, for the betterment of our Community.
Darnisha is the epitome of a public servant and has dedicated the last four years to serving as the "voice of our veterans," Veteran Advocate to San Diego Mayor Kevin L. Faulconer's office. She lives to inspire as she works to achieve. Her experience as a successful businesswoman, veteran representative and an active community volunteer, makes Darnisha a tremendous asset for the upcoming election of Imperial Beach City Council.
Hunter has resided in Imperial Beach since April 2016. Over 29,000 people reside in Imperial Beach and half of those residents have an income of less than $51,000 per year. "These are hardworking people doing their very best to provide for their families while trying to survive California's ever-increasing cost of living and housing costs. It's a real struggle for most to stay above water," Darnisha stated. Her experience in providing affordable housing through theHousing Our Heroes program will hugely benefit the Imperial Beach Design and Review Board in which she is an active Board member.
"In order to achieve progressive growth, we must invest our time in our youth," Darnisha adds. She invests her time and energy taking kids deep sea fishing; those who would not have otherwise been able to afford the cost. Hunter wants to make certain that the children of today, who are the future of tomorrow, know that they matter and are valued. Darnisha's resolutions to provide economic growth by implementing apprenticeship programs for our youth and a mentoring program between Fortune 500 companies and struggling start-up businesses are innovative and proven attainable. These contemporary solutions will help growing businesses and prepare future generations to succeed and prosper.
Her success with implementing programs that achieve their goals is attributed to her collaborative effort between other entities, such as non-profit organizations, businesses, developers and government representatives that hold similar goals and values. Darnisha excels at creating logical solutions that are functional, then putting them into action. She explains, "That having a logical plan is only one part of the process. We must always bring our stakeholders and the community to the table and take action in order to achieve the desired outcome."
Hunter has a true understanding of the demographics that encompass Imperial Beach's diverse community as well as the needs and challenges her neighborhood faces every day. Being a concerned single mother and grandmother, public safety and providing a clean environment are also at the top of her list for immediate implementation. She supports and volunteers with I Love a Clean San Diego and IB Beautiful.
Her public service also includes:
– Vice President of the Imperial Beach Historical Society current
– Member of the Imperial Beach Lions Club current
– Board Member for the National City Military Advisory Committee current
– Co-Chair for the San Diego "Hidden Heroes Cities," campaign for the Elizabeth Dole Foundation 2017
– Committee Member for the USO Galas 2017/2018
– Planning Committee Member for the USS Raphael Peralta Ship Commissioning 2017
– Board Member of the Salvation Army Women's Auxillary current
– Committee Member for "Open Doors Landlord Engagement" to help homeless veterans 2016-2017
– Member of Veteran's Coalition current
Darnisha's strength is expressed through her philosophy of life… compassion, letting people know that everyone matters, and their value is not based upon what they have or who they know. She cares, she listens, but most of all she'll fight for you and do whatever is best for our Community.
Homeland Magazine extends their support and wishes Darnisha all the best with her upcoming campaign for Imperial Beach City Council.
Darnisha Hunter's most recent speech presented to the Council of College & Military Educator's Symposium, given on March 27, 2018:
Hello everyone my name is Darnisha Hunter, Veteran and Military Advocate to Mayor Kevin L. Faulconer, 36th Mayor of the City of San Diego. On behalf of Mayor Faulconer, I welcome you and thank each and every one of you for all you do for our Military and Veteran families.
Today's theme is: "Navigating Change: Transforming Challenges into Opportunities in Military and Veteran Education"
We are in a time where as Americans we find ourselves concerned about things in life we would of never thought twice about before. Like quality of life issues here in America. Safety in our schools, parks, theatres and homes. We as adults wonder" how did things get so bad so quickly?" In my opinion it starts with the educational environment and social skills. Remember the theme is Navigating Change and Transforming Challenges into Opportunities.
Your first gift to America was your service for country. Our young men and woman entered our military for many different reasons. What did they learn? Well while they were navigating basic training, a regimented life style, accountability, how to follow the chain of command, consequences for bad behavior or poor decision making. You were challenged daily both as a group and individual. But in the process of your pain, fear and frustration you turned it into OPPORTUNITY!!!!
An opportunity to be a better man or woman and to help those around you to do the same. As I stated earlier I feel the problem is with the educational environment and social skills. Our educational systems makes a person, book smart…. if they do the work. Well the men and women I work with in the Active Duty and Veteran space have no fear of hard work or a challenge. So is it social skills? Has smart phones, tweeter, Facebook……. made it harder for people to truly test their social skills and think outside of the box on how to respectfully and caringly motivate others to the next level in their lives.
Wow, this may sound and feel similar to boot camp or basic training to many of you. It is…. but you're already prepared for change and opportunity. You know how to truly build lifelong relationships, leadership skills, conflict resolution skills and you have the skills to deescalate a situation quickly and without breaking a sweat. Share these skills on campus, in the class room, at lunch and in your study groups. Teach…….US civilians how to navigate this new land we call the USA. Teach us patience, humility, love and tolerance for one another. Help build the next generation of highly educated, skilled and a loving generation. Show them how to navigate the change and see the opportunity.
Thank you and may God Bless America……..