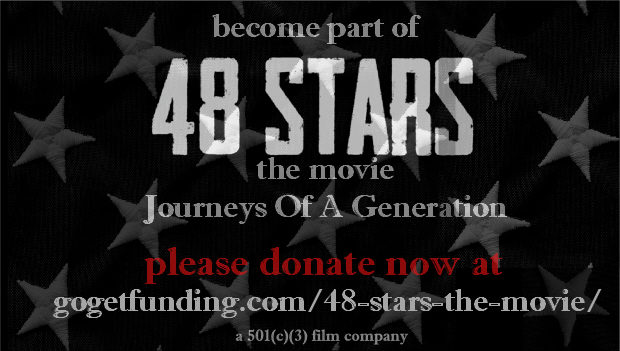 48 Stars – A Journeys Of A Generation
By Shawn M. Concannon
www.48stars.org
Eight weeks ago I came
across this…
A haunting reminder to me from long ago that should ring true today as it did 100 years ago. The sage advice is adorned by Lady Liberty. She holds the symbol of peace in her right hand as she looks down in solemn remembrance to the memorial plaque. The symbolism is clear. Peace in the past, the present and the future may always come at a terrible price.
There it was an 11" by 18" WWl parchment. This fragile paper memorial was damaged and hanging in one of those road side junk stores. I'm sure it once adorned a home with sadden pride. This WWI document was presented to the mother of a young Navy man who died while in service to his country, Arthur Paul Sharpe.
Along its century long journey, it lost its importance to a family. Now it's for sale for $40. Broken wood frame, cracked glass stained and faded paper. Lost to history, a relic of time and forgotten memory. For me, it is a reminder to stay the course.
Twelve years ago, I had the desire to record the lifetime and war memories of my father, a former WWII Navy Sea Bee. I arranged and pre-paid for a professional video photographer to the job. Weeks turned into months as the professional made excuses and delayed the recording.
Thirteen months later I would receive a call that she 'was ready to record my father.' I told her in brief that 'She was late. My father had died.' I was sick and heartbroken that my family's stories and my dad's war memories were lost to history and I had left it to someone else to do so.
Six years would pass. I was browsing through a road side junk store. I turned a corner and was stunned by an old, large, tattered and patina 48-star flag. She covered the wall. Rusty items hung from the flag, old shutters leaned against it. In a millisecond I heard my father's voice in my head – "Get that crrrapp off there!" I respectfully followed his command, removed the junk, purchased the flag and left the store.
Another year would go by and I raised the same flag upon the USS Arizona Memorial in memory of my father. Later that day, I raised it on the USS Missouri. The inspirational experience at Pearl Harbor and the beauty of the old flag created a new chance for me to not miss another opportunity. I missed out on the wartime stories of my father but I could collect the stories of others who lived through that remarkable time in our history. Thus, was born the film documentary "48 STARS".
I committed the next four years to building a 'not for profit', compiling a video team including a video photographer, co-director, editor, music director, art director, public relations and a research team. In addition, building an expanded list of potential interviewees of both men and women, military and non-military, different ethnic backgrounds and life journeys.
A detailed list of 48 individuals of the WWII period was compiled and the old, tired flag would go along on every interview and serve as the testimony of this unique project.
After solid persistence and determination, the interviews are done. From Harlem to Honolulu the documentary team has gathered epic stories through the eyes of those who lived it. From deadly combat to revolutionary inspiration, 48 STARS finds the unexpected revelation, the poignant moment – penetrating to the heart of each human story. Each story a unique and telling journey.
From Woodstock, New York, a battle entrenched Army 'Dogface', who would later become a war activist; a man of strong morals and values. He wrote painful war poetry that would shake you to your core. He passed on just last month.
An Army nurse from the Native American Rosebud tribe of South Dakota. She would stand with the nation and serve in war ridden Europe. As a little girl, she was removed from her native world and indoctrinated in the 'white man' world. She would put aside this injustice to serve the wounded from the battlefield.
In San Francisco, a woman with the USO who 'loved' entertaining the troops shared her story. Her vibrant energy still glows and her detailed memory of the young men who were yet to be sent off to war as well as the ones returning damaged from the war was remarkable.
The female pilot in Denver, Colorado broke the boundaries of aviation and would serve as a moving target for the gunnery.
She carried her dreams of flying into the war effort serving her country in a conflicted world.
In Kansas, the African American who would see racism throughout service and beyond yet continued to serve his community and state throughout his entire life. The resistance through his life had prepared him to a successful life into politics.
A Japanese American in Honolulu who would see the ugliness of war not only as a prejudged Japanese-American man but on the battle fields of Europe. Remorse, regret and forgiveness have empowered his life.
In our travels we have recorded 48 interviews with over 4,600 years of life and an average age of 92 years. We have traveled over 50,000 miles and have put 'in the can' over 300 hours of personal, intimate and amazing stories. Their stories are the first-hand accounts reflecting the Depression, the war, a nation divided, remorse, regrets, patriotism, honor, life and death.
It is these recordings are the journeys of a generation that were captured for the 48 STARS film. The next step is purely a labor of love. Editing with a professional team and weaving the story of a generation is no small task. The responsibility to our interviewees to let them 'tell their story is our main goal.
As with any project of this size, raising money is a never-ending responsibility. In the last several years we have fund raised through multiple means. If you are inclined to donate through your business or personally, Please go to https://gogetfunding.com/48-stars-the-movie/ and donate what you can…a dollar, 5 dollars, 10 dollars…whatever you can spare will help make this become reality which is slated for limited release on Memorial Day weekend, 2019. , We are non-profit and financial donations can be appropriately deducted. All raised funds are put toward the final production of the film and its release target date for Memorial Weekend 2019.
It was a war that truly engulfed the world into flames, claimed millions of lives and forever changed the landscape of our modern world. It brought strength and endurance to the survivors, began future movements and shaped the hearts and minds for a generation of Americans. Their lives and journey were born under the symbol of this nation, the 48-star flag and their stories will be preserved in the 48 STARS film. Please visit our website at 48stars.org to view the seven-minute movie trailer and further details of this amazing journey.
Please feel free to contact us or follow us on Facebook.
Shawn M. Concannon (Creator/Director 48 STARS)
P.S. Lady Liberty and her inspiring wisdom were restored and welcomed into my home.
Please visit our website at 48stars.org to view the seven-minute movie trailer and further details of this amazing journey.