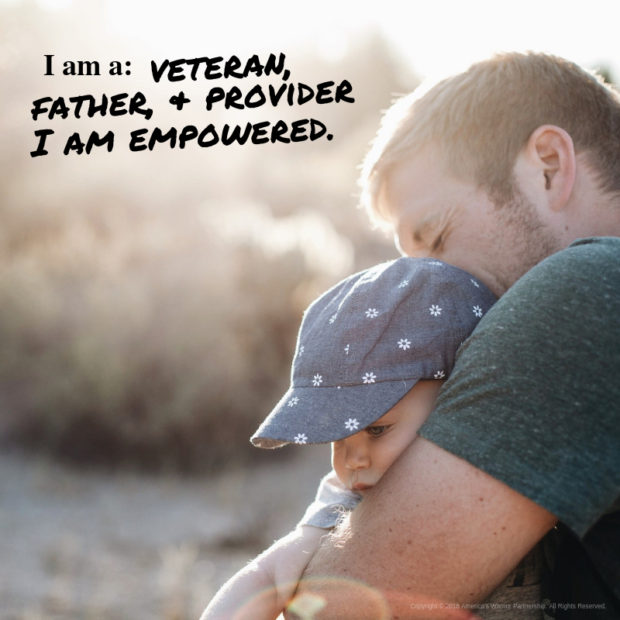 As the New Year begins, I would like to take a moment to honor the veterans, family members, caregivers, service providers and volunteers who have overcome challenges and made a difference in their communities. These warriors are doing so much more than simply providing or receiving support services; they are coming together to build communities where veterans are empowered to achieve the quality of life they deserve.
Empowered is the key word here. We all should strive to do more than simply help veterans survive. They should be in a position where they can proactively find the services or support they need, which will in turn help them feel in charge of the direction of their lives. This outcome is the ultimate goal of our work at America's Warrior Partnership, and I am proud to see many of our partners successfully empowering veterans every day.
One story that I would like to share comes from the Palmetto Warrior Connection, one of our affiliates that serves veterans living in the Lowcountry of South Carolina. The team recently worked with a Navy veteran named Jason, who served as an aviation machinist specializing in jet engines. A few years after leaving the Navy, Jason was in a terrible car accident and lost his job while undergoing recovery. Finding new employment was difficult, and he needed an opportunity to get back on his feet after the accident.
That opportunity came in the form of Veterans for Manufacturing, a two-week training program conducted in partnership between the Palmetto Warrior Connection, the Goodwill and Palmetto Training Inc. along with support through a grant from Boeing. The program provides local veterans with opportunities to gain hands-on training, take employment readiness courses and receive job placement assistance for a career in the manufacturing industry. Jason applied for the program and successfully completed it.
While Jason and his fellow veterans participating in the program received practical insights to assist in the development of their careers, the Palmetto Warrior Connection and its partners went above and beyond to ensure each participant was empowered to succeed upon finishing the program. This included one-on-one consultations with participants to help them improve their interview skills, as well as holding a job fair on the final day of the program to connect veterans with entry-level positions at local manufacturing companies.
In Jason's case, the program team learned that he did not have shoes and clothing appropriate for job interviews. In addition, he did not have his own transportation; instead, he shared a car with several family members. Understanding how these items can make a critical difference in a person's outlook, the Palmetto Warrior Connection collaborated with its partners in the community to provide him with access to additional services that would help him achieve a strong start to a new career.
Voucher programs and financial assistance services enabled Jason to get new shoes and a suit jacket within a day for his interviews, and he soon accepted a position with a local manufacturing company. Shortly after starting his job, the Palmetto Warrior Connection and the Goodwill selected Jason to receive a donated car, which was a huge milestone in helping him achieve independence. The Palmetto Warrior Connection remained in contact with Jason, and he continues to do well at his new job.
Jason's story is a great example of how community organizations can truly empower local veterans through providing holistic support. Rather than focusing on one challenge that he faced, the team proactively guided him to a range of services that enabled him to acquire the education, clothing, transportation and networking he needed to find employment and ultimately become self-sufficient.
I am confident that we will hear many more stories like Jason's in the months to come. Veteran-serving organizations and community groups across the country are keeping close tabs on the latest insights to ensure they are positioned to best serve veterans. Such resources include reports from the VA and our own annual Community Integration Survey Report. Our team at America's Warrior Partnership will continue to celebrate and share stories of empowered veterans throughout the year, and we welcome everyone to join the conversation on social media by using the hashtag #EmpoweredVeteran in their posts. We look forward to hearing everyone's stories as we continue to work together in creating communities where veterans are empowered to thrive during and after their transition to civilian life.
About the Author
Jim Lorraine is President and CEO of America's Warrior Partnership, a national non-profit that helps veteran service organizations connect with veterans, military members and families in need. Learn more about the organization at www.AmericasWarriorPartnership.org.