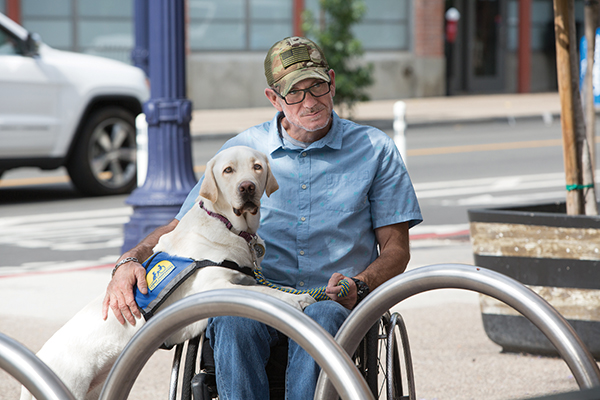 Retired Captain Jay Huston, of San Diego, California, spent 20 years in the United States Army. He served 13 years as an enlisted soldier and seven years as an officer. His many military specialties included being an Interrogator and Linguist fluent in the Russian and Polish languages. Even after his retirement, Jay continues to serve his country as a Department of Defense Civilian employee. His venerable career has given him a few stories to tell and a couple of scars, as well.
Jay's spine was fractured in four places during an Airborne Operation. Subsequent testing revealed he also had a spine disorder. Twelve years and 22 surgeries later, 22 of Jay's 24 vertebrae are now fused – stabilized by rods, screws and plates. Not only is Jay's mobility impaired, but he struggles with chronic pain.
A nurse referred Jay to Canine Companions for Independence®, a national nonprofit organization that enhances the lives of people with disabilities by providing expertly-trained assistance dogs and ongoing support to ensure quality partnerships. Jay was matched with his first Service Dog Timo II, a Labrador/Golden Retriever cross, in 2008. He was matched with his second Service Dog Hurley III, a Labrador/Golden Retriever cross, in August of 2017.
When it came time for his second service dog to retire from service, Jay knew he wanted to apply for his third dog and continue the independence he receives from having a four-legged helper by his side.
"Canine Companions to me is a godsend, I cannot imagine trying to do all of this alone, and the independence and dedication I have and the relationships I have built with each one of these dogs is amazing," states Jay.
Flurry is his third service dog and she helps Jay with everyday tasks like picking up dropped items and opening doors. She also alerts people if Jay is in danger. Best of all, she provides Jay with constant companionship! Not only is his pain lessened because Flurry saves him from movements that would aggravate his spine, but Jay is a happier person thanks to his talented, exuberant dog with a wagging tail.
Jay's focus is now on his work, family and raising awareness of Canine Companions in the military and veteran communities. Canine Companions has a program called the Veterans Initiative, through which veterans and active duty service members with physical disabilities like spinal cord injuries, limb amputations and hearing loss are served.
The organization, which was founded in 1975, has placed more than 6,000 assistance dogs with people with disabilities, including veterans like Jay. The organization relies on volunteer puppy raisers to help train basic obedience and crucial socialization to Canine Companions puppies – one of many volunteer opportunities.
You can apply for a free service dog, donate or learn how you can help Give a Dog a Job® at www.cci.org.