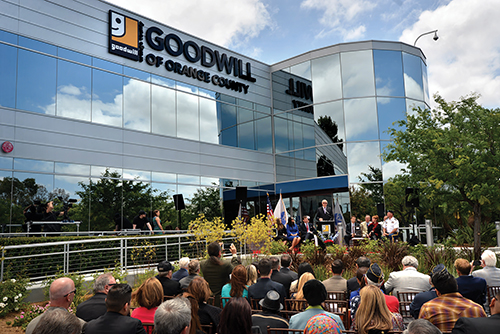 Advocating for Inclusive Veteran Support Programs
By Jim Lorraine, President and CEO of America's Warrior Partnership
"Advocate" is one of the four pillars of our Community Integration service model, and that includes advocating for resources, services and support programs that are inclusive and accessible to female veterans. This is a priority that we are seeing more veteran-serving organizations take to heart across the country, and many of our partners and affiliate communities are already putting it into action.
Such is the case in Orange County, California, where the Tierney Center for Veteran Services provides holistic support to all veterans as they transition to civilian life. Recently, the center received a referral to assist a post-9/11 Army veteran named M. Salazar, who was unemployed and looking for assistance securing a new job. After serving in Germany as an administrative specialist, she and her husband, a fellow Army veteran, moved into her father's home in Orange County.
The two main challenges that Ms. Salazar faced in her job search centered on resumes and interviews. With two Masters degrees and a law degree, many potential employers viewed her as over-educated for open positions. Additionally, her shy personality negatively impacted her performance during interviews. When she arrived at the Tierney Center for Veteran Services, she had already participated in dozens of interviews without securing a job, which was causing her outlook for the future to decline.
The Tierney Center for Veteran Services, which is part of the Goodwill of Orange County, applies a one-size-fits-one approach to serving veterans in need, which takes into account their unique circumstances. In Ms. Salazar's case, the team provided a holistic level of support that would empower her with the means to improve her job prospects. They began with one-on-one skills training to help Ms. Salazar rewrite her resume so that it would align with the qualifications expected by potential employers. The training took Ms. Salazar's education and experience into account, as well as her aspirations for potential careers.
After helping Ms. Salazar refine her resume, the Tierney Center turned to her interview skills. The team's holistic approach shined through again in their solution to this challenge. While conducting mock interviews with Ms. Salazar, the team asked her husband to participate so he could help her practice at home. Additionally, Ms. Salazar and her husband were invited to attend local business networking events for veterans. Along with providing the opportunity to put her new skills into practice and overcome her shyness, the events also enabled Ms. Salazar and her husband to meet and connect with fellow veterans in the area.
With an updated resume and improved interviewing skills, Ms. Salazar eventually grew confident in her ability to secure employment. She soon started an internship with a local government agency, and she has plans to continue exploring potential job opportunities while working towards the possibility of transitioning her internship into a full-time position.
Without the holistic and inclusive services provided by a local group such as the Tierney Center for Veteran Services, Ms. Salazar likely would have continued to have a difficult time finding employment. Instead, she has been empowered with the skills and opportunities to improve her career prospects, which has ultimately led to greater confidence in herself and a positive outlook for her family's future.
Individuals and organizations that want to learn how they can better advocate for female veterans in their community can learn more about the Community Integration service model at AmericasWarriorPartnership.org/Community-Integration.
About the Author
Jim Lorraine is President and CEO of America's Warrior Partnership, a national nonprofit that helps veteran-serving organizations connect with veterans, military members and families in need. Learn more about the organization at www.AmericasWarriorPartnership.org.