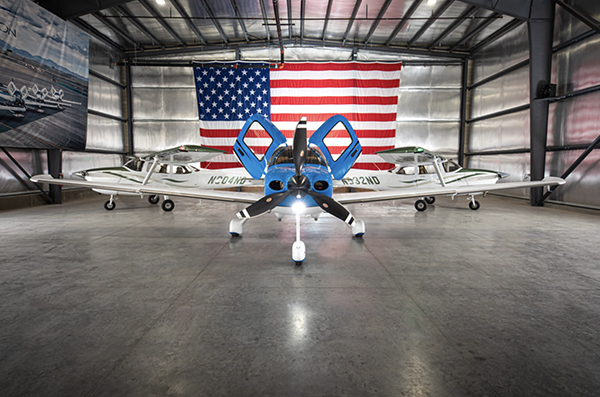 All In Aviation is the first independent flight school in Nevada, joining only a handful in the U.S., to partner with the Department of Defense (DOD) for its SkillBridge program, opening up opportunities for local transitioning service members to join the aviation industry as certified flight instructors.
Local flight school approved to hire and transition-train military certified flight instructors during their last six months of active duty.
Launched in 2011, the DOD SkillBridge program allows military personnel the chance to work for a civilian company during their last six months of active duty, while continuing to earn salaried pay from the military. Through job training programs, apprenticeships, or internships, eligible service members gain valuable training to transition into a new career.
"Since being inducted as an Honorary Commander of the U.S. Air Force at Nellis Air Force Base last year, my team and I have been hard at work finding ways to engage with the local military community," said Paul Sallach, President of All In Aviation. "Joining SkillBridge gives us another avenue to support our troops while helping them to prepare for a successful career in civil aviation."
As a certified SkillBridge organization, All In Aviation has been approved to hire active-duty military certified flight instructors (CFI/CFIIs) to be transition-trained on Cirrus Aircraft, the flight school's premier training aircraft option, in order to become an instructor in its flight training program. Once part of the program, instructors work with various student pilots to learn the ins-and-outs of Cirrus and Cessna aircraft, proper aircraft inspection, basic avionic procedures, safety protocols, and more while conducting pre-flight planning and post-flight debrief meetings every session.
Having provided aviation education and training to many private and commercial pilots in the community, All In Aviation's authorization as a SkillBridge organization reinforces its long-standing commitment to growing and developing more pilots in Southern Nevada.
For information on All In Aviation's comprehensive flight training options, visit https://www.allinaviation.com/flight-training.html.
Learn to Fly With All in Aviation (Video)
About All In Aviation:
All In Aviation, the only Cirrus Aircraft training partner in Southern Nevada, is a full-service aviation company offering flight training, factory transition training, pilot certifications, and aircraft rental, sales, management & storage. Dedicated to growing and developing more pilots, All In Aviation is a trusted partner for aviation training, from a student's very first flight through some of the most advanced pilot certifications.
With an emphasis on quality customer care, All In Aviation's flight instruction is led by highly experienced and professional certified flight instructors. From Cirrus to Cessna, All In Aviation's fleet includes the safest and most sophisticated piston aircraft on the market, equipped with Garmin Avionics technology, glass panels, air conditioning, and – included on all Cirrus Aircraft models – a whole-airframe parachute system.
All In Aviation has two locations to serve Southern Nevada, located at Henderson Executive Airport and North Las Vegas Airport. For additional information call 702-ALL-IN22 (702-255-4622), visit https://www.allinaviation.com/ or follow All In Aviation on social media on Facebook at @AllInAviation and Instagram at @AllInAviation.