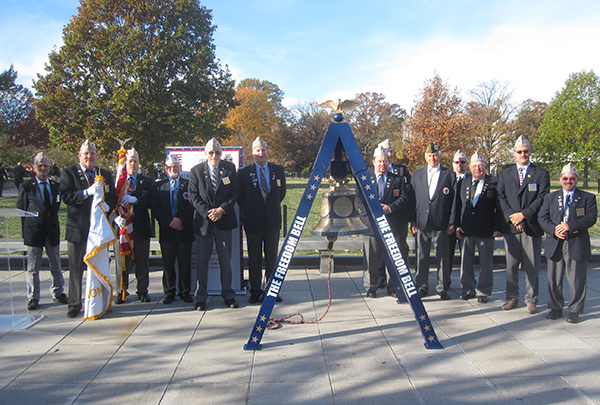 America's Freedom Bell to Ring at Arlington National Cemetery for the 66th Annual Veterans Day Observance
America's Freedom Bell, cast in bronze and forged with steel from the World Trade Center to ring in honor of all who have served in the U.S. Armed Forces, will be at Arlington National Cemetery this Veterans Day, Monday, November 11, for friends and loved ones to ring in honor of those who have given the ultimate sacrifice serving their country and are laid to rest at Arlington.
The Freedom Bell will be showcased inside the cemetery on the western side of the Welcome Center. Visitors will be invited to ring the Freedom Bell anytime from 8 a.m. to 5 p.m. to honor a loved one in the military or pay tribute to our Armed Forces. Those who ring the Bell will also receive a special certificate acknowledging that they rang the Freedom Bell on this important day.
"We are so honored to be allowed, for the seventh time, to be a part of the Arlington Veterans Day ceremonies on what many consider our nation's most hallowed ground," says Spirit of Liberty Foundation founder and creator of the Bell, Richard Rovsek. "Our first year at the cemetery, a gentleman traveled all the way from Pittsburgh to ring the Bell in honor of his son who is buried there. Our purpose is to provide the opportunity for as many others as possible to pay this same tribute."
Free parking is available for vehicles at the Arlington National Cemetery Welcome Center's parking lot from 8 a.m. to 6 p.m. A free shuttle service will provide transportation to the Memorial Amphitheater beginning at 8 a.m. Walking to the amphitheater is prohibited. After the observance, shuttles will provide transportation back to the welcome center until 2 p.m. For additional details, please visit https://www.arlingtoncemetery.mil/Media/News/Post/7206/Public-invited-to-celebrate-Veterans-Day-at-Arlington-National-Cemetery.
ABOUT AMERICA'S FREEDOM BELL
America's Freedom Bell was cast on June 6th, 2013, the 69th Anniversary of D-Day, with full military honors. It contains metal from the 9/11 Twin Towers certified by the New York Fire Commissioner, and has the official emblem of each branch of the Armed Forces embossed and circling the Bell in the order of their founding: Army, Marine Corps, Navy, Air Force, and the Coast Guard. It is inscribed with the words: HONORING OUR ARMED FORCES PAST, PRESENT AND FUTURE, and has 50 stars representing the nation on the lip.
America's Freedom Bell has visited the World War II Memorial on the National Mall in Washington D.C., Independence Hall, the USS Midway in San Diego, The World War II Memorial in New York on the Anniversary of 9/11, and numerous other high-profile ceremonies and events. Since its inception, the Bell has been rung by over 5 million people in honor of loved ones who have served in the U.S. Armed Forces. When the Bell is not traveling, it has a prestigious permanent home at the Veterans Museum at Balboa Park in San Diego. For more information, please visit www.spiritoflibertyfoundation.org