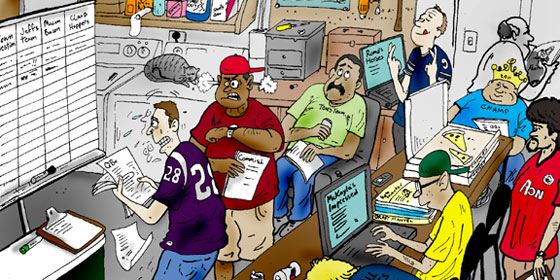 Are You Ready for Some [Fantasy] Football?
By Mike Miller
The NFL regular season kicks off in early September, but long before that Americans in unprecedented numbers were poring over rosters, statistics, training camp reports and depth charts getting ready.
Why and what's the hype all about?
It's the social, cultural and economic phenomenon – some say obsession — known as Fantasy Football.
If you've never heard of it, chances are someone you know has and is playing.
From football junkies who can recite NY Giants Odell Beckhams' Yards After Catch average to the casual fan who picks players based on uniform color, tens of millions of us are playing.
Although its mainstream appeal has skyrocketed in recent years, the birth of Fantasy Football can trace its modest roots back to 1962.
That year Wilfred "Bill" Winkenbach, then part owner of the Oakland Raiders, started Fantasy Football, which itself was an offshoot of similar games he devised for golf and baseball in the 1950s.
Winkenbach and two sports writers – Scotty Stirling and George Ross – created a game where sports fans could draft players from professional teams onto their fantasy rosters, playing weekly games against others in a league that rewarded the best record.
Thus the world's first Fantasy Football league – the Greater Oakland Professional Pigskin Prognosticators League – was born.
Its original purpose was nothing more than to pit Oakland's finest football minds against each other in order to spark greater interest in the daily happenings in pro football.
Mission accomplished.
From three men in a New York City hotel room more than 50 years ago, Fantasy Football is now played coast to coast by more than 40 million players.
But how does Fantasy Football work?
Fantasy Football might seem complicated, but it really isn't.
Typically, members of a league gather somewhere – even online – where they select real NFL players for their squads.
(I should point out that an entry fee is usually charged to join a league, and that that money is traditionally divvied up at the end of the season by the top teams. But free leagues can also be found.)
Once players – mostly offensive players — are selected and starting lineups set, teams score points based on how well those players do in actual games.
And just like in real games, teams play against each other.
For example, let's say I drafted Chargers quarterback Philip Rivers and made him a starter. Every week whatever statistics he put up would translate into points for my team.
Fantasy Football teams mirror real teams in that owners must deal with injuries, can make trades and add and drop players during the season.
Due to the growth of the Internet, Fantasy Football has increased in popularity thanks to ESPN Fantasy Sports, CBS, Yahoo! and others which offer statistics online.
The economic impact of Fantasy Football's explosive rise is now measured in the billions of dollars and shows no signs of slowing down.
The annual online ad revenue it generates alone is estimated at $3 to $6 billion.
Advertising revenue is so high because fantasy players are heavy Internet users. They generate, on average, four times more page-views than those who don't play fantasy sports.
And advertising isn't limited to just sports sites and television. Demand for fantasy football information has spread to mobile applications, which carry banner ads at the bottom or top of each screen.
Despite the economic boom of Fantasy Football, there are some concerns.
Fantasy Football's addictive nature and widespread popularity have come at the expense of work productivity. Recent stories peg this lost productivity at perhaps $14 billion a year.
But there is a business upside, too.
I tend to believe Fantasy Football has replaced golf as a venue where business deals are made while appealing to an even wider audience.
Since there is no way to stop the juggernaut that is Fantasy Football, employers should consider starting leagues to increase employee morale, loyalty and retention rates.
As a veteran Fantasy Football geek entering his 20th season, I say embrace it, work hard, play hard and give it a chance.
Go Gridiron Critters!