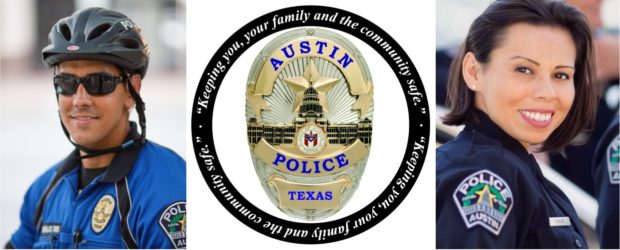 Are you ready to join Austin's finest? We are now hiring for our Fall 2018 and Spring 2019 regular academy classes. The Austin Police Department is made up of over 2,600 sworn law enforcement and support personnel who carry out police operations within the City of Austin, as well as the Austin-Bergstrom International Airport, city parks and lakes, and municipal courts.
Austin is the capital of Texas and is home to a diverse community and strong business economy. It's a bustling city that still manages to have a small-town, friendly Texas feel. Read more about the requirements to become an Austin Police Officer below, and visit www.APDRecruiting.org for more information.
Overview
This posting is for the position of Police Cadet for the Austin Police Department. Applicants who are hired as Police Cadets will attend a 40 hour/week, 8 month training academy in Austin, TX. Hours are generally Mon-Fri 7 a.m. – 4 p.m. or 8 a.m. – 5 p.m. However, occasional nights and weekends are required for training purposes.
The Austin Police Department Training Academy is certified for full-time Veteran's Administration Education Benefits. A Police Cadet enrolled in the APD Training Academy with previous military time may be eligible to receive VA benefits for the entire 8 months they are in the academy and up to 15 months after graduation for the required OJT/Probationary period as a Patrol Officer. Police Cadets are paid at a rate of $40,000/year for the duration of the academy. Upon graduation, Police Officers begin earning at a rate of $58,681/year.
Applicants should possess the following knowledge, skills, and abilities to be successful in a law enforcement career:
Read and write English.
Confidence and a responsible attitude.
The ability to react quickly and take positive action.
Resilience.
The ability to remain calm in challenging situations.
The ability to work alone and in a team.
Strong communication skills.
Courage and initiative.
Integrity.
Good physical fitness.
Responsibilities
Graduates of the Austin Police Department academy are responsible for:
The protection of life, liberty, and property.
Enforcement of all laws of the State of Texas and laws and ordinances of the City of Austin.
Perform law enforcement duties including:
Respond to calls for service.
Enforce traffic laws.
Conduct preliminary investigations of crimes.
Execute all lawful process.
Arrest offenders with and without warrant when authorized by law.
Investigate motor vehicle crashes.40
Prepare various written reports.
Give testimony in court.
Confer with local law enforcement, criminal justice, and emergency response agencies on matters of mutual interest.
Perform other duties as assigned.
Qualifications
The minimum qualifications include:
Between 20.5 and 45 years of age at time of application.
US Citizen, born or naturalized.
Have a valid Driver's License.
HS Diploma or GED.

Ready to apply? Visit www.APDRecruiting.org to review the steps in the hiring process. Online applications will be accepted beginning on Monday, December 18, 2017, at 8 a.m. CST.
Questions? Contact us here:
Austin Police Department Recruiting Unit
1520 Rutherford Lane, Bldg. 3
Austin, TX 78754
512-974-4211
APDRecruiting@austintexas.gov
@JoinAPD on Facebook, Twitter & Instagram