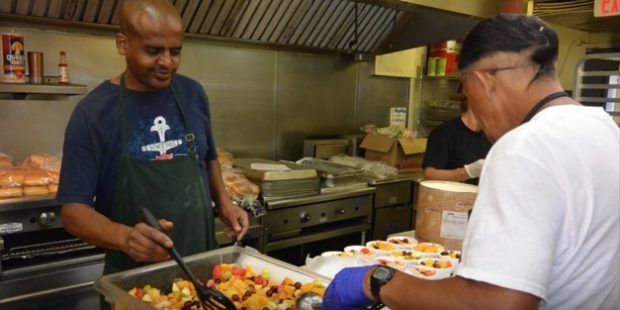 Irving Foster knows that coming home can be hard.
He's one of the nearly 800 homeless veterans in Santa Clara County. Lack of employment combined with the lack of affordable housing has exasperated problem. To change this disturbing statistic, Hunger at Home is working in partnership with Martha's Kitchen and Salvation Army.
"I tell all of the vets to get all of the help that they can," Irving said, noting that veterans face special challenges when they come home. "I try to live off my own means, but I also need to take advantage of what's out there."
The 61-year-old joined the Navy in 1973 – 1974. He served 14 years and served in Vietnam. Irving thrived with the structure of the Navy, but it wasn't easy to come home.
"I decided to get out, got married and you know, things just don't work out. I was kind of wandering, trying to find yourself," Irving said. And soon he found himself into substance abuse, which lead to living on the streets.
It's not an uncommon story. The trauma of war can often lead to addiction and homelessness. The 2013 Santa Clara County Homeless Census cited the loss of a job (38 percent), followed by alcohol or drug use (19 percent) as the largest percentages of homeless veterans.
When asked what might have prevented their homelessness, 39 percent of respondents reported employment assistance, followed by rent or mortgage assistance (28 percent) and mental health services (24 percent). When asked Irving what would make a difference he responded "the first three things they need is, yeah everybody want houses but if you cannot tackle substance abuse and the mental illness and you give these people housing, I'm not saying don't give nobody housing but if you give these people housing it's like five months, three months they are back on the streets again."
Luckily for Irving and veterans like him, services and programs are available to help. Martha's Kitchen, a soup kitchen that serves meals no questions asked, provides a meal when Irving needs a hot meal. Salvation Army provides shelter, case management, employment as well as mental health services when needed.
These services continue to play an instrumental part in helping Irving transition into permanent housing. Hunger at Home helps these organizations in the mission to end homelessness and hunger by building relationships between local hospitality and local nonprofits.
Hunger at Home takes surplus food and many other items from conferences, restaurants, sporting venues and hotels throughout Silicon Valley and distributes it to nonprofit partners, which in part include Martha's Kitchen and the Salvation Army.
These extra meals and surplus goods would have otherwise gone into the trash. As of this writing, Hunger at Home has redirected 2 million meals from being put into the landfill. Now these meals are in the bellies of those in need. This has freed up dollars previously used on meals and now these dollars are used on case management.
"Hunger at Home has been a godsend to Martha's Kitchen," said executive director Edita Cruz.
"We have a very strong relationship with Hunger at Home that will get even stronger in years to come," Cruz said. "Together we will become more effective in serving the community. "
The program is the brainchild of Ewell Sterner. Resulting from his many years in hospitality, Sterner started Hunger at Home when he worked as Hilton Hotels area Director of food and beverage in San Diego.
He and his son volunteered at the food bank and then-8-year-old Casidy asked if there wasn't more they could do to help.
Hunger at Home was born.
"This is about people helping people," Sterner said. "There is so much we in the community can do to lift others up."
Upon moving up to Silicon Valley to become the general manager of Team San Jose Convention, Sterner reignited the program.. Team San Jose's leadership was quick to embrace the idea and understands the good it brings to the community. The organization's early support and commitment helped to create an even bigger and stronger network.
San Jose McEnery Convention Center turns over surplus food from all sorts of events, and Hunger at Home helps connect this surplus to nonprofits in need. Local Hotels such as Hilton and Marriott as well as event centers such as Levi's Stadium, the San Francisco 49ers' quickly joined the initiative.
It's an idea that doesn't stop at food. In addition to surplus food, the program takes in extra supplies from hotels, including televisions, soaps, bed linens, gym equipment and more.
"With money saved from the more than 956,000 meals Salvation Army Silicon Valley, the outreach group was able to provide more shelter, sleeping bags, warm clothes and rehabilitations services", said Major David Yardley the Santa Clara County coordinator.
"We are very grateful to be part of this collaborative effort that works so effectively to reduce waste, increase the nutritional value of meals served to the hungry and the homeless, and eliminating the gnawing feeling of an empty stomach," Yardley said.
The partnership between Hunger at Home, the Salvation Army and Martha's Kitchen isn't just a pipeline of surplus and need. Hunger at Home works to build relationships to form a unified coalition of nonprofits backed by hospitality with the goal of maximizing resources.
Because Hunger at Home is spearheaded by hospitality-industry leaders, it is able to drastically reduce the costs of holding a black-tie gala. The Gala will benefit Salvation Army Silicon Valley, Martha's Kitchen, the Bill Wilson Center (works with homeless under the age of 18), and Hunger at Home. We would like for you to support us in our joint mission of eradicating hunger and homelessness by joining us in our Annual Gala.
The event will be held on Friday, November 18, 2016 at the San Jose – McEnery Convention Center.
The Gala includes an extravaganza of appetizers, entertainment and sit down dinner, as well as a live and silent auction.
Reserve your seats now by going to: www.hungerathometeam.org