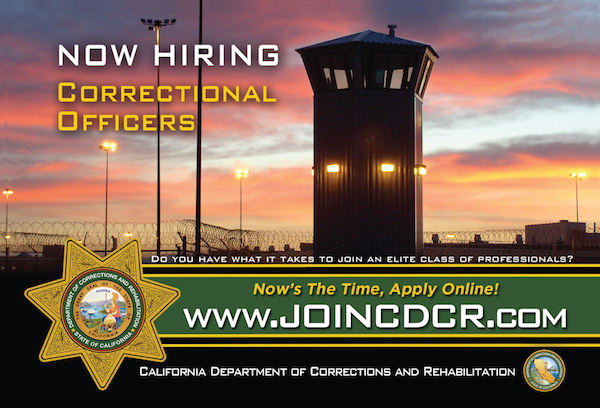 The California Department of Corrections and Rehabilitation (CDCR) is the world's largest correctional employer. The CDCR team is comprised of more than 60,000 dedicated employees, working at 35 different institutions throughout California. We enhance public safety through safe and secure incarceration of offenders, effective parole supervision, and rehabilitation strategies to successfully reintegrate offenders into our communities.
Becoming a Correctional Peace Officer with CDCR means you are joining a family of dedicated, hardworking women and men responsible for ensuring public safety throughout California. Correctional Officers are eligible for promotion after successfully completing their two-year apprenticeship program and promotional exam. Examples of promotional opportunities: Sergeant, Lieutenant, Captain, Correctional Counselor, Parole Agent, Special Agent-Office of Internal Affairs, Fugitive Apprehension Team, Investigation Unit, Fire Captain, and more.
The endless opportunities within CDCR can change your life as it provides an avenue for upward mobility, and secures a FUTURE for you and your family. Only you can choose your path, and only you can make it happen.
Qualifications/Minimum Requirements
· U.S. Citizen or applied for citizenship
· 21 years of age (20 at the time of application)
· U.S. high school diploma/GED
· No felony conviction
Salary
· ($4,438 – $7,411 monthly after academy)
Benefits / Comprehensive Medical and Retirement Package
· Medical, dental, vision (lifetime benefits for vested employees)
· CalPERS retirement, 2.5% at 57 years of age.

Job Description: Correctional Officer Duties
· Supervise inmates in housing areas
· Maintain security and conduct counts of inmates
· Control inmate movement within the prison
· Listen and watch for unusual sounds or sights that may indicate illegal activity
· Perform searches of inmates and their living quarters or work assignment locations
· Visually survey prison grounds from an armed tower or central security area
· Respond to the scene of a disturbance or an emergency
· Write incident reports
· Work as an entrance gate officer and search visitors and vehicles for contraband
· Transport inmates to court or medical facilities in the community
Training
A 13-week comprehensive training academy is required prior to appointment at the Basic Correctional Officer Academy in Galt, CA (Salary during academy: $20.82 per hour).
Now's the time, apply online at www.joincdcr.com or contact us at 1 (866) 232-JOBS or recruit@cdcr.ca.gov.