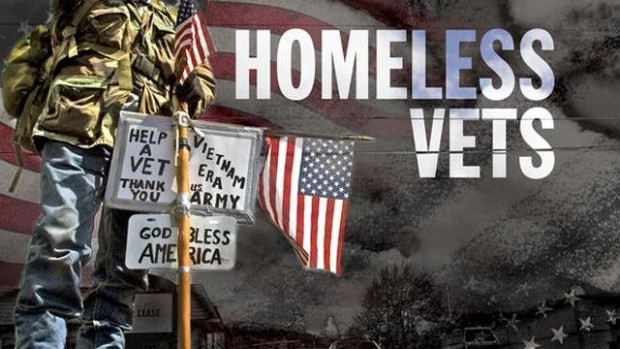 What's a homeless veteran to do? He receives a job offer but needs eyeglasses that he can't afford to do the work. He calls a county 2-1-1 information line, but they don't know of a veterans' service organization that provides free eyeglasses.
Doug Wilson recounts this true story when explaining the need for a new initiative called Vets' Community Connections (VCC). Its goal is to help military vets and their families connect with resources — beyond traditional "official" agencies — and with community members where they live. A former Pentagon official, he founded the initiative with Kari McDonough, who has worked with vets as a volunteer.
VCC is being piloted in three counties — San Diego, Calif., Maricopa, Ariz. and St. Joseph, Ind. — as a community-based initiative. Programs are slated to be up and running by early next year, McDonough said.
Robert Muth, chairman of the board of the San Diego Veterans Coalition, said VCC won't duplicate existing programs.
"I think it's an important overlay on what we already have in place here in San Diego," he said. "A lot of the organizations that are focused on veterans, and do that all day are fantastic and are members of our coalition. However, this is a chance for citizens or professionals to be able to do more."
VCC will enable community residents to answer vets' questions based on their own professional and life experiences, McDonough said, providing a more personal touch. These might include inquiries about veteran and military family relocation, education, health, op¬portunities for community service, how to get their kids involved in youth sports — or which local businesses offer military discounts.
Research conducted for VCC by the San Diego Area Chamber of Commerce found that veterans don't want another website, nor do they wish to call a phone number and be directed to "press 1 for this, press 2 for that. They don't want voice mazes, they just want a hu¬man," Wilson said.
The components of a local program will include:
• Creating a VCC Advisory Board, comprising community leaders who will guide, support and promote the initiative.
• Forming a Community "Vet¬erans' Team" of individuals who agree to answer questions in their areas of expertise, providing a "human response" to veterans or their families, and
• Designating a Vet Connector (or connectors) who can person¬ally make referrals to the relevant member of the Veterans' Team.
VCC officials have identified the most likely place to house the function is within local 2-1-1 or 3-1-1 call centers — resource lines for local services — as will be the case in San Diego County and St. Joseph County, respectively. Those two counties are furthest along in their planning, McDonough said, and are expected to launch by early 2016. Both are in the process of enlisting community members to sign up as volunteers, and databases are being compiled, she said.
South Bend, Ind. is the St. Joseph County seat. There, Brian Pawlowski, deputy chief of staff for Mayor Pete Buttigieg — both are vets — will coordinate with county officials, including the veterans service officer, Kevin Kelsheimer. "He's really been helpful in getting us tied in with all the other veterans organizations that he utilizes," Pawlowski said.
To gauge the initiative's suc¬cess, McDonough said "per¬formance measures" will be evaluated through surveys: How many veterans used the Vet Connector and their degree of satisfaction with the experience? For community members, did their interactions help them feel more connected to veterans and understand their needs and issues?
McDonough said the idea for VCC began to take shape about two years ago, when she and Wil¬son were introduced because their mutual interest in helping veterans to transition back into civilian life.
As he was leaving the Pentagon, Wilson said he witnessed a "general frustration" among veterans return¬ing from Iraq and Afghanistan, who felt the folks back home viewed them "either being heroes who walked on water, or crazy people."
In a meeting over coffee in 2013, Wilson and McDonough sketched out an outline for the initiative on a napkin. Since then, they've attracted support from the VA, Chamber of Commerce, Give an Hour, Wounded Warrior Project and NACo, she said. Wounded Warrior Project offered to fund the initiative.
Wilson said that county elected officials can play a key role as conveners. "County and city of¬ficials spend a lot of time on issues having to do with returned vets and their communities," he said. "But what they don't always realize is that they have a bully pulpit, and that they can bring together local leaders to talk about volunteering their own time and reaching out into the community…."
VCC will enable local residents to do more than say, "Thanks for your service," he added. It will facilitate direct interactions with veterans at a time when few Americans know someone who has served in the military. After World War II, three out of four Americans had a personal connec¬tion to the military; today it's one in 10, according to the Pentagon.
"When people see ways in which they can interact with vets that don't take a lot of time but are very meaningful to [the veterans], some of the social costs now borne by the counties could actually go down."