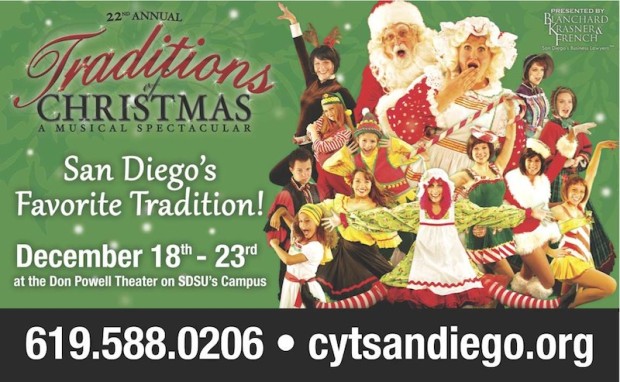 This December the tradition continues! CYT San Diego returns to the stage with the 22nd Annual Traditions of Christmas, A Musical Spectacular, at the beautiful Don Powell Theater on SDSU's campus. Come be a part of one of San Diego's most beloved traditions as we celebrate 22 years of Christmas memories.
Show: Traditions of Christmas
Organization: CYT San Diego
Dates/Times:
Friday, December 18th at 7pm
Saturday, December 19th at 11:00am, 3:00pm, 7:00pm
Sunday, December 20th at 2:00pm, 7:00pm
Monday, December 21st at 2:00pm, 7:00pm
Tuesday, December 22nd at 2:00pm, 7:00pm
Wednesday, December 23rd at 2:00pm
Venue: Don Powell Theater (on SDSU Campus) 5500 Campanile Drive, San Diego, 92182
Prices: $20-$48
Website: www.cytsandiego.org
About Traditions
Traditions of Christmas has grown to be the biggest Christmas show in San Diego drawing over 250,000 patrons since it began. It is a musical journey through all the greatest Christmas songs and celebrations from around the world. Santa's Workshop comes alive with dancing elves, Raggedy Ann dolls, toy soldiers, and magical toys. The Rockette-style tap dancing kickline will have you cheering in the aisles. You'll even get to sing along to your holiday favorites like White Christmas and Santa Claus is Coming to Town! The celebration culminates with our most treasured tradition of all – a Living Nativity complete with animals. This show is truly the perfect collection of all the best sights and sounds of Christmas!
Our Mission Statement
CYT is dedicated to developing character in children and adults through training in the arts and by producing wholesome family entertainment, all of which reflect Judeo-Christian values.
Press/Marketing Contact: Amanda Pontsler 619.588.0206 x 316
newsletter@cytsandiego.org
www.cytsandiego.org