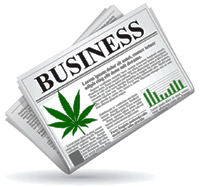 Do You Have a Future in Cannabis?
Cannabis is legal in California in January and you can join in the windfall. Millions of people will get rich. Will you be one of them?
I'm old enough to recall when an ounce or less of weed could get you thrown in jail for a long time. Especially if you were in Texas. Now there's going to be an explosion of wealth to be made in the new Cannabis gold rush.
There are many ways to be an entrepreneur and build a business around the opportunity. The marijuana market is like any other — and presents an opportunity for entrepreneurs to put their ideas into action to try and turn a profit. And there's no shortage of ways you can go about it.
From opening a retail shop (not a dispensary – See the Black in Ocean Beach at theblackoceanbeach.com) to creating cannabis-derived oils or edibles. There are a huge number of ways to make money, and you're at the front end to catch the wave. Numerous startups are out there, competing to push their brand in the new business sector. Some names are becoming well-known, like Leafly, WikiLeaf, and WeedMaps.
Research says Marijuana is currently the largest cash crop in the United States. Enjoying a growth rate of 77% over the last few years and an estimated 700% growth rate by 2018, it's bigger than corn, bigger than cotton, and bigger than wheat. Do your homework.
Consider looking at www.thecannabisindustry.org, where all your questions can be answered.
Here are a few ideas:
You could start producing bongs and pipes. Don't laugh. I met a guy in North Carolina who is producing beautiful bongs out of colorful, silicone plastic. He was selling them out of his car, and now I wish I'd bought one, just so I could show it to you.
How about investing? If you have the money, there are people in the marijuana industry who would like to use it. (See Snoop Dog, a lover of weed and a savvy investor in same) You can even buy pot stocks. You can purchase a share of Invest.trueleaf.com for as little as $275. This boom is in its infancy. The chances of explosive growth over the next decade is staggering. There are even conventions developing to connect entrepreneurs with investors. Though investing in marijuana is risky, getting your money in early is a way to potentially make stacks of money down the road.
You could get into the delivery business. Not everyone is going to like going to a dispensary. There are new needs in dispensary security. Development of a company providing security guards might be profitable. This remains a cash business, and security is critical. Finding a way to become a strain reviewer would be difficult, but just like in any other industry, critics are needed. That would involve getting high frequently and a sensitivity to taste and effectiveness. There are probably several websites in the offing to give users tips. You could create one of those.
Love to cook? Turn your passion into a money-making machine by creating edibles. The variations in edibles are immense — a trip a retail shop or medical dispensary will leave most people in disbelief at how many options there are.
Tourism. If you think about it, since marijuana isn't legal in many states, tourism is going to be a major segment of the industry. Tour companies bring in revenues taking tourists out to dispensaries and maybe even include a little education. Think visiting growing locations to touring dispensary locations. Like wineries, your revenues come from both the retailers and visitors. As the pot industry finds its footing, the tourism sector will grow up with it.
Know how to write code? Software to help run marijuana businesses is needed including accounting programs and product management systems. Check out companies like WeedMaps and Leafly that assist cannabis users to find the product they're looking for and creating an online community.
Become a resource for CBD oil. Not so interested in helping people to get high? Consider the benefits of CBD oil. CBD oil, in case you don't know, doesn't have the properties that make you high. Instead, people are using it for pain relief, addressing inflammation, lowering anxiety, helping sleep issues, and in the case of veterans to address PTSD.
As a former social worker, the anxiety-reducing properties of CBD oil and the benefit to PTSD sufferers really excites me. I started by googling it, and found lots of sites like HERB.com.
If you're interested in a side hustle, consider a company called Prime My Body, one of the largest Hemp Oil companies in America, if not the world. It allows you to create a small business right from your computer. Go to my site http://vickirod.primemybody.com/home/ for more info, or email me at vicki@veteranentrepreneurstoday.org and I'll walk you through it, and even send you a sample bottle until they run out.
As always,
stay legal.
Don't imbibe and drive.
Be responsible.
Vicki Garcia is the Co-Founder of Veteran Entrepreneurs Today (V.E.T.) & President of Marketing Impressions, a 30+ year old marketing consulting firm. Email her at vicki@veteranentrepreneurstoday.org for free help in starting and running your business.