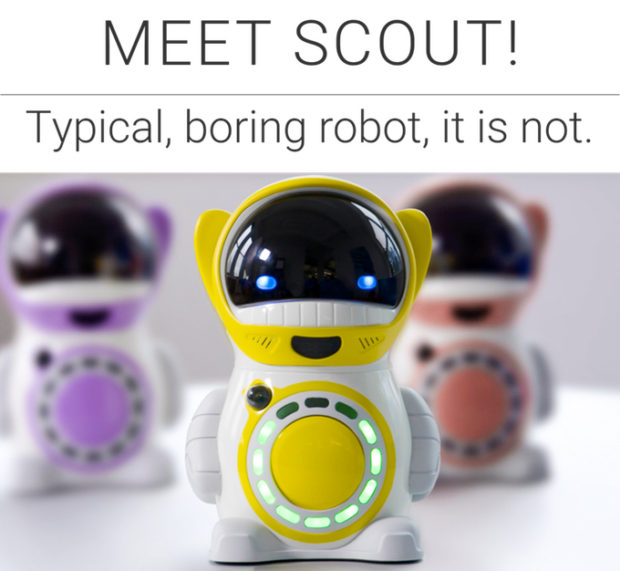 Scout – The Galaxy's Smartest Interactive Learning Companion
Elemental Path, creators of the award-winning CogniToys Smart-Toy line, is excited to announce the company's next great invention, Scout. Elemental Path is introducing the most advanced, Artificially Intelligent, consumer learning companion /robot that is truly conversational, personalized for its users, adaptive and educational. Beginning today, Scout is available on Kickstarter – hyperlink below, for a reduced early bird price of $88 – limited early bird units available.
https://www.kickstarter.com/projects/cognitoys/1566898776?ref=efwzmt
Scout is an AI powered voice-first robot that does way more than just answer questions. Scout curates a more natural, conversational experience that is always fun, friendly and educational. Using only the best, kid-approved and safe content focused on creating a connected, screen-free experience for kids, Scout integrates world class content to help teach, inform and get kids excited about all that makes planet Earth such an amazing place.
Built using Elemental Path's patent pending Friendgine™ technology, Scout seamlessly integrates multi-color Smart LEDs, advanced capacitive touch sensors, an accelerometer, an ambient light sensor and other smart hardware to enhance every interaction and truly bring Scout to life. Scout is the modern way for children to learn and become excited about the world around them. Thanks to the power of Elemental Path's Friendgine, Scout creates a personalized experience and is able to recognize an individual child's voice, speech patterns, and interests, all with a press of a button. Scout makes every experience unique and fun by continually adapting to each child differently. Scout can answer questions, play interactive games, create and tell stories, crack jokes, and can activate additional educational content via a subscription based mobile app.
"Over the last few years we've learned so much about how kids and people are using voice technology, like Siri, Alexa or CogniToys, and most importantly we understand what people actually want/need from that technology – and its way more than just answering questions or setting timers. With Scout, we've applied all those learnings, all those experiences into developing the most advanced and interactive AI product on the market – that has real-world impact and satisfies growing demands on the technology.," said Donald Coolidge, CEO and Co-founder of Elemental Path. "Our goal was to create something that is more than a toy, more than a digital assistant – that could truly interact with a child and create a personal ongoing and rewarding relationship with children, and at the same time, act as an impactful educational resource."
Parents can also take full advantage of Scout via the companion app. Parents and guardians can easily access information on how their child is using/interacting with Scout; for instance, what subjects or topical areas are most popular with the child. Based on that information the team at Elemental Path can then add new content packs to further the entire learning experience – in areas the child is actually interested in.
Please log on to Kickstarter.com for more information.
About Elemental Path
Elemental Path is a people focused technology company combining voice, AI and content management tools to create amazing products with real-world impact. With an end to end platform solution that can easily enable connected devices and apps to use voice & personality that is fully configurable and easily trained – EP has established themselves as the leaders in Artificial Intelligence. Our offerings are personalized based on individual interests and behaviors, creating unparalleled interactive experiences for users worldwide. CogniToys are designed, developed and manufactured by interactive technology developer Elemental Path, based in New York. For more information, visit https://elementalpath.com