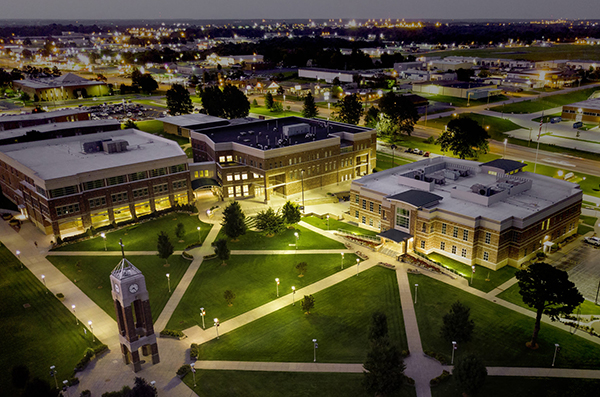 Evangel University
* Yellow ribbon – approved school
* Affordable and flexible online classes
* Tuition assistance available to service members
Evangel University has a proud heritage of assisting service members and their families. Evangel University also respects the great sacrifice of military dependents and we are honored to support them as well. Whether you are transitioning from the military to civilian life, studying while serving, pursuing chaplaincy, or you are a dependent of a veteran, Evangel University is here to help.
The main goal of the Admiral Vern Clark Veteran's Center at Evangel University is to make the Veteran's Administration (VA) and active-duty Tuition Assistance processes as easy as possible. The Veteran's Center Coordinator, Dane Moore, is a retired Master Sergeant and has used both Tuition Assistance and VA GI Bill benefits for many years. He says, "When I first started the VA process, I did not know where to start. This is why we have made easy to follow checklists that give the veteran or dependent a step-by-step method to getting their well-deserved education benefits."
As a service member, you have extensive military training and have endured months of rigorous classroom and field training for your military specialty. Evangel University recognizes this vast training, and we want to give you college level credit for such. Evangel University awards credit for armed services education and training from the Joint Services Transcript (JST), according to the recommendations of the American Council on Education. The courses on the JST are evaluated on a course-by-course basis. Credit may be awarded for courses that are fundamentally equivalent to courses offered by Evangel University, and courses that can be used toward the student's degree requirements.
Whether you are seeking an undergraduate degree, a master's degree, or seminary graduate studies at Assemblies of God Theological Seminary, we are here to help you with your education goals.
To learn more about our veteran's benefits, visit the special military-focused area of our website.
You may also reach out to Dane Moore, Veteran's Center Coordinator at (417) 268-1041 or via email at MooreD@evangel.edu.
About Evangel University
Evangel University, with the Assemblies of God Theological Seminary (AGTS), is a comprehensive Christian university committed to excellence in educating and equipping students to serve the Church and society globally. Evangel and AGTS serve more than 2,200 students from all 50 states and numerous foreign countries, offering 70 undergraduate majors and 19 master and doctoral degrees.