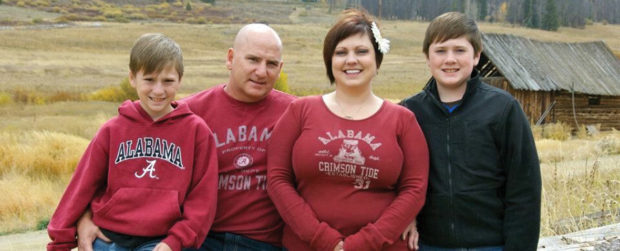 From homeless to congress, this military family continues to serve
by Project Sanctuary
They were tired. Seeking hope. In need of a reset.
For Nicki and Jeff Swindle and their children, something had to give.
Jeff had deployed twice to Iraq, returning from his second tour with post traumatic stress disorder and a traumatic brain injury – forever changing his life. Nicki had just returned from Iraq herself, serving as a Department of the Army Civilian in support of Iraqi Freedom.
They were exhausted and needed help, so they called Project Sanctuary for support. At Project Sanctuary, we believe that the everyone has the right and the ability to heal. Through six-day therapeutic retreats and two years of follow up support services, we empower service members and their families to reconnect with themselves, with each other, and ultimately with their communities, restoring resiliency and purpose. And that purpose is often continued service to their communities and their country.
When the Swindles arrived at their retreat, they felt anxious. It took a little time to relax, but once they did, they were able to reconnect with one another in ways they could not have imagined.
"What impressed me most was that nothing was demanded from us," recalls Jeff. "The last thing a military family needs is to have more demands."
But it was after the retreat ended that the Swindles realized their greatest breakthrough. "Jeff was in the process of separating from the Army medically, and we had no place to live," remembers Nicki. "We were temporarily homeless, living out of our travel trailer. Project Sanctuary took care of us, helping with follow-on care and gas cards when we had no money."
Once on their feet, Jeff, Nicki and their children reached out again, this time to give back by serving as Project Sanctuary volunteers. "We wanted an opportunity to feel 'whole'", Nicki explained, and through volunteerism, the family felt a sense of restoration.
Since their family retreat, Jeff, Nicki and their children have gone on to provide volunteer support at five additional Project Sanctuary retreats, supporting other military families beginning their own reconnection journeys.
And they didn't stop there. The Swindles became foster parents and have cared for more than 20 children to date. Their oldest son, Hunter, enlisted in the Army and deployed for a year to Iraq and Kuwait. Nicki, feeling called to serve in another way, commissioned in the Alabama Army National Guard as a chaplain candidate and is now running for public office – a House seat in their home state of Alabama. And the Swindles younger son, Drake, has taken his oath and enlisted in the Army as well, waiting to deploy. No matter where their lives take them, they keep in touch and keep coming back to serve with Project Sanctuary. Because they truly understand that given a chance, hope and healing are possible for all.
"It has been so powerful to be able to give back, particularly to families who arrive like ours – with their guard up," said Nicki. "I feel like Project Sanctuary is family, and I feel like I'm home when I go to volunteer."
More than 2,400 at-risk military families have taken the first step toward hope and healing by reaching out to Project Sanctuary and are currently waiting to begin our program. To learn more about how we are changing the way military families heal, visit our website: www.ProjectSanctuary.us.