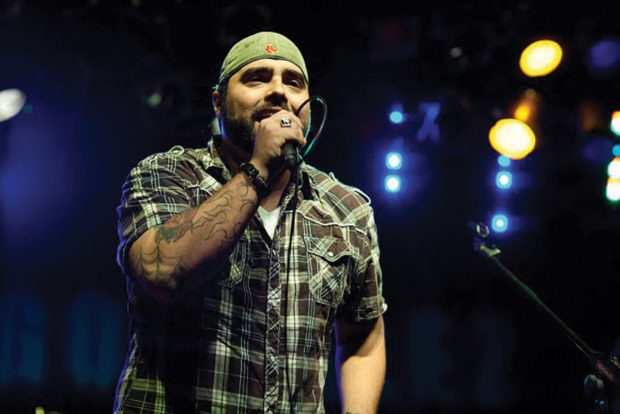 From U.S. Marine to Artist, Singer, Songwriter, Husband, Dad, and Champion for Warriors
By Jennifer Silva – Chief Program Officer,
Wounded Warrior Project
Sal Gonzalez knows a thing or two about speaking up. The singer, songwriter, husband, father, and injured veteran finds new ways to speak up for wounded warriors every day. Finding his voice as both warrior and advocate was not unlike finding his voice as an artist and as a human being.
Fulfilling multiple roles is not easy for most of us, yet Sal makes it look easy. For him, it comes naturally and flows seamlessly from his core.
"I just try to make beautiful art," Sal says. "I don't make music for particular altruistic versus selfish reasons. It's super important to live my most authentic life. Music is life to me. I do my hardest to live as happily and as heartfelt as I can, because there are those who are counting on me."
Those who are counting on him include his family, his music fans, his fellow veterans, and his Wounded Warrior Project® (WWP) teammates, who like me, feel inspired by his persistent courage and wisdom.
You see, Sal is a vital member of Warriors Speak® – a group of wounded veterans and caregivers who share their motivational stories of service and sacrifice with the public to raise awareness for the needs of this generation's injured military service members.
Sal is one of many warrior speakers who share how WWP aided in the recovery process and transition back to civilian life.
A Warrior Speaks
Music was part of Sal's upbringing in East Los Angeles, where his dad first taught him to play guitar and where he heard his mom sing. But his parents were busy with work and family, and their art took a back seat to more pressing needs, including running a family restaurant.
Sal performed music throughout his school years. Then, the tragedy of September 11, 2001, inspired him to join the military.
"The fact that I come from a family of immigrants propelled me to want to join. I wanted to give back for all this country has given us," Sal says.
He joined the Marine Corps at age 18, right after graduating high school. Sal was assigned to the 2nd Battalion, 5th Marines as a machine gunner. A year later, he found himself in Ramadi, Iraq, where he gave back much more for his country than he anticipated.
"I was hit by an improvised explosive device and was in a coma for about a week," Sal says. "I woke up at the National Naval Medical Center in Bethesda, Maryland. Months later, my left leg was amputated below the knee."
It was during his stay in Bethesda that Sal first became involved with WWP.
"When you get injured in combat, they cut every piece of clothing off your body and send you to a very sterile hospital room that is good for your recovery but maybe not so good for mental health. Having something there to call my own meant a lot to me in the hospital. Wounded Warrior Project staff showed up with a backpack, a shirt, and personal items."
After a long recovery, Sal was ready to get out of the hospital. WWP was standing ready for him with open arms.
"I had been in a hospital for a year, and I was ready to get out and start my civilian life," Sal recalls. "My first outing with WWP was actually an adaptive sports trip to Colorado. I went white-water rafting and rock climbing with the group. Learning to do those things after you lose a limb teaches you that yes, you can do anything – not only if you put your mind to it, but also if you have the ingenuity to figure it out."
That early experience inspired him to stay involved with WWP and continue his focus on music, both of which were vital to his recovery.
A Warrior Sings
For Sal, there's no question that music is life.
"The question is not whether music helped my recovery, it's that without music I wouldn't be around. It's who I am. It's necessary in my life – just like food and water," Sal says without hesitation.
"Playing and writing music has always been my passion, and luckily, my injury has not affected that at all. I'm always striving to improve my skills both as a speaker and as a musician."
Sal's talent with music garnered him an appearance on NBC's "America's Got Talent" in 2014, and the television show "Nashville." He recently performed with country music star Keith Urban, which was a highlight of his career. His motivation comes from his fellow injured warriors.
"You can never forget that life has inspiration all around us. Just look at all the wounded servicemembers registered with Wounded Warrior Project who are such good role models. Those are the men and women I admire most."
"I do think about friends who never had an opportunity to come back, to meet a girl, to get married, to have a child. I have been fortunate."
Like his song "Heroes," Sal downplays his sacrifice and honors the memory of those who didn't come home. He honors them daily with the way he lives his life, and the way he gives back. Yet, he always remains down-to-earth and generous.
"Music is what I've always done; it's home to me," Sal says. "My goal is to continue to make music and support warriors. If I spend the rest of my life doing what I'm doing now, I'm happy. And I can continue to go to the grocery store like a regular person."
Lately, Sal is busy working on an album and caring for a new baby. He still makes time to share his story with other warriors and to bring warriors' stories to audiences through his musical storytelling.
"I believe in warriors. I think I would have turned out OK even without Wounded Warrior Project.
But having Wounded Warrior Project there takes a gigantic burden away from the warriors. To have an organization like Wounded Warrior Project opens up your vocabulary and lets you know that depression, post-traumatic stress, and other things are happening to others. It's important to acknowledge that and to realize you're not alone.
"Although I would have been fine, there are thousands of other warriors who might not have been. I have music – and have the purpose of helping others through speaking about Wounded Warrior Project."
I am honored to know Sal and to be able to count on him as I work on WWP's mission to honor and empower wounded warriors.
About the featured warrior
Sal Gonzalez – Lance Corporal, U.S. Marines (Ret.) & Warriors Speak Teammate, Wounded Warrior Project.
Sal Gonzalez was born and raised in East Los Angeles. He kept himself out of trouble by playing music and working at his family's restaurant in his spare time. Sal proudly served in the U.S. Marine Corps as a machine gunner for two years and was awarded the Combat Action Ribbon and Purple Heart for wounds received in combat. Sal currently makes his home in Nashville, Tennessee, where he writes and performs music. Because of his musical talents, Sal has appeared on "America's Got Talent" and "Nashville." He has also performed with Keith Urban.
About the author
Jennifer Silva – Chief Program Officer,
Wounded Warrior Project
As Chief Program Officer, Jennifer oversees strategy and innovation as it relates to current and future WWP programs. She leads the organization in creating cutting-edge programs that assist warriors as they transition to civilian life. Through the years, Jennifer has led the way in creating several new programs and business teams at WWP. Jennifer is a graduate of the United States Military Academy at West Point and served in the Army as a logistics officer. Before coming to WWP, Jennifer worked in the financial field, owned her own business, and was a secondary school educator.
Connect with Warriors Speak
Warriors Speak® is a group of wounded veterans and caregivers who share their motivational stories of service and sacrifice to raise awareness for the needs of this generation's injured military service members, their families, and caregivers. Warrior speakers share how Wounded Warrior Project® (WWP) aided in their recovery process and helped in the transition back to civilian life. Caregiver spokespeople share the often-untold stories of what it's like on the other side of that life-changing experience and how WWP was there not only for their loved ones, but for them as well. To request a spokesperson or to learn more about Warriors Speak, please visit https://www.woundedwarriorproject.org/mission/warriors-speak
About Wounded Warrior Project
Since 2003, Wounded Warrior Project® (WWP) has been meeting the growing needs of warriors, their families, and caregivers – helping them achieve their highest ambition. WWP is a national, nonpartisan organization accredited with the Better Business Bureau (BBB), top rated by Charity Navigator, and holding a GuideStar Platinum rating.
To get involved and learn how WWP connects, serves, and empowers, visit http://newsroom.woundedwarriorproject.org/about-us.