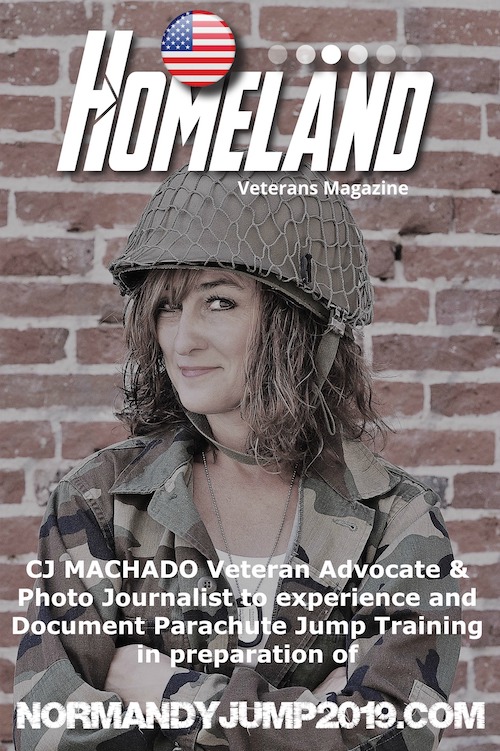 HOMELAND MAGAZINE & SPEED AND ANGELS PRODUCTIONS
Photo Journalist and award-winning Producer, CJ Machado will travel cross-country from San Diego to Frederick, Oklahoma to join The WWII Airborne Demonstration Team (WWII ADT) as it prepares for their upcoming trip to Normandy, France, where they will participate in a mass tribute jump to commemorate and reenact "Operation Overlord," the WWII D-Day invasion.
The WWII ADT's mission is to Remember, Honor, and Serve America's WWII veterans and those who have followed in their footsteps. Their vision is that the stories of America's WWII veterans be kept alive to provide inspiration and vision to future generations. The WWII ADT pursues their mission and vision through public outreach activities, the foremost of which are WWII commemorative jump performances across the U.S. and abroad.
CJ will train and parachute jump with the WWII ADT exiting from historic WWII aircraft in preparation for what will be both an extraordinary celebration and act of remembrance, NORMANDY JUMP 2019.
Winner of 2018 "Best Film" GI Film Festival, San Diego, Speed and Angels Productions will document the training phase of this exercise (Pre-production) in Frederick, Oklahoma, October 19-27th, 2018. Principal filming will take place in Normandy, France, June 2019 to capture NORMANDY JUMP 2019.
FREDERICK, OKLAHOMA, OCTOBER 19-27
Five WWII C-47 aircraft will come together from across the United States to train in Frederick, Oklahoma with the WWII ADT. The Commemorative Air Force's, "That's All Brother," "D-Day Doll," "Ready For Duty," and the WWII ADT's "Boogie Baby" and "Wild Kat" will practice formation flying and parachute training for the upcoming 75th anniversary of D-Day, NORMANDY JUMP 2019. The gathering in Frederick will mark the first time in 74 years that these iconic aircraft, D-Day Doll and That's All Brother, will be together since England in 1944.
NORMANDY JUMP 2019
75TH ANNIVERSARY OF D-DAY
JUNE 6, 1944 – 2019
An unprecedented number of vintage aircraft, hundreds of military and civilian troopers in period uniforms and equipment will fill the skies of Normandy, France to commemorate one of the most significant events in our history, June 6th, 1944 the 75th anniversary of D-Day.
If you would like more information or to schedule interviews, please contact CJ Machado at (858) 735-8487, or by email CJ@homelandmagazine.com or cjmachado@speedandangelsproductions.com