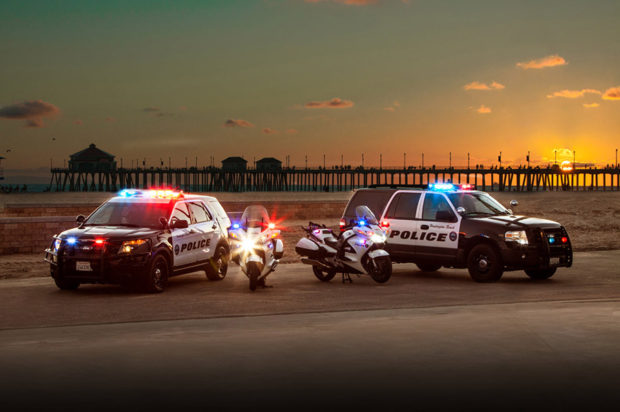 Join Our Team – We're Hiring!
If you are interested in working at a premiere police agency in a world class destination city, apply for one of the open recruitment positions with the Huntington Beach Police Department.
Are you ready to be a police officer? We are looking for police recruits to sponsor into the police academy as future Huntington Beach police officers. View more information and the application process.
The Huntington Beach Police Department currently has open continuous recruitment for both Police Officers – experienced/lateral and Communications 911 Dispatchers – experienced/lateral.

POLICE OFFICER (Experienced/Lateral)
We are seeking qualified experienced police officers. This recruitment is continuous. Applicants will be notified of upcoming testing dates. Explore the HBPD Police Officer Earning Potential Calculator. Qualified lateral candidates are eligible for the 3% at 50 CalPERS retirement plan.

COMMUNICATIONS 911 DISPATCHERS (Experienced/Lateral)
We are seeking qualified experienced Communications Operators/911 Dispatchers. This recruitment is open and continuous. Applicants with POST Public Safety Dispatcher Certificate and experience as a public safety dispatcher in a California law enforcement agency are highly encouraged to apply.
The HBPD Personnel Department can be e-mailed at jobs@hbpd.org. Officer Gallatin can be reached at 714-536-5936.
– See more at: http://www.huntingtonbeachca.gov/government/departments/pd/employment_opportunity/#sthash.ddtoNiIs.dpuf
HBPD Overview
The City of Huntington Beach is located on the shore of the Pacific Ocean in northwestern Orange County, 40 miles south of Los Angeles and 90 miles north of San Diego. As the fourth largest city in Orange County, with a population near 200,000 residents, Huntington Beach is known as "Surf City" USA due to its abundance of beaches, sunny, warm Mediterranean climate and casual lifestyle. Huntington Beach covers 28 square miles of land, 26 square miles of water, and is the 24th largest city in California. With 8.5 miles of uninterrupted beach along the Pacific Ocean, the City also plays host to an annual visitor population of over 11 million people, especially during the summer, special events and weekends.
The Huntington Beach Police Department is comprised of three operational divisions: Uniform, Investigation and Administrative Operations. The Department is responsible for responding to and investigating all aspects of criminal activity occurring within the City of Huntington Beach. The Department responds to residential, commercial, industrial and recreational locations in order to document and stop criminal activity. These public safety efforts are performed through community education and aggressive enforcement of all applicable laws. The Huntington Beach Police Department performs initial and follow-up investigation on suspected crimes and conducts forensic examinations of many types of evidence. The Department also monitors and facilitates orderly traffic control of both pedestrian and vehicular traffic within the City.